Yesterdays: Woman beats away bear with her binoculars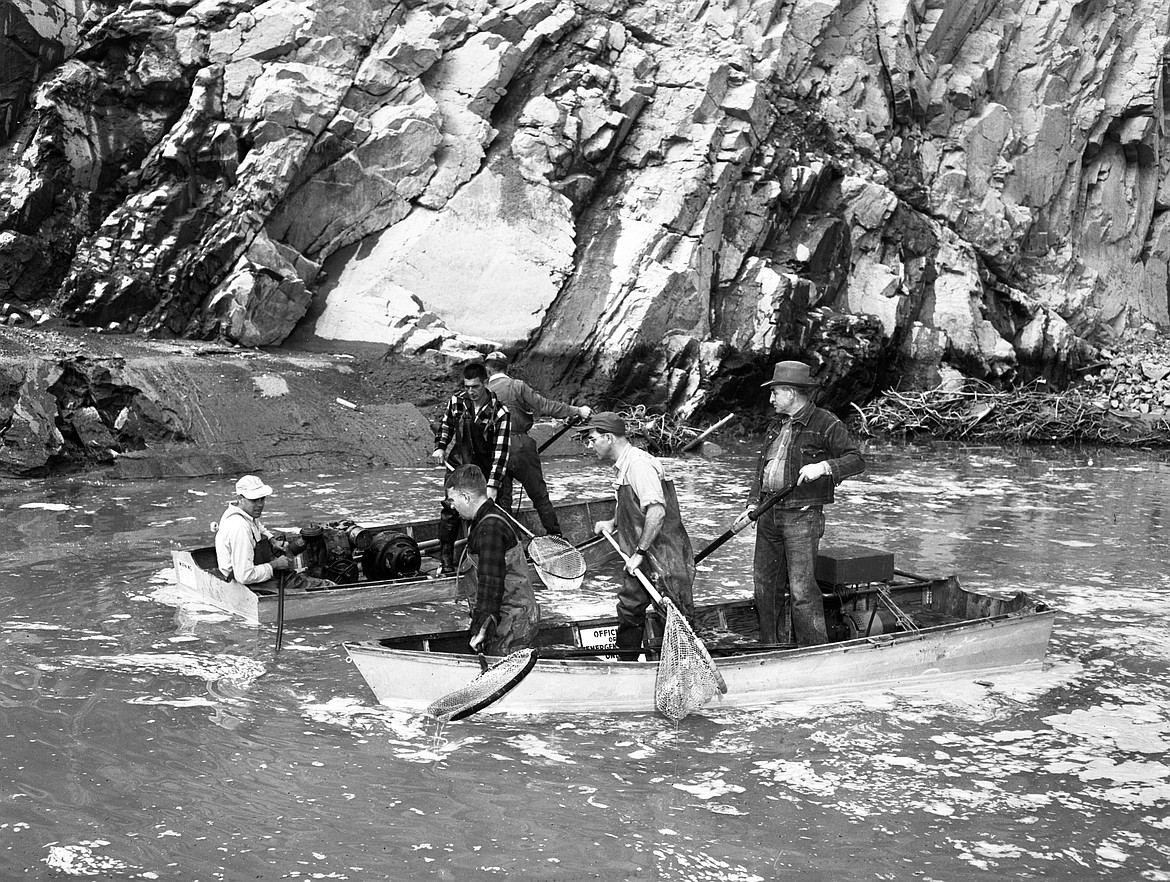 Workers from Montana Fish and Game net fish from behind the Hungry Horse Dam as it officially started backing up water in September, 1951. The haul had a host of species, including sockeye salmon, whitefish, cutthroat and Dolly Varden (bull trout) to name a few. Some were taken to hatcheries, others were released downstream from the dam. Today the dam is a fish a barrier. (Mel Ruder photo)
|
September 8, 2021 7:00 AM
70 years ago
Sept. 7, 1951
Late August rain meant the road to the Sage Creek oil well up the North Fork was nearly impassable due to the mud. The four families that were camped at Polebridge had moved to the well site in Canada. They were drilling for oil 24 hours a day, seven days a week. School District 6 had enrollment of 1,253.
60 years ago
Sept. 8, 1961
A bell that was in the former Canyon View School was packed up and sent to Bozrah, Syria, to a church there that needed a bell. Pastor Ralph Werner had organized the effort to have the bell shipped to the country. We wonder if it survived the recent civil war there.
50 years ago
Sept. 10, 1971
Glacier National Park had started to build a boardwalk to the Hidden Lake Overlook to protect the fragile alpine meadow at Logan Pass. The boardwalk was 3,720 feet long. It is still in use today and for the most part, has worked.
40 years ago
Sept. 10, 1981
A hiker survived a nearly 200 foot fall near Red Gap Pass in Glacier National Park. Gary Wycoff of Wisconsin bent over to fill up his water bottle in a stream that's near the pass when he slipped on mossy rocks and went over the cliff. Hikers have been killed in that same location and sign still warns visitors today.
30 years ago
Sept. 5, 1991
Loraine Lengkeek of Michigan beat a sow bear off her husband, Deane, with her binoculars after the couple ran into the bear on the Iceberg Lake Trail in Many Glacier. The sow had two cubs and went after Deane after they came upon the bear. He curled up in a fetal position and the bear started biting him. Loraine then hit the bear in the nose with her binoculars several times and it ran off. Park rangers figured it was a black bear — a grizzly would have likely killed the woman. Deane was treated for his injuries and survived.
20 years ago
Sept. 6, 2001
Local firefighters were credited with saving four homes in the path of the Moose Fire up the North Fork after it went on a run that sent it into Glacier National Park. The fire had ballooned into a 58,500 acre inferno, but rain was expected as the fire sent a plume of smoke over Lake McDonald.
It would never reach the shores of the lake, but the Robert Fire would a couple of summers later.
10 years ago
Sept. 6, 2011
After a five-day search, rescue crews found the body of Jacob Rigby, a seasonal park employee. Rigby had apparently accidentally fallen about 800 feet off peak 8888 near Mount Despair in the south end of the park.
---