Denham Columbia Falls police department's first lieutenant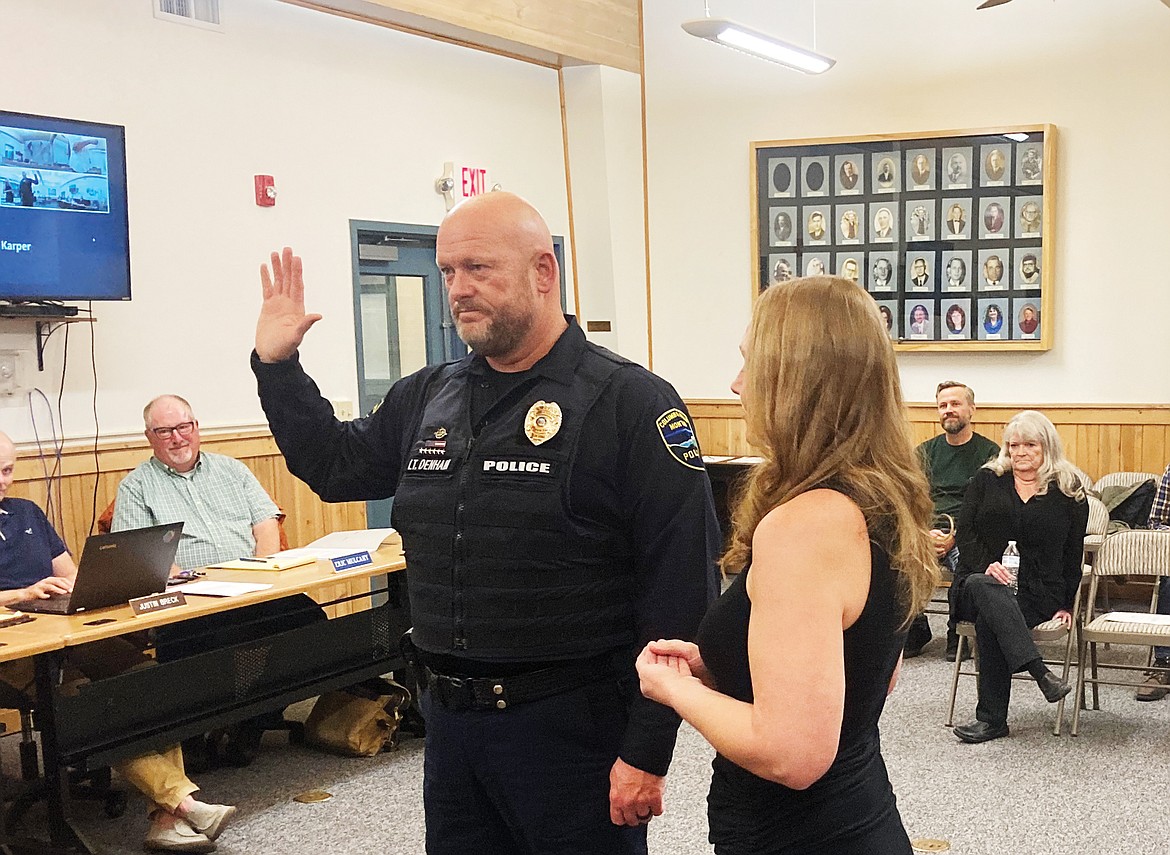 Gary Denham, with his wife Jamie by his side, is sworn in recently as lieutenant in the Columbia Falls Police Department. (Chris Peterson photo)
by
CHRIS PETERSON
Editor
|
October 27, 2021 7:50 AM
Columbia Falls police Det. Gary Denham was recently sworn in as the department's first ever lieutenant, a job that he says will focus on training officers and being an approachable and accessible leader in the department.
He has a distinguished career in law enforcement.
Denham, 53, grew up in Bigfork and went to Dickinson State on a football scholarship, but he ended up with a family, left college and joined the U.S. Army. His family has a history of police and military service, so he signed up to be a military policeman.
He went through training for that, all right, but at the bottom of his signing papers there was a little box checked that also made him Army airborne. He received his blood wings from airborne school (a ceremony where the wings are punched into the bare chest and then twisted, thus the name) and then traveled the world for four years.
After the Army he joined the San Bernardino, California Sheriff's Department, spent a couple of years at the Glenn Helen Rehabilitation Center, where he said he learned a lot about prisoners and criminal activity.
criminal activity.
But jail work wasn't for him, so he did a stint with the Whitefish Police Department in their reserves for a couple years, but he wanted to be a detective, so he went to the Clark County Sheriff's Office in Vancouver, Washington.
He would become a precinct detective and worked on the Columbia River Task Force, part of a team tracking down a serial rapist and murderer, who, over the years, raped at least 15 women.
The perpetrator, Michael Wayne Gallatin, was eventually caught after a plains clothes policeman responding to a rape incident caught Gallatin hiding in the trees nearby with binoculars, watching the police search the scene, Denham recalled.
Gallatin, perversely, would rape his victims, have them cook for him, and then rape them again before leaving.
When Gallatin was caught, police tied his DNA to several cases. A tattoo of a bull on his arm also did him in. Denham was the first detective to interview Gallatin. What Gallatin told him was short and to the point, but not printable in newspapers.
Gallatin is in jail today.
Denham was promoted to the Tactical Detective Unit where he worked undercover narcotics. His biggest bust was when he exposed a motorcycle gang that was stealing millions in equipment from construction sites.
He grew "a disgusting beard" and his work resulted in the arrests of about 130 members of the gang and associates.
For that, he received a police service medal.
But the rain and bad weather saw him leave Vancouver for the sunny climate of Carson City, Nevada where he worked in narcotics street enforcement and also became a motorcycle patrolman, one of the things in his career he always wanted to do.
He had never rode a motorcycle on the road before and he was plenty bloody and bruised before he passed the test, he recalled.
He retired from Carson City in 2019 and returned to Columbia Falls as a detective.
He said it took 15 years or so to realize that most of police work was taking care of people.
"I was able to get fighting families to hug," he said.
He said he relies on his wife Jamie, and Mom, Sharon Jones, for their support and his daughter is also considering a career in law enforcement, but he wishes she wouldn't.
In his role at Columbia Falls, he said he couldn't ask for a better group of working men and women.
"The crew is honestly some of the most motivated and hard working law enforcement that I've ever had the privilege to work with, and now, supervise," he said.
He said his focus will be on training and reducing liability in the department. He'd also like to see the department add more officers. It currently has nine. He'd like to see that boosted to 13 so all shifts and vacations are fully covered.
It's a good community, he notes. But there is a narcotics problem.
Still, "we don't have the problems like the other places I've worked," he said.
He thanked the city for its support.
"I'm humbled and honored to serve and be selected for this inaugural position," he said. "I take my responsibility seriously."
---