Engineer gives perspective on city transportation plan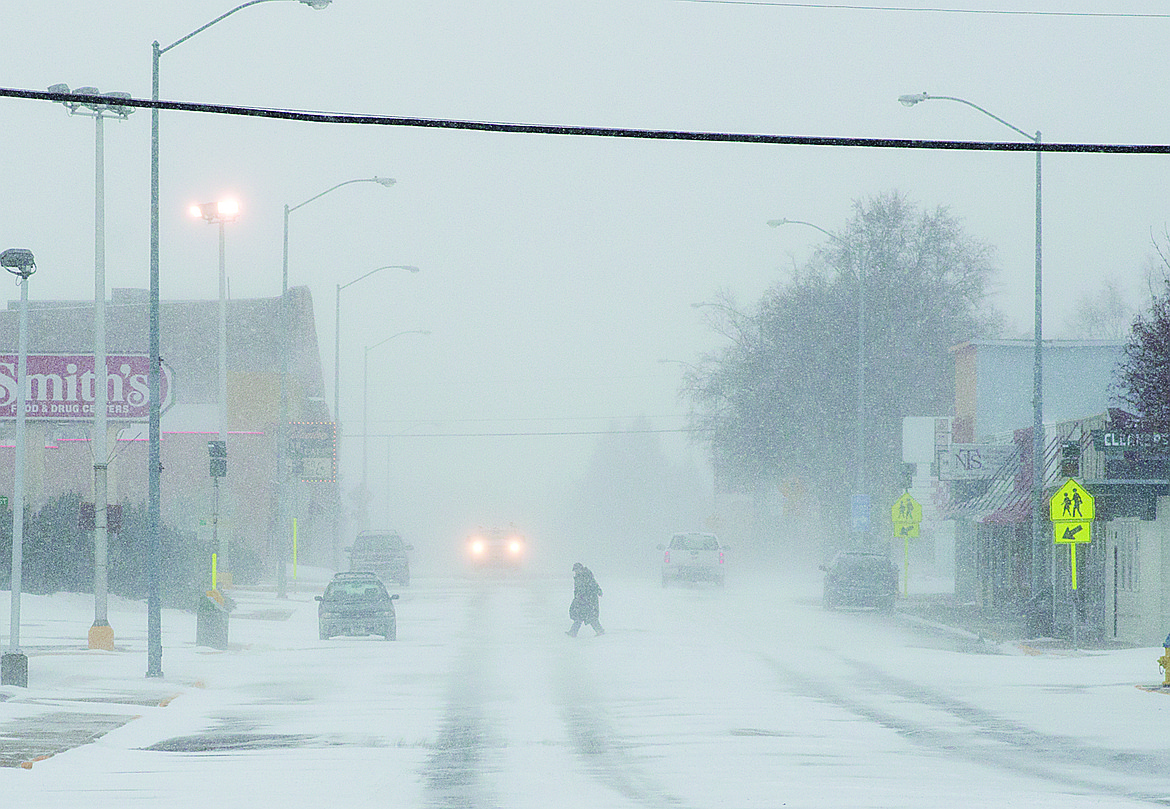 A woman crosses Nucleus Avenue in Columbia Falls during a blizzard in this file photo.
by
CHRIS PETERSON
Editor
|
October 6, 2021 7:50 AM
Engineer Wade Kline of added some clarity last week to the draft of the city of Columbia Falls Transportation plan during an open house.
Kline is with KLJ Engineering, the company that helped the city write the 20-year plan.
The plan outlines the city's transportation needs for the next 20 years and with a plan in place, it also allows the city to go after more state and federal funding.
Kline noted that the east-west Highway 2 corridor is actually in good condition from a traffic flow standpoint and should be able to handle even more traffic as the region continues to grow.
Highway 2 between 12th Avenue West and Meadow Lake Boulevard in 2018 saw an annual average daily traffic count of 23,221. By 2040, that's expected to rise to 32,221.
But the five-lane highway should be able to handle that.
The problems come with the north-south intersections. Top intersections of concern are the Truck Route, which has no traffic light, the Highway 40 intersection, Meadow Lake Boulevard and Nucleus Avenue.
At the Blue Moon, for example, there is no dedicated left-hand turn signal for people traveling south off Half Moon Road.
Meadow Lake has left-hand turn lights, but they simply flash yellow and they're not dedicated.
Ultimately, Kline noted, those issues would have to be addressed by the Montana Department of Transportation, as it controls the highway.
The same holds true for Nucleus Avenue. The plan, for example, gives an alternative for Nucleus Avenue that makes it more pedestrian-friendly by taking out the turn lane while still maintaining on-street parking.
While it's an attractive idea for some folks, it would ultimately need to be approved by the state, since Nucleus is also a state highway.
The plan also suggests roundabouts for 12th Avenue and 13th Street West and for Talbott and Fourth Avenue West, which are both problem intersections.
City manager Susan Nicosia and councilman Mike Shepard both noted that the idea of roundabouts are an engineer's solution to the problem.
The city isn't obligated to install roundabouts.
"The plan caveats every solution," Kline noted.
But Kline noted there had already been support from the public for a roundabout at 12th Avenue and 13th Street West, where the two streets don't properly align.
The city is already ahead of the game in some aspects. When it comes to bike and pedestrian paths, the south end of town is well-served and soon the north end will see more paths and sidewalks as well, as the city recently received a federal grant to run a sidewalk/shared use path up Fourth Avenue West near Glacier Gateway School and around the corner up Railroad Street.
Other proposed paths would run down the Truck Route, up Meadow Lake Boulevard, along 12th Avenue near the High School and more connector paths/sidewalks near the new Glacier Gateway Elementary School.
One problem is getting cyclists and pedestrians safely across Highway 2.
The plan suggests a possible boulevard near Nucleus Avenue. That would allow pedestrians a median to pause in while crossing the highway. It could also allow for more capacity for a left-hand turn lane up Nucleus.
But will it come to fruition?
Probably not.
With a boulevard, it would also mean no left-hand turns for east-west traffic. Since the city has already abandoned streets in the area, motorists looking to get to locations, like Coffee Traders, for example, might have to drive two blocks out of their way to get there.
---