Bulldogs drop Wildcats in boys soccer, 5-1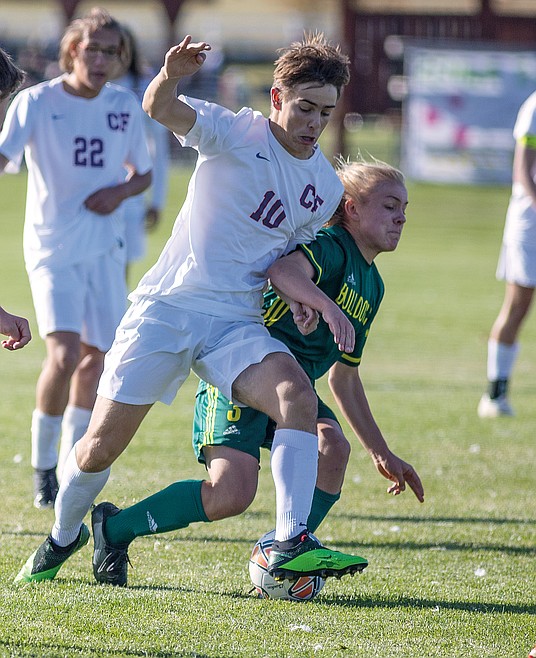 Kai Golan, left, wrestles with Chase Sabin for possession.
|
October 6, 2021 10:40 AM
Hungry Horse News
They played a great first 26 minutes. But Whitefish had them after that, as the Columbia Falls boys soccer team lost to the Bulldogs away Saturday, 5-1.
The Bulldogs' Gabe Menicke had all five goals for Whitefish.
The Wildcats actually dominated possessions in the first 26 minutes of play, with plenty of good looks at the goal.
But the shots didn't find the back of the net. In the span of three minutes, Whitefish was up 2-0 on the Cats with 10 minutes left in the half.
The Cats responded on a sweet header by Josiah Kilman to make it 2-1 in the second half, but that's as close as they could get.
Wildcat goalie Bryce Dunham had 10 saves. The Cats had 11 shots on goal, so they didn't lack for chances.
Last Tuesday the Cats beat Bigfork 6-0.
The boys are now 7-2-1 overall and 4-2 in conference.
They wrap up the regular season this week with a home game against Polson Thursday and an away game against Libby Saturday.
They're second in the conference heading into the playoffs, which start the weekend after. They'll play either the No. 2 or No. 3 team from the east away, as the east has a play-in game.
Like last year, the only way the Cats would play Whitefish again this season is if the two teams make it to the state championship.
---