Yesterdays: Snowmobiling in Glacier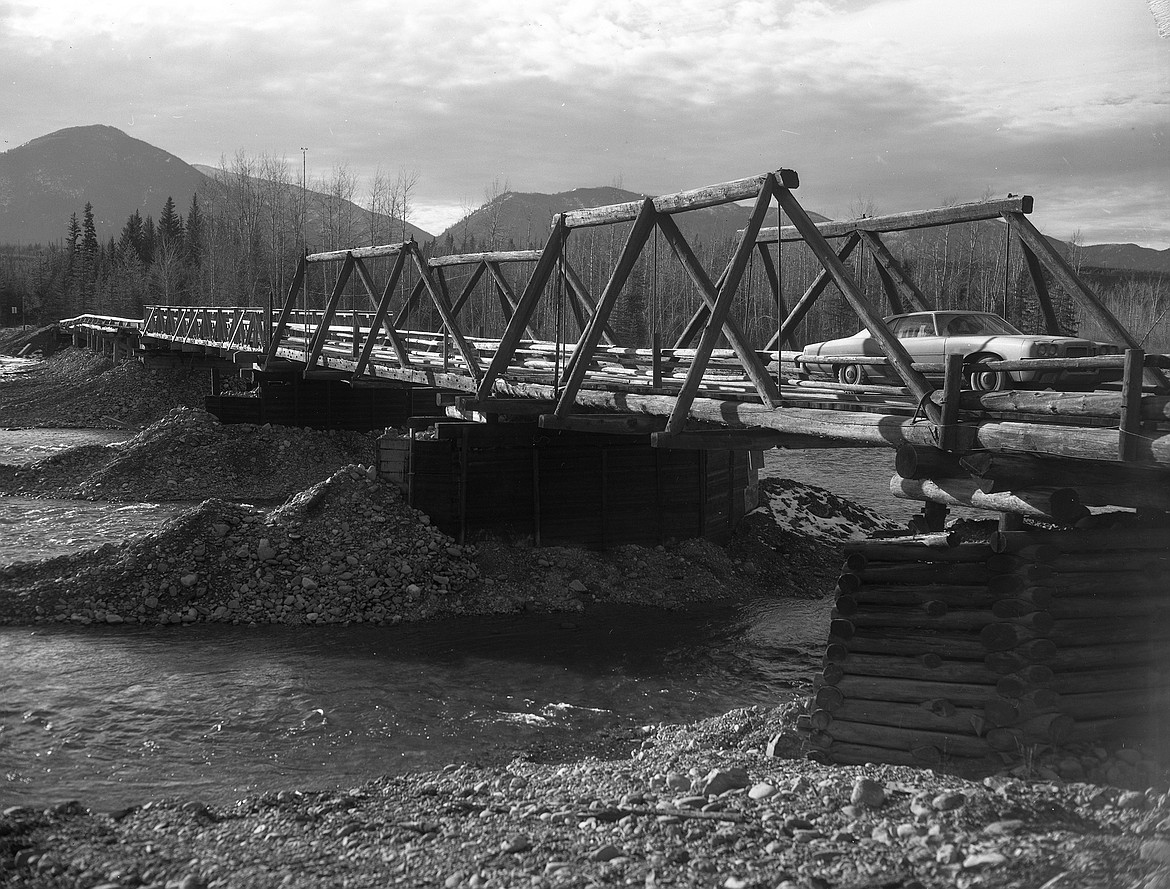 The Polebridge over the North Fork of the Flathead in 1971. Half was steel that was constructed by the county. Half was wood, made by the Park Service. (Mel Ruder photo)
|
November 24, 2021 6:40 AM
70 years ago
Nov. 23, 1951
The Anaconda Copper Mining Co. said it was not planning on producing aluminum anywhere else but in the Flathead Valley. There were no known polio cases in the Flathead at the time. There had been a 2-year-old in Hungry Horse a couple of months ago with a mild case.
60 years ago
Nov. 24, 1961
Skiers were ready to flock to Big Mountain. There was already 34 inches of snow at the summit of the 6,900 feet peak above Whitefish, with opening day at the ski resort set for Thanksgiving Day. Today, snow depths in November are hit and miss by Thanksgiving.
50 years ago
Nov. 26, 1971
Snowmobiling in Glacier was a "self registration" affair. The Park at the time had 75 miles of unplowed roads open to snowmobiles, from Apgar to Kintla Lake. On the east side, you could snowmobile to Many Glacier, into Two Medicine Lake and on the Going-to-the-Sun Road to Jackson Glacier Overlook from St. Mary.
40 years ago
Nov. 26, 1981
A fight over the federal budget saw all of Glacier Park entrances but the West Entrance closed. About 80 park employees were out of work and only nine rangers were left on staff. A jury said the Blue Moon Nite Club was liable for $155,000 in damages to the estate of Warren Boyd Ingram, who was shot in the club parking lot and died. Ingram was apparently trying to wrestle a gun from another man during a dispute. The jury found the club was partially responsible for the man's death because employees knew the man who shot Ingram had a gun, but didn't call police.
30 years ago
Nov. 21, 1991
The Columbia Falls girls basketball team won the Western A divisional crown. They beat Polson 53-30 for the title. They opened the state tournament against Glendive.
20 years ago
Nov. 22, 2001
The Going-to-the-Sun Road advisory committee, a group of stakeholders charged with coming up with the best way to fix the ailing highway, released their recommendations. They opted for an plan that called for "shared use" of the road while it was being reconstructed and ultimately, that's what the Park Service did.
10 years ago
Nov. 23, 2011
Dale Williams, a fiery figure on Flathead politics and a county commissioner, died. He was 62. The province of British Columbia passed a measure to protect the Flathead River basin in Canada from any future mining and other energy exploration. It marked the closure of a battle that dated back to 1974 over mining in the drainage.
---