Junior High soccer gave kids who might never have played a place on the pitch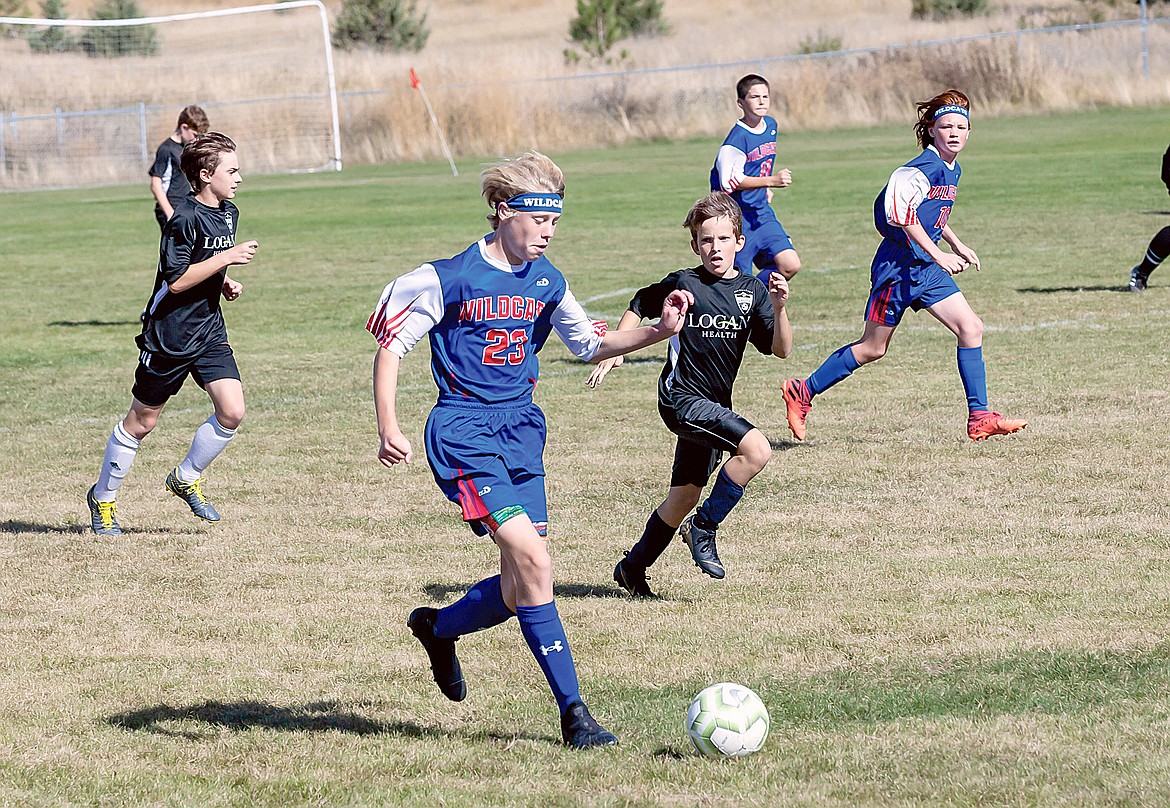 Jakobee Hooker, a member of the Columbia Falls "blue team" drives down the field in a game earlier this season. (Photo courtesy of Lindsay Dahl/ Glacier View Studio)
by
CHRIS PETERSON
Editor
|
November 10, 2021 7:20 AM
Columbia Falls was the first school in the state to start a junior high soccer program this year and it was a stellar success, coaches said.
The boys ended up with two teams, as they had 30 players come out. It was a variety of skill sets, said coaches Patrick Jones and Todd Adams.
There were the eighth graders who had played recreational and travel leagues for years.
And seventh graders that had never kicked a soccer ball.
There were no cuts.
The boys teams were split not by ability of players, but simply down the middle, Adams and Jones explained. One team was blue. One team was red. They both played a total of 13 games, which included a three-game tournament.
The plan was simply to get the kids playing "possession" soccer together. It's a type of play that centers on passing and keeping shape on the field and ball control, rather than long boots and direct pursuit.
The hope, was simply to make them all better soccer players, the coaches noted.
Since no other schools have junior high soccer, they squared off against club teams from other towns, like Libby, Polson, Kalispell, Whitefish and Bigfork to name a few.
When the season was all said and done and the year-end tournament commenced, the red team, coached by Adams was on one side of the bracket. The blue team, coached by Jones, was on the other side of the bracket.
The two ended up playing each other in the championship. The blue team ended the season undefeated, edging the red team, 3-2.
"It was good growth for the kids both on and off the soccer field," Adams noted. "For the first season, what an outcome."
Girls coach Emily Wortman had a bigger challenge. This was her first year coaching any program, and she had 27 kids all by herself, until she got an assistant in Jordan Mallet later in the season.
Still, things went well, she said.
"I think the girls had fun," she said. Like the boys, the girls also had a wide range of skills and the more experienced players helped out.
She said they worked on spacing and for some, just the basics of the game.
"Some didn't know how to pass a ball," she said.
All three coaches credited O'Brien Byrd, the head coach of the high school boys' team for setting the foundation for the program and spearheading its development. They also thanked the administration for the new fields, equipment and financial support.
They all said they would encourage other schools to start junior high programs. It made a huge difference for families both financially and logistically, as the kids only needed to buy their own shoes and shinguards to play.
Club soccer, on the other hand, typically costs families hundreds of dollars per player.
With junior high program support, coaches said there were a lot of players who finally got to experience life on the pitch.
---