Yesterdays: Elk saved, then shot next day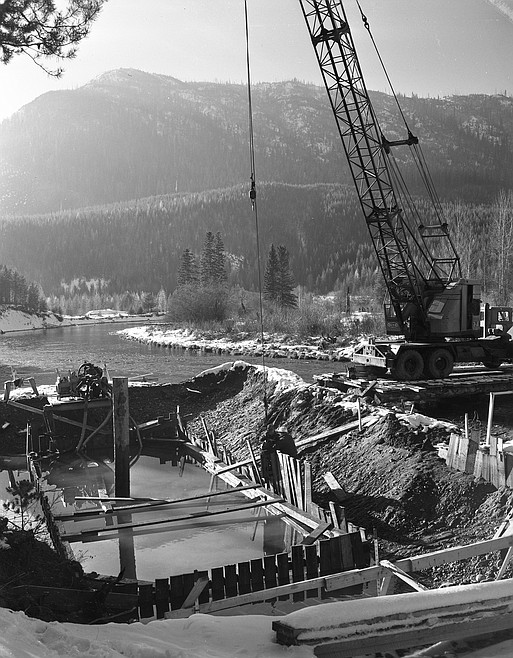 Working on the Camas Road Bridge in November 1961. (Mel Ruder photo)
|
November 3, 2021 7:50 AM
70 years ago
Nov. 2, 1951
Temperatures dropped to 3 degrees, which halted concrete pouring at the Hungry Horse Dam. The Great Northern Railway was the county's largest taxpayer, paying about $274,000 in taxes.
60 years ago
Nov. 3, 1961
Five men from Hungry Horse helped rescue a five-point bull elk that was mired in mud in Ashley Creek near Kalispell. The elk didn't live long, however. The next day an elk hunter shot the beast. The hunter who shot the elk was fined $100 for illegally tagging an elk.
50 years ago
Nov. 5, 1971
Timber-type guardrail was being installed in Glacier National Park's Going-to-the-Sun Road. Crews were putting in foundation for the rails, despite the snow in the high country. The Camas Road was expected to open to snowmobilers soon, with new snow in Glacier. The 2,437-foot Lake Koocanusa Bridge was to be dedicated. The bridge goes over the Koocanusa Reservoir near Libby.
40 years ago
Nov. 5, 1981
The stoplight on Nucleus may have been headed to the Smithsonian. It was one of the first lights to be installed in Montana and was taken down in May. It never made it there, however. It hangs in city hall today.
30 years ago
Nov. 7, 1991
Columbia Falls voters voted down a $1 million bond issue to fund a new water system for the city, 218-188. Residents at the time complained about bad water, but weren't willing to fund the upgrades, Mayor Ed Toren lamented.
20 years ago
Nov. 1, 2001
Dan Kaufman said the Polebridge Mercantile would no longer host a Post Office. The decision was made shortly after the 9/11 terrorist attacks, he said. There had also been anthrax attacks on mail, which had poisoned people. The Post Office was popular with locals and tourists, as they could get stamps canceled with the Polebridge mark on them.
10 years ago
Nov. 2, 2011
The Harlem Ambassadors, a specialty basketball team like the Harlem Globetrotters, visited Columbia Falls as a fundraiser for the Kiwanis Club.
Recent Headlines
---