Boys take second at Western A Divisional tennis; girls fourth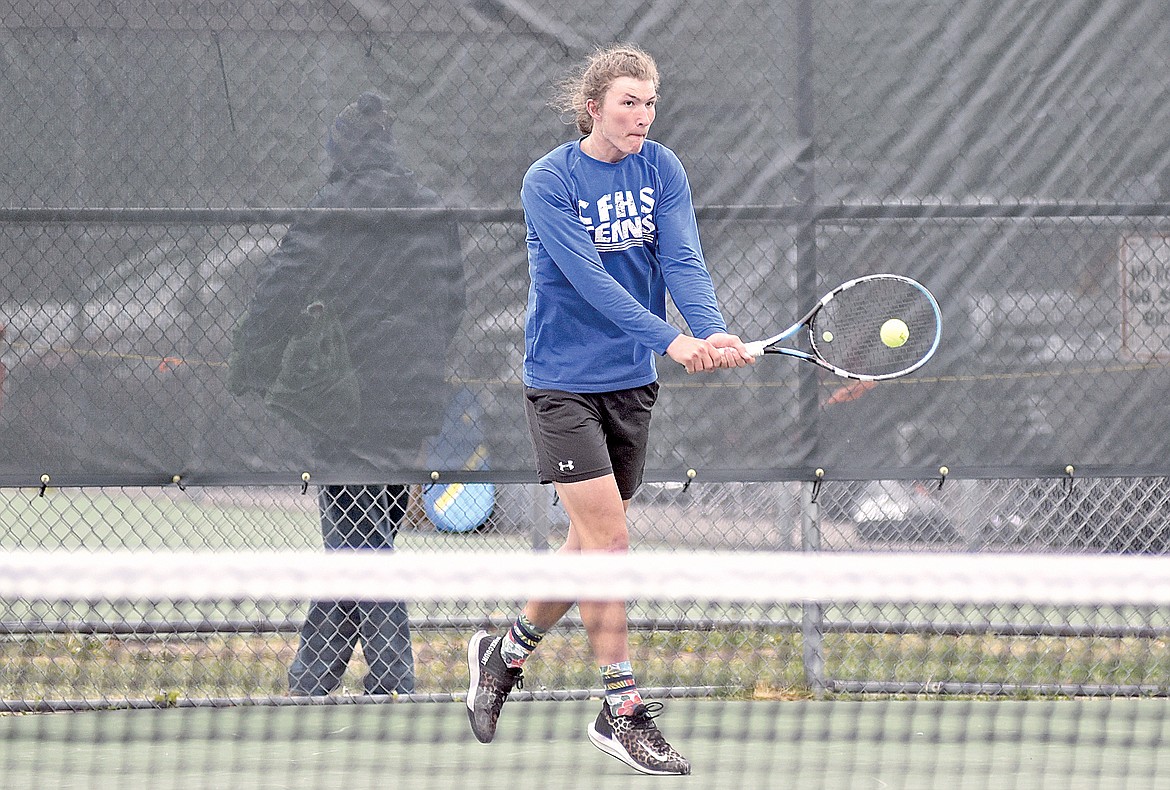 Wildcat Niels Getts hits a return in the boys singles championship match against Whitefish's Jayce Cripe at divisionals in Polson on Friday. (Whitney England/ Whitefish Pilot)
by
TERESA BYRD
Staff Writer
|
May 26, 2021 7:35 AM
Columbia Falls boys tennis finished second overall at the three-day Western A divisional tennis tournament in Polson that ended on Saturday.
Columbia Falls girls took fourth overall. Niels Getts, boys No. 1 singles player for the Wildcats took second place in the championship against Whitefish's Jayce Cripe in a three set match that ended in a tie-breaker 6-3, 2-6, 7-6 (7-4).
"This was some of the best tennis I have watched this year," said Columbia Falls head coach Michele Colliander. "Both Getts and Cripe played amazing and it was really fun to watch."
Wildcat boys No. 1 doubles team Cade Morgan and Cody Schweikert took fourth place, losing in the quarterfinals to Whitefish's Jack Robertson and Mason Kelch, 6-2, 7-6 (7-5).
Hannah Schweikert, girls No. 1 singles player for the Wildkats took second place, falling in the championship to Whitefish's Grace Smyley 6-4, 6-0.
"Hannah Schweikert has one of the best serves in the conference, not to mention the rest of her game that she has worked really hard to perfect," said Colliander. "I am looking forward to seeing all of her hard work pay off at state."
Columbia Falls heads to Billings for the 2021 Class A State Tennis Tournament this Thurs-Fri, May 27-28.
Divisional Team Scores: BOYS— Whitefish 61, Columbia Falls 31, Polson 28, Ronan 18, Libby 14.
GIRLS— Polson 55, Whitefish 46, Libby 23, Columbia Falls 20, Ronan 12.
---