Yes, it's a tight labor market, but affordable housing is playing big role in shortage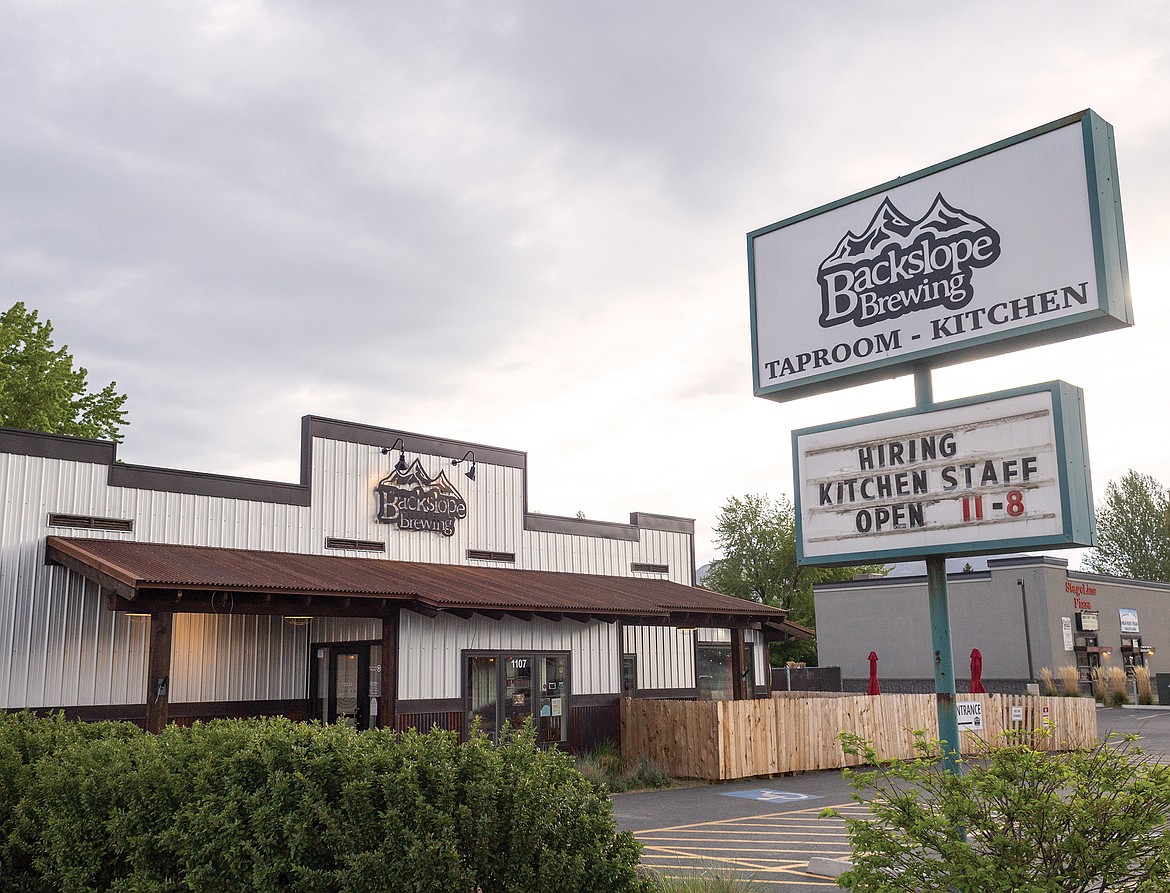 Backslope Brewing in Columbia Falls.
by
CHRIS PETERSON
Editor
|
May 19, 2021 8:20 AM
A shortage of workers this summer in Columbia Falls area businesses has virtually every employer up and down the U.S. Highway 2 strip looking for help.
But some employers say it's not just a worker shortage, it's a housing problem as well.
The problem is beginning to hurt business.
Tien Windauer owns Tien's Place, one of the best Asian food restaurants in the area. He's been voted as top chef in the valley for two years running. But recently he had to stop serving lunch, because he didn't have enough help to keep the restaurant on Highway 2 open.
For the last couple of weeks, he's had just dinner only, he said.
He said he's hopeful he can get help, but right now, prospective workers call, but never show up for an interview, or they work for a few days and don't stick with the job.
Complicating matters said Mike Atkinson of the West Glacier KOA is there's few foreign workers available due to the coronavirus pandemic.
Typically an establishment like the KOA can get foreign student workers under what's known as a J-1 visa, which allows college students and others to work in the U.S. temporarily.
Many businesses in and around Glacier National Park use them.
But President Trump banned J-1 visas during the pandemic. President Biden, in turn, lifted the ban earlier this spring, but some countries are still under restrictions and there's apparently a backlog of applicants.
Atkinson said earlier this month that as far as he knows, there's few J-1 workers available.
That also means a tighter labor market locally. Carla Fisher is the co-owner of Backslope Brewing in Columbia Falls. She said she recently lost a good employee because she lost her housing to a vacation rental and she couldn't find childcare. A double whammy.
"Housing is unaffordable for service workers," she said. "We have to have housing that's affordable for people who work in the industry."
A job at Backslope pays pretty well. Workers start out at $14 an hour plus tips and after a summer bonus and training, can make as much as $18 an hour plus tips.
Fisher runs the popular restaurant and brewery with her husband Darin. She said to be comfortable this summer, they need four more workers. As far as housing goes, it's a tale of short and long term availability. Currently, there's about 27 places listed for long term rentals on Craigslist. Meanwhile at the Vacation Rental By Owner website, there are more than 300 local vacation rentals listed.
They start out at $175 a night and go up from there.
Dan Petek owns Canyon Foods, the grocery store in Hungry Horse. This summer he's taking the housing matter into his own hands — putting in a trailer with four studio apartments for summer help. He's not sure it will be ready this summer, but will be useful in future needs.
Closer to Glacier, Flathead County recently amended the Canyon Area Land Use Regulations to allow "work camps" so employers could put in apartments, trailers, even campgrounds, to house employees.
From the state's perspective, they want to see more people off the unemployment rolls.
Gov. Greg Gianforte recently announced a return to work bonus for people still on unemployment.
The initiative will offer $1,200 payments to individuals receiving unemployment benefits now, who subsequently accept employment and complete at least four paid weeks of work. Individuals eligible for the bonus will be contacted by the Department of Labor and Industry and informed of their eligibility, as well as more information about how to ensure they receive the payment after they complete four weeks of employment.
In turn, Gianforte said the state would no longer participate in the federal supplemental $300 weekly payments to claimants under the Federal Pandemic Unemployment Compensation program, starting on June 27. The idea is to encourage workers on extended unemployment to return to work. But the unemployment rate, by the administration's own reckoning, is already low — just 3.8% statewide.
So just how many workers will come back, incentives or not, remains to be seen.
Recent Headlines
---