Finberg-Roberts named second team All-American in volleyball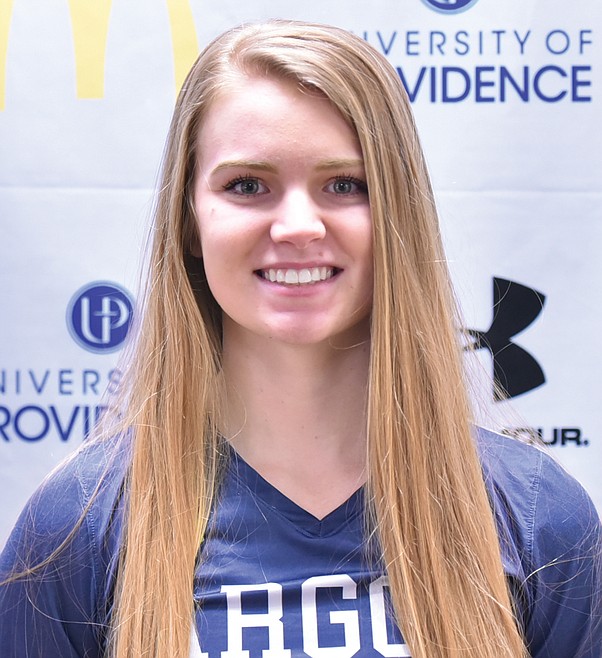 by
STAFF REPORT
Staff Report
|
May 19, 2021 9:10 AM
Three University of Providence volleyball players in Great Falls were named All-Americans this season, the NAIA announced recently.
Cydney Finberg-Roberts of Columbia Falls was named a Second Team All-American, while teammates Sacha Legros and Sadie Lott were both named Honorable Mention All-Americans.
"I'm super excited for those kids," head coach Arunas Duda said. "That kind of recognition on the national stage is incredibly important for them. It showcases all the hard work they've put in. I couldn't be more happy for those kids because they deserve these awards and those accolades."
The Argos (22-3, 18-2) recently completed one of the most successful seasons in school history. The team, which didn't get to practice in the fall due to COVID-19 restrictions, won their first outright regular season conference championship this season. They followed that up by winning the Frontier Conference Tournament Championship, punching their ticket to their third straight NAIA National
Tournament. They defeated Olivet Nazarene in their opening round game to clinch a spot in the 24-team pool play, where they defeated Viterbo in straight sets in their first round game before falling to Jamestown.
"Three All-Americans on one team is why we made it so far this season," Duda said. "The exciting part for us is all three of them are coming back next season. It's three kids that really deserve it because of all their hard work. During a COVID-19 offseason we were watching film with Finberg. Sacha touched the volleyball as much as she could. Sadie came in so prepared and ready to go. They definitely earned every piece of it, and that translated to the success we had as a team."
The Second Team All-American recognition adds to the gauntlet of recognition that Finberg-Roberts has received this season. She was named not only the Frontier Conference Setter of the Year, but the Frontier Conference Player of the Year as well. The American Volleyball Coaches Association recognized her talents as well, naming her both the Northwest Region Setter of the Year and Region Player of the Year Award.
The numbers back up the awards. Finberg-Roberts finished the season ranked third in assists per game (11.8) and fourth in total assists (1,116). She also broke the single season record for total assists and assists per game, and also broke the school record for total career assists (2,454) this season.
"She's an incredibly mature person and player," Duda said. "She handles her business so well. She comes to work every single day. She doesn't complain about anything. She just gets after it. She's become more and more competitive every season that she's played. The preparation that she has for each opponent and each match is unmatched. She goes back and watches film before you even tell her to. She's put herself in this situation so she's incredibly deserving."
---