Tennis squads now under one coach and have good numbers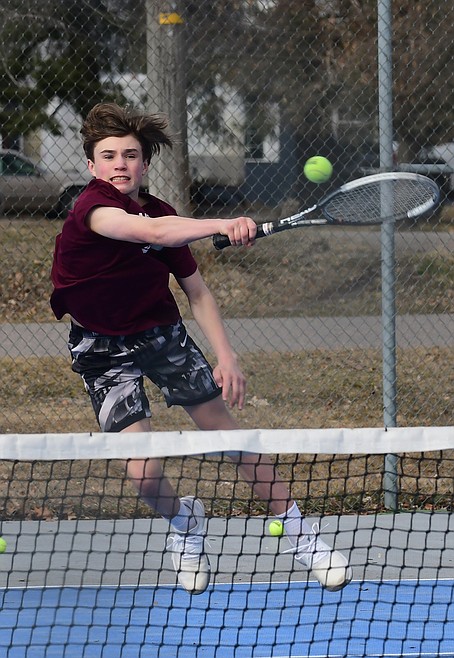 Dale Blickhan returns a volley during the first week of practice earlier this month. (Teresa Byrd/Hungry Horse News)
by
TERESA BYRD
Staff Writer
|
March 31, 2021 6:40 AM
Columbia Falls tennis has a substantial turnout this year with 45 players looking to compete in the 2021 season.
The robust numbers are largely due to a steady increase of boys participating in the sport over the last few seasons, with the boys team finally matching the girls numbers this year— a far cry from several years ago when the boys team didn't even have enough players to fill a varsity roster, head coach Michelle Colliander said.
Colliander, who's in her seventh year coaching for the Wildcats, is now head coach of both teams after the programs were combined when Gene Marcille, head coach of the girls team, retired last season.
"The fact that we have so many kids coming out for our first week is inspiring," Colliander said. "We have some really talented athletes that are showing up to practice, and I'm
excited to see what they bring. ... I feel like we have a really promising season."
The teams are led by seniors Hannah Schweikert and Niels Getts playing No. 1 singles.
Schweikert and Getts each made it to state their sophomore year, with Schweikert taking third, and both are looking good and ready to build upon where they left off before the pandemic closed down last year's season, Colliander said.
Nearly all Columbia Falls "home" meets will be held at the Flathead Valley Community College courts in Kalispell, except for a few that are scheduled to be held at Columbus Park in Columbia Falls.
The city of Columbia Falls is building new courts across the street from the high school in Hoerner Park, but they won't be completed before this year is over.
The Wildcats' first competition of the season is at 1 p.m. on Thursday, April 8 at FVCC.
---