Park Service green lights ticketed entry for Sun Road travel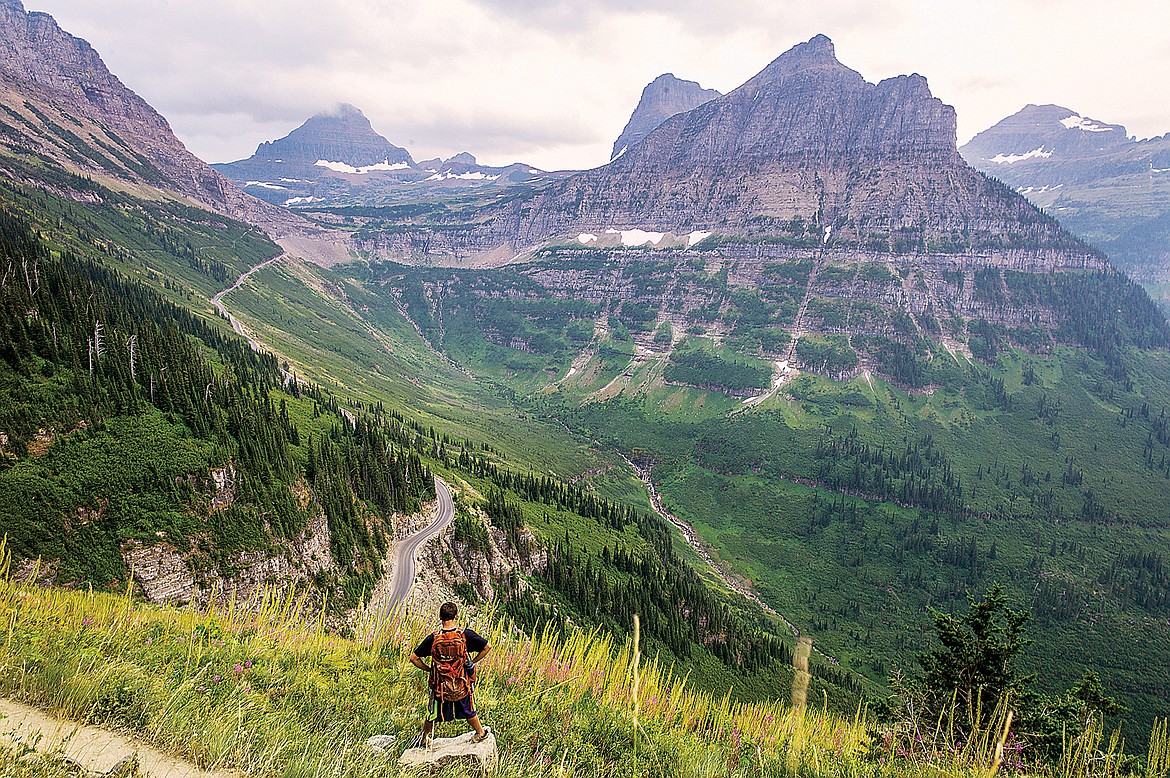 Looking down at the Sun Road from the Highline Trail.
by
KIANNA GARDNER
Daily Inter Lake
|
March 31, 2021 3:00 PM
Glacier National Park officials announced Wednesday that a ticketed entry system for the 50-mile Going-to-the-Sun Road corridor is officially a go for the 2021 season.
The park held a community discussion on the matter a few weeks ago, but at that time, officials had not made a formal decision on the matter.
According to a news release, the online system will be in place May 28 through Sept. 6. The system applies to those entering West Glacier and St. Mary entrances between the hours of 6 a.m. and 5 p.m.
Under the plan, visitors who arrive by private vehicle or motorcycle must have a day-use entry reservation ticket, in addition to a park pass, which is required for every vehicle coming into the park, regardless of the entry point. The reservations are valid for seven consecutive days and must be validated on the first day a reservation is scheduled to begin.
Day-use tickets will be limited and numbers will be tracked each day, with additional entry reservation tickets being made available if there is additional capacity.
Approximately two-thirds of the entry reservations will be available up to 60 days in advance on a "rolling window" basis, with the remainder of tickets being released 48 hours ahead of time. For example, on June 2 a visitor could purchase entry reservation tickets 48 hours in advance for entry on June 4, or they could purchase an entry reservation ticket 60 days in advance for entry on Aug. 2.
Entry reservations can be made at www.recreation.gov beginning in April and require a nonrefundable $2 processing fee.
ONCE VISITORS set up an online account, they will select the day they plan to visit the park, add it to their online cart and process their payment. After payment, visitors will receive an email confirmation with an attached entry reservation ticket that is non-transferable.
For those who already have either lodging or service reservations in the corridor, day-use tickets are included with those reservations and will not need to be purchased. Overnight accommodations within the corridor include those at Lake McDonald Lodge, Rising Sun Motor Inn, Fish Creek Campground, or in-park private lodging. Service reservations include those for boat rides, guided hikes, horseback rides and bus tours.
These included entry reservation tickets only apply to the dates of your service reservation, proof of which is required upon entry to the park, along with a reservation ticket.
The news release notes that visitors entering the park on foot or bicycle do not need a reservation, nor do those coming through the Many Glacier, Two Medicine, Cut Bank, Chief Mountain Highway and North Fork entrances.
GLACIER NATIONAL Park Superintendent Jeff Mow said recently the system is for this season only and takes aim at addressing various congestion issues in the corridor, a handful of which are specific to 2021, including road construction and ongoing challenges related to the pandemic.
"We have the making of a perfect storm this season," Park Superintendent Jeff Mow said. "Not only do we have ongoing COVID-19 mitigations and reduced staffing, but we are also facing construction delays inside and around the park."
In 2020, park officials implemented temporary closures 29 times in 25 days at the park's west entrance, which at times, resulted in backups along U.S. 2. The news release notes the ticketed system will offer visitors "increased certainty" that they will be able to enter the park while reducing or eliminating the need for closures at the entrance.
"The goal is to maximize access while avoiding congestion that results in temporary closures of park entrance gates," Mow emphasized.
Some stakeholders have already expressed their appreciation for the switch to the ticketed system.
In a news release Wednesday, the Whitefish Convention and Visitors Bureau said the system aligns with its recently-launched "Be a Friend of the Fish" campaign, which aims to "balance the economic viability of the tourism industry with community, social, and environmental impacts."
The news release emphasized the ticketed system will not only encourage visitors to plan ahead of time, but will help them set realistic expectations for visiting the park.
In a prepared statement, the bureau's executive director, Dylan Boyle, said "Requiring ticketed entry for Going-to-the-Sun Road this summer is a good step towards creating the best visitor experience possible. We hope this management tool will mitigate the overcrowding we witnessed last summer. We also encourage locals to utilize the reservation system, remembering to plan ahead for their excursions. With reservations, people can be more confident in their trip planning. This is very much in line with how we will be communicating with visitors this summer. We're asking everyone to plan ahead, slow down, and be flexible with a back up plan."
To plan your visit to the park and find additional information on the ticketed system, go to https://www.nps.gov/glac/planyourvisit/gtsrticketedentry.htm
---