At Whitefish Mountain Resort, a protest over racism, diversity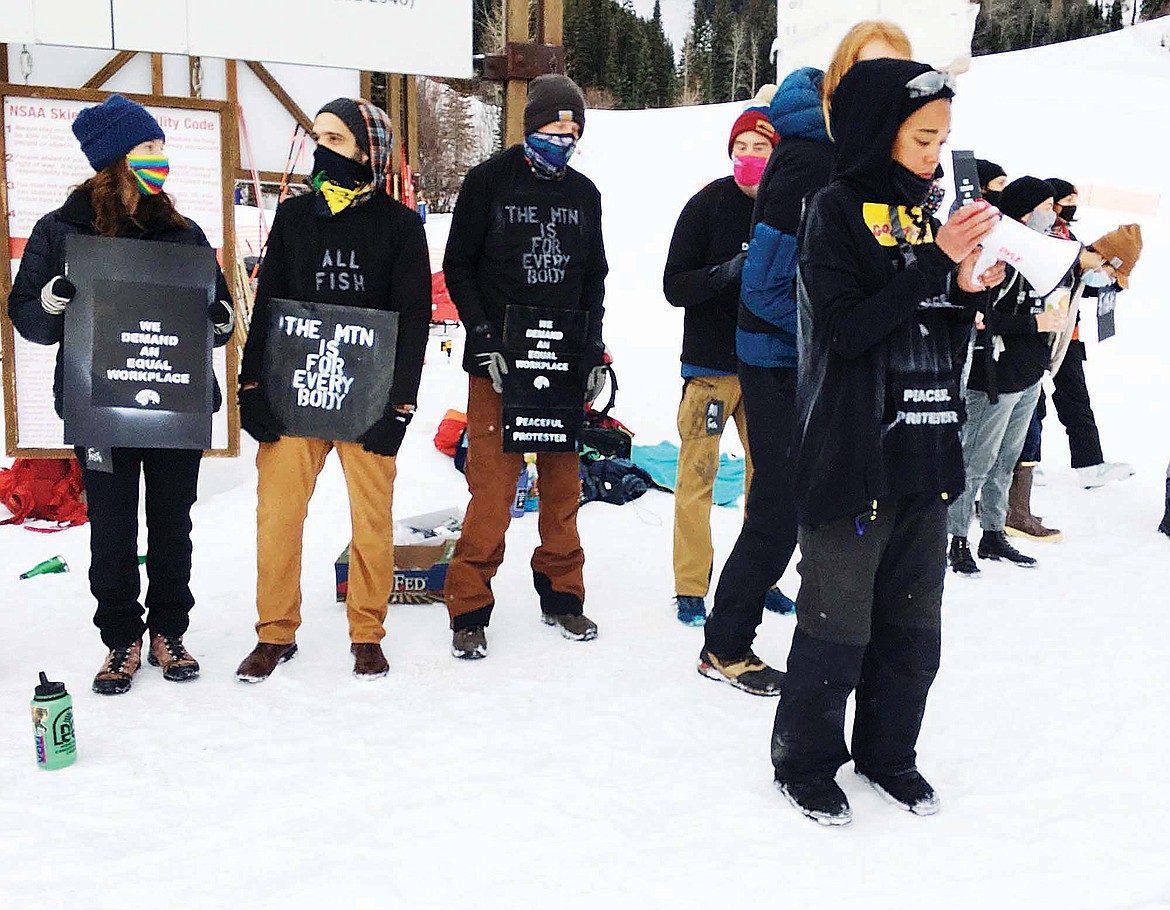 Protestors gather at Whitefish Mountain Resort Sunday. Organizers of the group, calling itself Culture Change at WMR, say they want to raise awareness of a culture of "racism and sexism" at the resort. (Courtesy photo)
by
HEIDI DESCH
Whitefish Pilot
|
March 24, 2021 10:10 AM
A group of about 30 people held a protest at Whitefish Mountain Resort on Sunday for what organizers say was an effort to raise awareness of a culture of racism at the resort.
The group, calling itself Culture Change at WMR, includes former and current resort employees and Flathead Valley residents. Organizer Jenny Howard said a string of incidents involving racism have occured at the resort and past experiences have shown that resort management has done little to address it, but the group would like to see that change.
"We want them to make the mountain a more inclusive place," she said. "We want them to involve some of the people who have experienced this in changes and announce to the public what they plan to have take place."
People participated in the protest between Chair 1 and Chair 2 at the resort and on Big Mountain Road gathering for several hours beginning on Sunday morning. Some wore black shirts saying "we demand an equal workplace."
The resort says it became aware on Wednesday for a potential protest and responded immediately to concerns outlining changes that are already in place as well as a plan moving forward with additional changes to continue "fostering a safe, diverse and inclusive workplace."
"We have identified a clear plan moving forward on these issues and are dedicated to enacting change," said Kristi Hanchett, Director of Human Resources for WMR, in a release. "We want to say thank you to those that came to us with their concerns, and we are committed to following through with our efforts."
Howard said she hopes resort management will meet with those involved with protests to listen to their stories of experiencing racism and address concerns.
"The mountain has committed to taking our concerns into account and that's a great start," she said. "The resort is making strides to right this wrong."
Whitefish Mountain Resort spokeswoman Maren McKay said the resort has already taken steps to address concerns raised by organizers of the protest.
"We are going to move forward with plans and have conversations with our employees," she said. "We're more than happy to talk with our current employees."
In addition to other changes, McKay said the resort has hired an outside consultant to begin implementing mandatory anti-racist and inclusionary training for all resort employees. Training is expected to begin in April with senior management, she says, but will "take a little bit of time to get through" all employees.
Protest organizers say repeated incidents of abuse, slurs and microaggressions have negatively impacted past and present employees mental health, safety and desire to be at the resort. Microaggressions are brief statements or behaviors that, intentionally or not, communicate a negative message about a non-dominant group.
Howard says she personally experienced hearing racists comments from guests while working on the mountain during the summer season last year and claims that resort management left the burden of dealing with those comments to employees themselves. She says she also experienced racist comments from other resort employees and relayed a story about a lift operator who allegedly was called a racial slur by a supervisor during an after hours conversation.
"Racism has been the most egregious of the incidents," she said, claiming that the discrimination has also involved sexism.

Culture Change organizers say they are asking for changes to be implemented and expanded at the resort including, a zero-tolerance hate speech policy, mandatory anti-racist and inclusion training for all WMR employees, hiring a diversity, equity and inlcusion staff member, increasing diversity in staff at all levels and establishing complete transparency about discrimination complaints.
In response to the issues raised, McKay says, the resort is taking several steps including amending its personal conduct policies to address harassment. Under a zero-tolerance hate speech policy, the policy now says the resort prohibits "disparaging or abusive words or phrases, slurs, negative stereotyping, or threatening, intimidating, or hostile acts that relate to protected categories; and any written or graphic material that insults, stereotypes, or shows aversion or hostility toward an individual or group because of one of the protected categories that are associated with hate or intolerance toward any select group will not be tolerated."
McKay says the resort decided rather than hire a permanent diversity, equity and inclusion staff member it will form a committee for that purpose. The committee is expected to include employees at all levels across the resort and it's mission is to "foster diversity, equity, and inclusion actions, while cultivating respect for differences by learning and using language that communicates empathy, interrupts bias and demonstrates allyship to team members and guests."
In terms of transparency, the resort plans to develop a process where "all voices are heard, claims are investigated, and appropriate action is taken when necessary" regarding discrimination complaints.
"Whitefish Mountain Resort is listening more actively than ever before and while we think listening is the place to start, we also know we are obligated to take action," a message from the resort says.
---