Windauer takes second, team seventh at state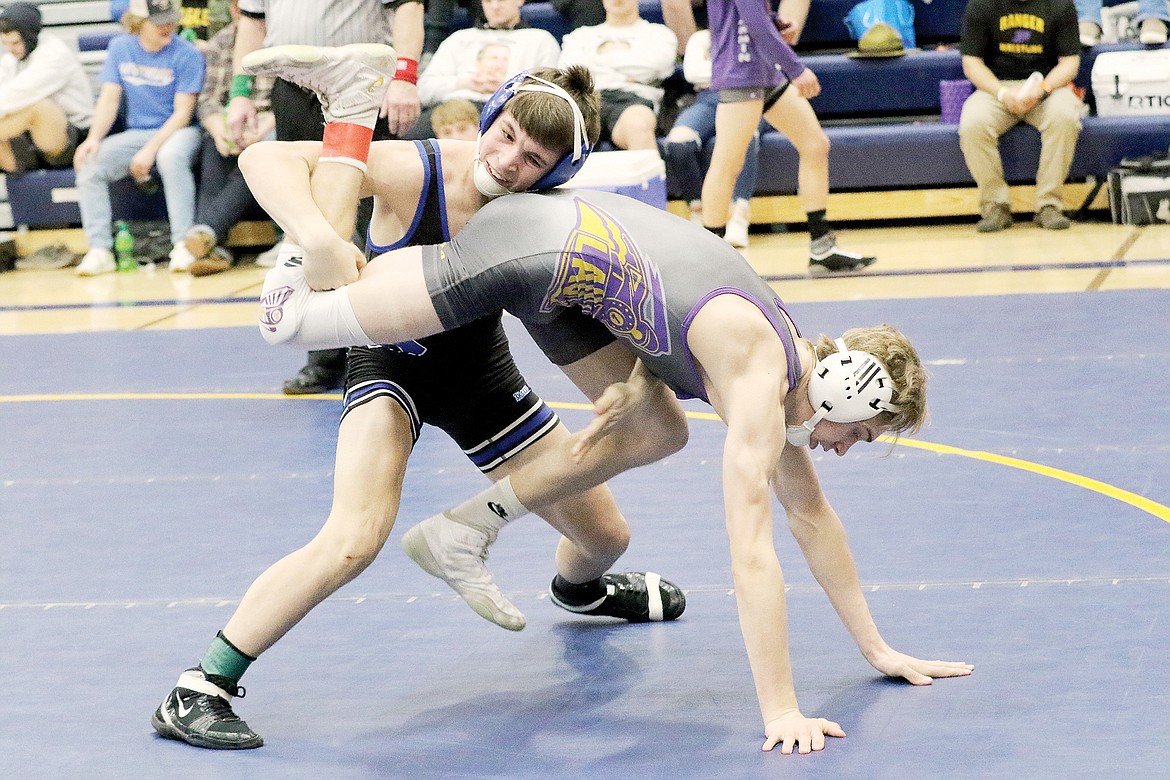 Justin Windauer (top) takes on Johnathan Herr of Laurel at the state A wrestling tournament in Miles City last week. (Bob Windauer photo)
Wildcat wrestling finished the season with three top-three placers at the State A Wrestling Tournament in Miles City over the weekend and placed seventh overall as a team.
Justin Windauer led the MatCats at the state tournament by taking second in the 126 pound weight class against Sidney's Zander Dean. The 6-1 championship loss for Windauer was his only one of the season, finishing out the 2021 year with a 22-1 record.
Seniors Lucas Thacker (160) and Josh Bertram (182) took third in their weight classes, battling back from their semi finals and quarter finals losses, respectively, to take their consolation titles.
Thacker's third place win was a 8-7 decision over Laurel's Camden Johnson, and Bertram's third place title came after pinning Libby's Tucker Masters in the third period.
"[Thacker] and Bertram did such a good job coming back," said head coach Jessie Schaeffer. "They were seniors, you know, just laying it all out there and just getting it done. So, very proud of those two."
Due to alterations in the season from coronavirus restrictions, this year the Cats faced a unique challenge in that the state tournament presented the first opportunity to compete against wrestlers from the eastern conference, including powerhouse teams like the Sidney Eagles.
The Wildcats also had to face off against eastern wrestlers that had seen a lot more mat time.
"Some came in with almost 40 matches to our 15-20, basically wrestling another season," said head coach Jessie Schaeffer. "So we just didn't get the mat time like we needed to this year. And unfortunately, you know, there's not a whole lot we could have done about it."
Despite the challenging conditions of the year, Schaeffer still had gratitude for the season and is already looking towards the future.
"It was fun to be there on the mat with them. It's always a pleasure to be on the outside with those kids, coaching them," said Schaeffer. "So it's been a great ride, and we have some pretty big goals to fill over the course the next couple of years."
---