Girls have tough go at state as the shots don't drop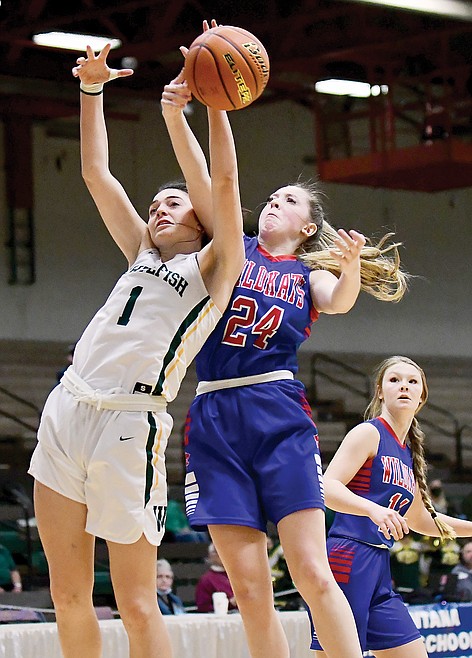 Lauren Falkner, right, fights for possession against a Whitefish player in the state A tournament in Great Falls. (Teresa Byrd photo)
by
CHRIS PETERSON
Editor
|
March 10, 2021 6:40 AM
A good season came to a rough ending for the Columbia Falls girls basketball team last week.
The Wildkats opened the state A tournament in Great Falls with a 37-21 win over Glendive, but faltered from there, losing to eventual champion Havre in the semifinals 59-38 and then to Whitefish in the consolation bracket, 46-38.
It was the first time in 13 years that the Kats had lost to the Lady Bulldogs.
The Kats simply had a tough time shooting.
Even against Glendive they only shot about 30% from the field. Maddie Robison led the Kats with nine points.
Against Havre, they had the same woes, shooting 30% overall. LaKia Hill led the squad against the Blue Ponies with 13 points. Havre led 34-21 at the break and the Kats needed a big third quarter to get back into the game, but they could only muster three points.
Havre had 18 points from beyond the threepoint arc. Columbia Falls had three. The Kats shot just one-for-10 beyond the arc and just 36% from the free throw line.
The Kats were 20-0 heading into the game.
In the consolation bracket, the Kats' shooting woes continued against the Bulldogs. The Kats led at the break, 24-20, but could only muster 14 points total in the second half,
scoring seven apiece in the third and fourth quarters.
Robison led the Kats with 12, Clarissa Erb came off the bench to score 10.
But overall, the girls shot just 27% from the field.
The Kats were without Madysen Hoerner after she turned her ankle against Havre.
Senior Lauren Falkner, playing on a tender ankle she turned in the divisional tourney, led the team with 13 rebounds.
The girls shot 27% from the field.
Coach Cary Finberg commended Erb, Falkner and Robison for the effort during the tournament.
But he noted it's tough to win when you shoot poorly, get out rebounded overall and have more turnovers than your opponent in every game.
"We put together our three worst offensive games of the year," he said.
He noted they typically scored a point per possession in the regular season. This tourney, they were .6 or .7 points per possession.
The Kats will lose Hill, Schweikert, Erb, Falkner and Hoerner to graduation.
Havre beat Billings Central in the double overtime for the championship, 64-60. Whitefish lost in the consolation championship to Hardin, 53-37. The Kats ended the season at 20-2 overall. The future looks bright for the program.
The freshmen and junior varsity teams only lost one game in the regular season. "These kids coming back will put the time in," he said. "They're very scrappy. We've got some work to do."
---