Columbia Falls native finalist in beer can competition
by
TERESA BYRD
Staff Writer
|
March 3, 2021 7:15 AM
Emma Covill, a 2013 Columbia Falls graduate, is getting recognition for her artistry after becoming a top-five finalist in the national 2021 Pabst Blue Ribbon Art Can Contest earlier this month.
As a snowboarder, Covill remembered from her younger years the influence of the Pabst Blue Ribbon brand and ethos upon the snowboarding scene and remembers admiring the can art of previous years' winners.
So when a coworker sent her a link suggesting she submit a design, Covill was already familiar with the nation-wide contest inviting artists to create an image to be printed on millions of the company's American lager cans throughout the year.
An artist since she was a young child, Covill remembers drawing Crayola-marker landscapes she'd peddle to her neighbors for 25 cents. In high school she would skip class to create in the art studio, and she eventually graduated with an art degree from the University of Montana.
Covill now lives in Missoula working as an "art-tender" at CREATE art bar, slinging drinks to clients as they finish select art projects. Like most in the service industry, she found herself nearly out of work when the pandemic struck and decided to take advantage of the extra time by teaching herself graphic design.
Holding no expectations Covill decided to enter the contest, viewing it merely as an assignment prompting her to practice her graphic illustration skills. Before the contest's early-January deadline, she had submitted six different designs.
At the end of the month she was startled to learn that one of her designs, featuring a southwestern scene of cacti, red rock mountains and stucco architecture, had made it into the top 25, guaranteeing her work would be commissioned by Pabst Brewing Company over the coming year.
"I am in love with desert landscapes and architecture. I worked in Zion National Park in 2015 and that's when the infatuation started," explained Covill on her Instagram page. "Cacti, red sand that sticks in your clothes, climbing
warm rocks, swimming in the river, and watching the moon rise above the high cliffs as the canyon exhales warm night breezes."
Covill was surprised again a couple weeks later when the public's vote declared her image to be in the top five, bringing her that much closer to the $10,000 grand prize.
Covill did not make the top three, but it was still an honor to make the top five, considering there were more than 4,000 entrants.
She is now onto the next project, having recently applied for an artist grant as well as the KALICO Art Center's "Tunnel Vision" project to paint murals on the inside of tunnels within the Kalispell Rails-to-Trails network.
"I did a couple of murals last summer, so I think it would be really fun and just really cool to be able to paint where I grew up, you know," Covill said.
She also plans on continuing her freelance graphic design work, creating brand logos for a recently expanding clientele. To view some of Covill's artwork, visit her on Instagram @emmajacquelynnart.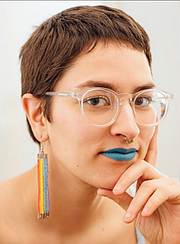 ---