Yesterdays: 50 years ago, flow of cars into Glacier Park was estimated at about 1,500 a day.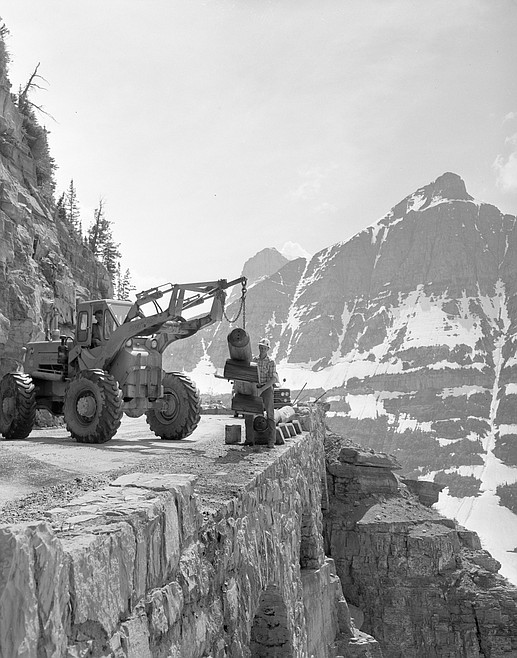 Putting guardrails up on the Going-to-the-Sun Road, June 5, 1961. (Mel Ruder photo)
70 years ago June 8, 1951
Crews started to work on the west side of the Hungry Horse Reservoir.
The 47-mile long road would provide access to large stands of merchantable timber along the west side of the reservoir as the Hungry Horse Dam was under construction. The Hungry Horse News won a national editorial board prize for best use of pictures. The first paper in Montana, daily or weekly, to do so.
60 years ago
June 9, 1961
A lightning strike started Glacier National Park's first forest fire of the year. It wasn't a big one, however, just 1.5 acres. Not only that, it was below Baby Glacier on Numa Peak, so it wasn't going anywhere. Columbia Falls was looking to hire its third policeman for the force.
50 years ago
June 11, 1971
Matelich Construction Co. was the low bidder for removable guardrails along the Going-to-the-Sun Road. The square timber rails, which were rather ugly, were used up until a few years ago when the road was reconstructed. Flow of cars into Glacier Park was estimated at about 1,500 a day.
40 years ago
June 11, 1981
There was still plenty of debate on how best to reconstruct Highway 2 from Hungry Horse to West Glacier. Options ran from a four-lane road to a speciality highway that went from four to three to two lanes depending on circumstances.
30 years ago
June 13, 1991
The Great Adventure Bear Park in Coram was waiting for final approval to open its doors. The park did open and for years its slogan was, "Your car is your cage." Years later, the park closed shortly after a grizzly bear mauled a worker at the park. A spring avalanche tore off a section of the Going-to-the-Sun Road near Haystack Creek as spring weather had turned miserable.
20 years ago
June 7, 2001
Glacier Park Inc., Glacier National Park, the National Parks Foundation and the Ford Motor Co. were hammering out a deal to restore the Park's red bus fleet. GPI would give title to the Foundation which, in turn, would give the buses to the Park Service. The Ford Motor Co. would then restore the fleet, at an estimated cost of $4 million.
10 years ago
June 8, 2011
It was a sad day at Canyon Elementary as the school closed and would no longer have classes there. Today it's used for a health clinic and other activities, but is no longer a school.
---