Arley 'Jean' Rohrbach-England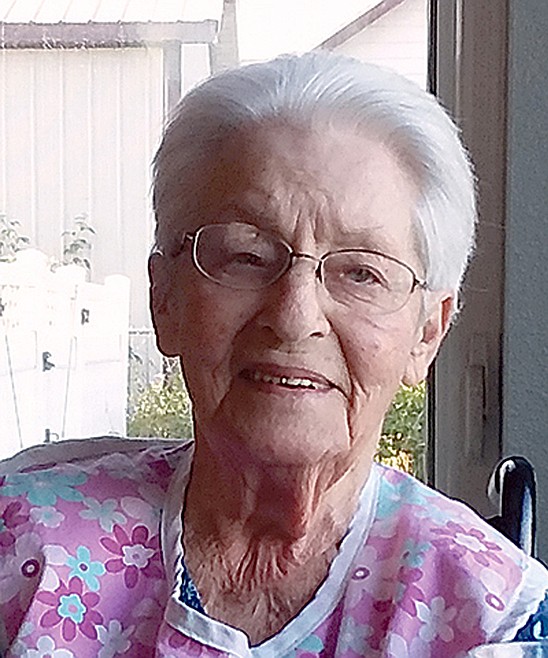 Arley 'Jean' Rohrbach-England
Arley 'Jean' Rohrbach-England
Arley 'Jean' Rohrbach-England, 83, passed away on Sept. 23, 2020 while under the loving care of Echo View Assisted Living.
Jean was born Aug. 13, 1937 to William and Hildegard Dewalt in North Dakota. She was raised in Fargo where she met her husband Wilbur Rohrbach and they were married in 1952. In 1953, a daughter Carol was born. The family then moved to Columbia Falls in 1954. Three more children were born: Judy in 1955, Randy in 1961, and Kelly in 1964.
Jean worked at several restaurants before buying Todd's in Columbia Falls in 1970. She later moved it back into a new building which is now the Nite Owl. She also owned Glacier Inn Restaurant and the Paul Bunyan Bar. She sold everything in the mid '80s and retired, enjoying traveling and spending her time with family.
One of Jean's proudest moments was when former Chief Ray Barnhart made her an honorary member of the fire department because of all the coffee and sandwiches that she wold bring to the firemen as they were fighting fires, free of charge.
Jean married Ray England and for a short while she lived in Las Vegas. She divorced Ray and moved back to the family home in Columbia Falls to be near her family. In 2019, health issues made it necessary for her to move into an assisted living home.
Jean's greatest joy was her children and grandchildren. She was an excellent cook and loved to prepare meals for family and friends. She would invite 10 people and cook enough food for 20. No one ever left her table hungry and there were always leftovers. Jean also had a love of music and played the piano and the accordion.
Jean was preceded in death by her parents; husband Wilbur in 1974; daughters Judy in 2003, Carol in 2006, and her brother Keith in 2014.
She is survived by her sons: Randy Rohrbach at the family home, and Kelly Rohrbach and his wife Suzy of Kalispell; sister Betty and Harold Cook of Yakima, Washington; brother Terry Milton and wife Debbie of Kalispell.
She leaves behind six grandchildren: Mysti, Carrie Ann, Christopher, Hillary, Klaus and Patrick; and two great grandchildren, Devon and Victoria. Also are "those four brats" as she loving called them, Jacob,  and Daniel Hutchens; Morgan Smith, and Thomas Johnson. In the last couple years she became close to Jessica Johnson, who acted as a caregiver for a while, but was more like a granddaughter, and Jean absolutely adored her baby, Elijah.
Jean's smile and heart will be missed by all but the memories will be timeless. To know her was to love her. She is now whole and with her loved ones. The sky is a little bit brighter with her shining as a star. The family would like to thank the staff at Echo View Assisted Living for their loving care and Frontier Hospice for everything they did in Jean's final days to make her comfortable.
A service is at Woodlawn Cemetery at noon June 5 with a reception at the Back Room of the Nite Owl Restaurant in Columbia Falls at 1 p.m.
---