Familiar faces take tops spots at Boogie to the Bank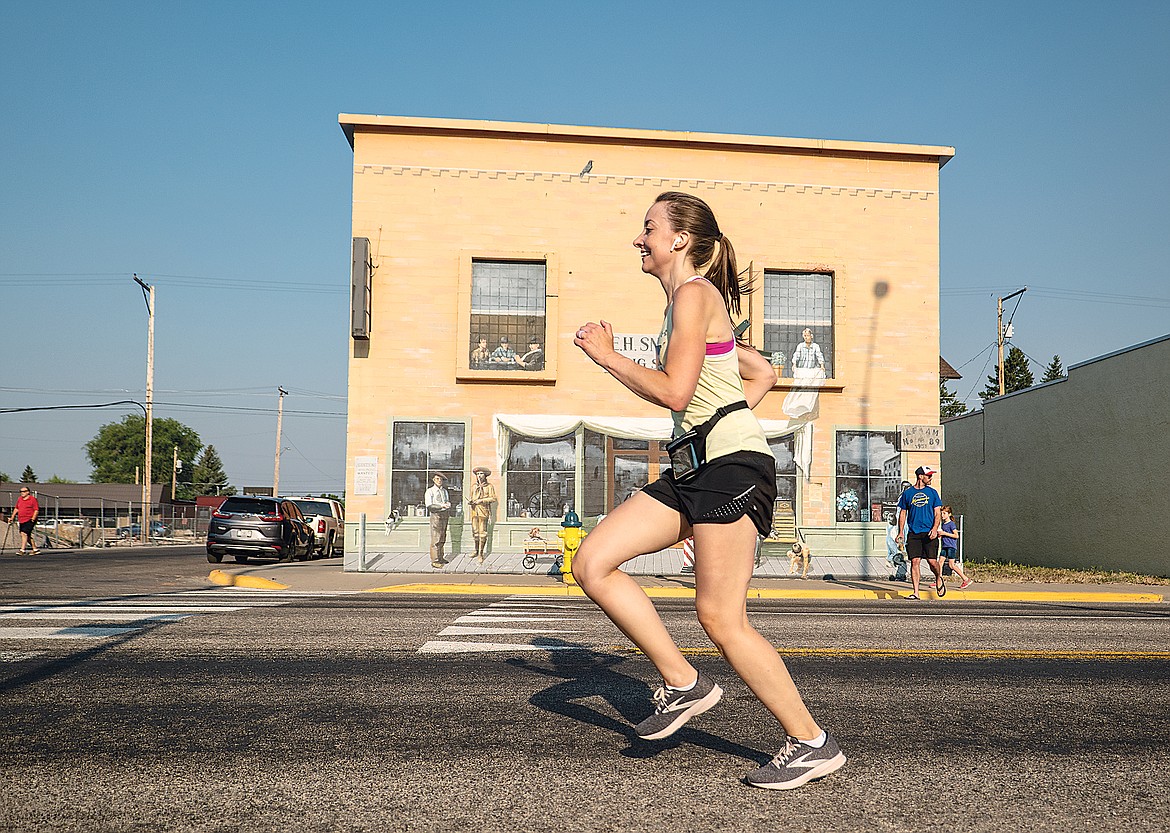 Devon Forney runs in the Boogie to the Bank Saturday.
by
CHRIS PETERSON
Editor
|
July 28, 2021 6:55 AM
There were some familiar names at the top of the leaderboard for the Glacier Bank Heritage Days Boogie to the Bank 5k and 10k races.
Elizabeth Wasserman of Columbia Falls won the women's 5k with a time of 18:31.54 while Aidan Jarvis of Columbia Falls won men's race with a 15:50.21.
In the 10k, Jim Peacock took first with a 38:51.18 while Lindsey Bengtson of West Glacier won the women's race with a 41:51.95.
Peacock is the Columbia Falls cross country team coach and Jarvis was a standout runner for the Wildcats.
The race is one of the easier races in the valley as it's largely downhill from the start up the North Fork to downtown Columbia Falls.
Here's the top racers (all 10K, top 20, 5K)
Women's 10k
2 Alyssa Blankenship Columbia Falls 43:34.75
3 Maria Phelps Columbia Falls 45:05.05
4 Megan Jolliff Eureka 49:20.57
5 Jill Johns Columbia Falls 49:45.34
6 Erin Berry Kaysville UT 49:46.00
7 Susan Armstrong South Ogden UT 50:52.28
8 Emily Michaud Fortine 51:41.15
9 Mackenzie Mann Columbia Falls 52:27.55
10 Rhea Baylor Great Falls 52:51.03
11 Holly Roundy Saint George 53:01.06
12 Hallie Brown Columbia Falls 54:01.11
13 Aleyna Raymond Columbia Falls 54:07.60
14 Emily Keil Columbia Falls 54:33.17
15 Alyssa Nicol Columbia Falls 55:10.02
16 Karen Bach Somers 58:49.80
17 Lisa Iddings Kalispell 59:09.60
18 Stacey Luetzen Great Falls 1:00:06.73
19 Sandra Corbett Great Falls 1:00:41.86
20 Juana Ayers Flagstaff AZ 1:01:00.28
21 Susanna Mann Columbia Falls 1:05:14.94
22 Erica Hodke Great Falls 1:08:18.05
Men's 10k
2 Brad Dolesh Columbia Falls 39:29.92
3 Jason Schmidt Columbia Falls 39:48.85
4 Colton Ballard Bigfork 40:10.00
5 David Seymour Bozeman 40:13.91
6 Will Zimmerer Cut Bank 41:11.95
7 Caleb Olson Columbia Falls 43:05.96
8 Gilbert Esser Kalispell 44:03.42
9 Reed Sandstrom Columbia Falls 48:13.72
10 Jon Blankenship Columbia Falls 48:38.84
11 Scott Alexander Kalispell 49:19.28
12 Mark Thompson Lakeside 49:51.76
13 Gary Bjelland Great Falls 50:24.06
14 Quinton Millward Kalispell 54:13.74
15 Eric Reinhardt Polson 54:55.05
16 Scott Nicholson Whitefish 55:23.73
17 William Anderson Columbia Falls 55:24.27
18 Gil Jordan Coram 56:42
19 Dan Lyford Columbia Falls 58:15.42
20 Brian Ressel Eureka 58:45.74
21 Mike Evans 1:05:41.20
Women's 5K
2 Elise Hagen Chicago IL 20:41.31
3 Nina Badger Columbia Falls 20:57.56
4 Courtney Hoerner Columbia Falls 21:16.45
5 Ephie Hagen Chicago IL 23:21.38
6 Mila Johns Columbia Falls 23:41.76
7 Mya Badger Columbia Falls 24:12.53
8 Sarah Anderson Columbia Falls 24:13.91
9 Lisa Levdansky Columbia Falls 24:24.06
10 Mary Gross Columbia Falls 24:45.53
11 Brigid Mainelli Columbia Falls 25:38.65
12 Tatiana Raymond Columbia Falls 25:40.85
13 Staci Bloomberg Columbia Falls 26:04.77
14 Marissa Schaeffer Columbia Fall 26:17.16
15 Mary Garate Columbia Falls 27:48.11
16 Mariah Vance Kalispell 27:57.69
17 Tiffany Wehrmann Columbia Falls 28:02.87
18 Merritt Dolesh Columbia Falls 28:04.22
19 Kathryn Dolesh Columbia Falls 28:11.16
20 Elizabeth Lundgren Columbia Falls 28:40.99
Men's 5K
2 JT McEntyre Columbia Falls 16:43.90
3 Thienhoa Jacobi Columbia Falls 17:28.84
4 Quinn Clark Columbia Falls 18:59.20
5 Logan Peterson Columbia Falls 18:59.25
6 Alexander Branstetter Columbia Falls 20:03.37
7 Trace Hobbs Kalispell 20:33.87
8 Ted Burnham Kalispell 21:02.75
9 Brent Hartley Columbia Falls 21:07.09
10 Sean Patrick Burgess Columbia Falls 18 21:20.33
11 Clay Lundgren Columbia Falls 21:28.45
12 Roughneck Six Kalispell 21:46.97
13 Clyde Collins Polson 21:48.28
14 Marc Klimas Kalispell 21:58.69
15 Logan Hodke Great Falls 22:14.34
16 Shilo Johns Columbia Falls 22:17.69
17 Hayden Mohr-Mead Hungry Horse 22:32.89
18 Lucas (hoot) Peterson Columbia Falls 22:33.71
19 Kyle Perry Helena 22:46.58
20 Tyler Perry Helena 23:17.15
Complete results: https://competitivetiming.com/bttb/
---