In the North Fork, a tale of two roads: As traffic surges, untreated lower road is battered
by
CHRIS PETERSON
Editor
|
July 21, 2021 8:15 AM
The North Fork Road from the Camas Road to Polebridge is a pretty smooth drive provided you dodge the occasional pothole. The North Fork Road from Glacier Rim to Camas is a lesson in dust and washboard, a place where if you're heavy on the gas, it's easy to get going sideways.
It's a perfect example of a treated road versus and untreated road.
The upper end is treated with magnesium chloride to control the dust and harden the road surface. The lower end is not.
Rough or not, the road is seeing more traffic than ever.
Flathead County Public Works Director Dave Prunty said during the North Fork Interlocal last week a traffic counter from June 9-16 counted an average of 1,039 vehicles a day, up from about 780 a few years ago.
That's a 33% increase.
He said the solution to making the entire road more easier to drive is to treat as much as possible. He urged homeowners to enter cost sharing with the county on treatment, but on the lower end, it will take more cost sharing with the large land agencies, like the Flathead National Forest.
There are only few homes between Glacier Rim and the Camas Road.
More than a few North Forkers hope something can be done.
Karin Colby has been delivering mail to the North Fork for years now. She says the lower road is rough on her rig.
"I beat my car up everyday to (deliver mail)," she said.
County Commissioner Pam Holmquist said they need more help from the management agencies.
She said they'd like to do more, "but we don't have the budget."
Prunty noted that a few years ago, the county looked at how much the North Fork community collectively pays in property taxes for roads and bridges. It was about $15,000 at the time. That number has increased since, he noted, but it still doesn't approach the $130,000 the county spent on the road last year.
To fix the lower road, it would take a crew of about eight men and several pieces of heavy equipment to re-grade the road, Prunty noted. The county just doesn't have the resources at the moment to do that.
Prunty admitted the lower road was "rougher than hell."
"But you're getting to your properties," he added.
One person asked about the "intrinsic value" of visitors and whether that should factor into the county's investment in the road.
"Intrinsically, it doesn't get me tax dollars," Prunty noted.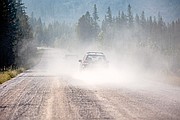 ---