Flathead County now leads the state in coronavirus cases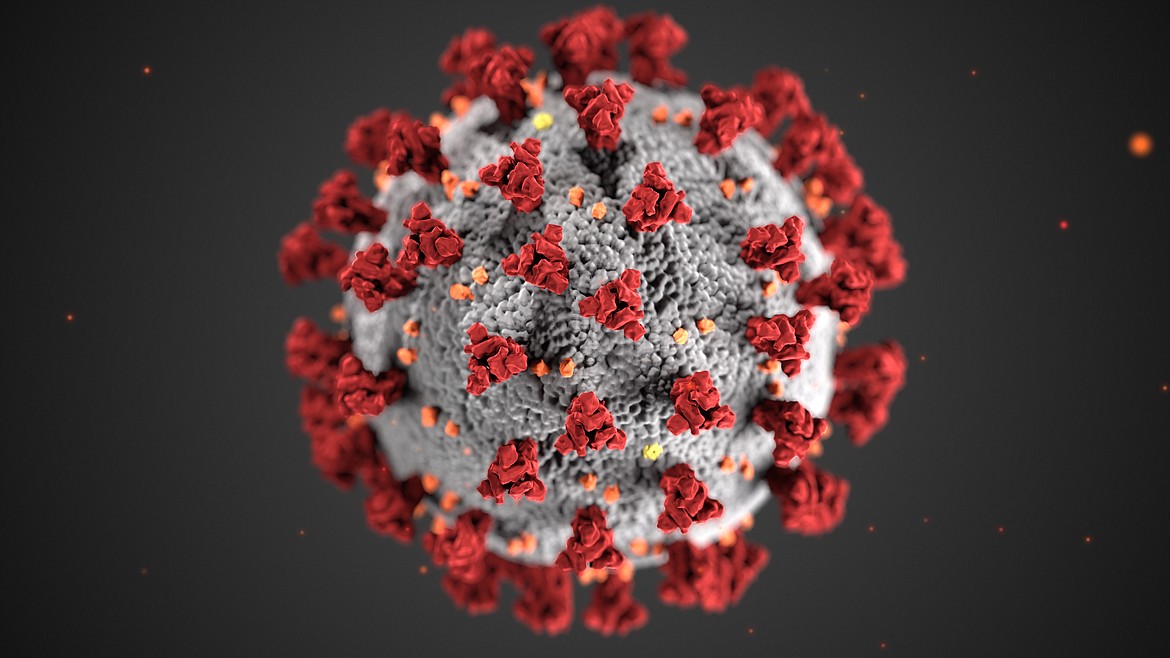 (Image courtesy CDC) This illustration, created at the Centers for Disease Control & Prevention, reveals ultrastructural morphology exhibited by coronaviruses.
by
CHRIS PETERSON
Editor
|
July 12, 2021 12:55 PM
After seeing an increase in cases in the past several weeks, Flathead County now leads the state in COVID-19 cases with 117 active infections.
Yellowstone County had 107 and Cascade County 71, as of Monday, according to the state Department of Health and Human Services. Statewide there are 466 active cases. 
The Flathead City-County Health Department says the newest local cases are occurring in clusters where multiple individuals are being infected or exposed at the same time, likely due to social events and gatherings. 
"When a positive case is identified, our staff initiates a case investigation and works with the infected individual to help determine all close contacts that may have been exposed during their infectious period," said Joe Russell, county health officer. "Close contacts who are unvaccinated are required to follow the CDC guidelines for self-quarantine and testing. However, fully vaccinated individuals who are exposed may continue regular activities as long as they remain asymptomatic."
Counties surrounding Flathead have far fewer cases — Lincoln County has four, Glacier County two and Lake County has none.
Flathead has a relatively low vaccination rate at just 39% of the eligible population fully vaccinated. Statewide 47% of the eligible population has been fully vaccinated.
The health department says the vaccination remains the most effective method of mitigating the spread of the virus and studies indicate that the vaccine also protects against variants of the virus. Those who have previously been infected with COVID-19 may have some immunity, but their remaining antibodies may not be enough to protect against stronger and more transmissible variants of the virus, according to the health department. 
"We are excited to see that 43% of our community has received at least one dose of the COVID-19 vaccine, and we encourage any eligible individual who is interested to go and receive the vaccine," Russell said in a release. "The COVID-19 vaccine is safe, effective, and accessible. Let's work together to protect the health and well being of our community." 
The vaccine is available in Flathead County at the health department, local clinics and pharmacies. For more information on how to receive a COVID-19 vaccine, visit flatheadhealth.org/covid-19-vaccine/ or vaccinefinder.org. 
In Lincoln County, the vaccination rate is 37%. But Lake County is higher at 52% and Glacier County is also 52%.
According to the data, it appears that a higher number of people got one dose, but not the second dose. The second dose seems to have greater side effects — many folks feel miserable for a day or two after the second dose.
In Glacier County, for example, of the 10,794 people who are eligible, 8,050 got the first dose, but just 5,595 are fully immunized.
In Flathead County, 38,384 got the first dose, but 3,894 didn't apparently get the second dose to be fully immunized.
Missoula County leads the state with 60% of the eligible population fully vaccinated.
Statewide, 51 people are currently hospitalized while the total number of hospitalizations is 5,555. 
Since the pandemic started, 112,185 people have recovered, and 1,674 people have died. Just under 5% of people who get the virus ended up hospitalized. About 1.4% of cases overall have caused death.
In long-term care facilities, the death rate is much higher. Of the 3,467 cases associated with a long-term care facility, about 9% have died.
In assisted living facilities, of the 2,447 cases associated with a facility, about 7.5% have died.
Recent Headlines
---