After decades, railroad, feds look to strike deal on grizzlies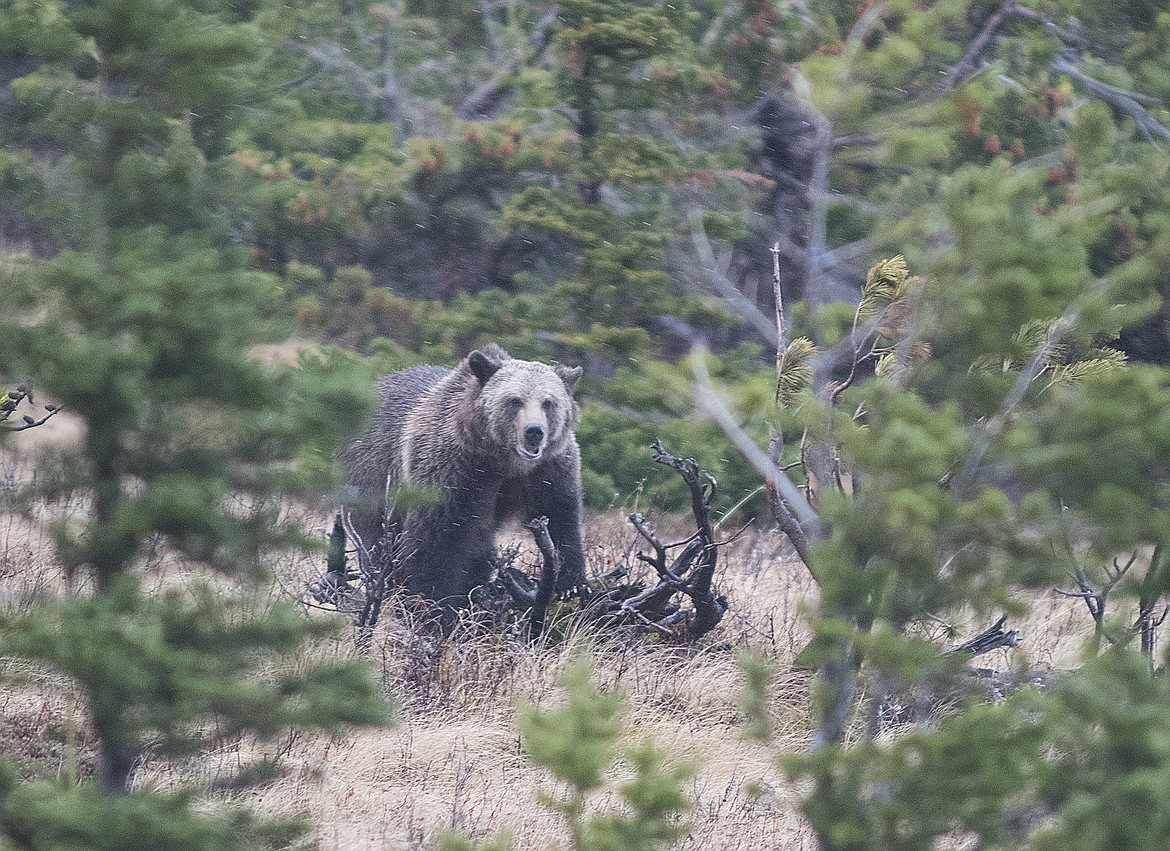 A grizzly bear feeds on whatever it found under this stump in this file photo. (Chris Peterson photo)
by
CHRIS PETERSON
Editor
|
January 13, 2021 1:00 AM
After years of stalemate, the U.S. Fish and Wildlife Service announced it had struck a proposed agreement with the Burlington Northern Santa Fe Railway for conserving grizzly bears in and near the track corridor.
Called a habitat conservation plan, BNSF would be allowed to incidentally "take" or kill bears with its trains under the Endangered Species Act.
But in turn, the railway will agree to fund grizzly bear managers with Montana Fish Wildlife and Parks as well as the Blackfeet Tribe. It would also fund more radio collars to track bears, "bear fairs" that educate the public on how to avoid conflicts with bears, funding of bear databases and funding the Montana Outdoor Legacy Foundation and Great Northern Environmental Stewardship Area — a group of experts that, years ago, used to convene with the railroad on a host of railroad-related environmental issues.
The plan would be funded for seven years, though could be revisited if the grizzly bear is removed from the Endangered Species List.
One highlight of the funding would fund two bear manager positions at at Montana Fish, Wildlife and Parks at a cost of $83,000 annually. A Blackfeet Tribe position would be funded at the same rate as well.
All told, the railroad will commit about $1 million total to various bear programs.
The area covered by the agreement runs from Brimstone to the west to Shelby to the east.
Grizzlies are frequently hit by trains in the corridor. On a six-year rolling average, about 21% of human-caused mortality of female bears was caused by trains and trains amounted to about 11% of all human caused mortality overall.
"Train caused mortality is expected to be no more than 12 percent of the averaged six-year rolling interval all human caused mortality," the plan states.
But bear deaths by trains can vary widely from year to year.
In 2019, for example, nine grizzly bears were killed by trains over the course of the year. Several of them were killed after a snowstorm near East Glacier. In that case, the train first killed cows during a snowstorm and then the bears were attracted to the cow carcasses.
At least two grizzlies were hit by trains, a third was hit by a car trying to get to the tracks.
That prompted the threat of a lawsuit by the Western Watershed Project.
Talk of a plan has dragged on for decades. In 2014, the U.S. Fish and Wild Service indicated in a Hungry Horse News story it thought a plan could be worked out soon — and that story noted that talks had been ongoing for a previous 10 years.
This plan doesn't say the railroad will stop killing bears. It acknowledges that deaths will still occur due to train collisions. What it looks to do is reduce bear deaths elsewhere in the region.
"The HCP mitigation program will offset incidental take by reducing train strike mortalities, reducing human-grizzly conflicts, securing waste facilities, monitoring grizzly bears to prevent conflicts and improving conflict management responses," the document claims.
But it also rejects some suggestions from the public, such as reducing train speeds in key areas.
"Reducing speeds would create inefficiencies that would affect consumers and the environment," the document claims.
The HCP was endorsed by Montana Fish, Wildlife and Parks as well as other agencies.
"The Habitat Conservation Plan represents years of local conservation collaboration among BNSF Railway, public agencies, tribes and local communities across northwest Montana," Jim Williams, Regional Supervisor for Montana Fish, Wildlife & Parks said in a release. "This plan will commit important funding that increases resources for on-the-ground conservation work. FWP is grateful that BNSF is supporting the future of grizzly bear recovery."
All of the documentation associated with the plan is available at https://www.federalregister.gov/public-inspection/2021-00426/incidental-take-permit-application-habitat-conservation-plan-and-categorical-exclusion-for-the and will publish in the Federal Register on the next business day, opening a 30-day public comment period.   
Comments may be submitted electronically on www.regulations.gov by searching Docket Number: FWS–R6–ES–2019–0010. To submit comments by hard copy mail, or hand-deliver to: Public Comments Processing, Attn: Docket No. FWS–R6–ES–2019–0010, Division of Policy, Performance, and Management; U.S. Fish and Wildlife Service; 5275 Leesburg Pike, ABHC-PPM; Falls Church, VA 22041-3803. 
---