Gianforte visits vaccination clinic, lifts mask mandate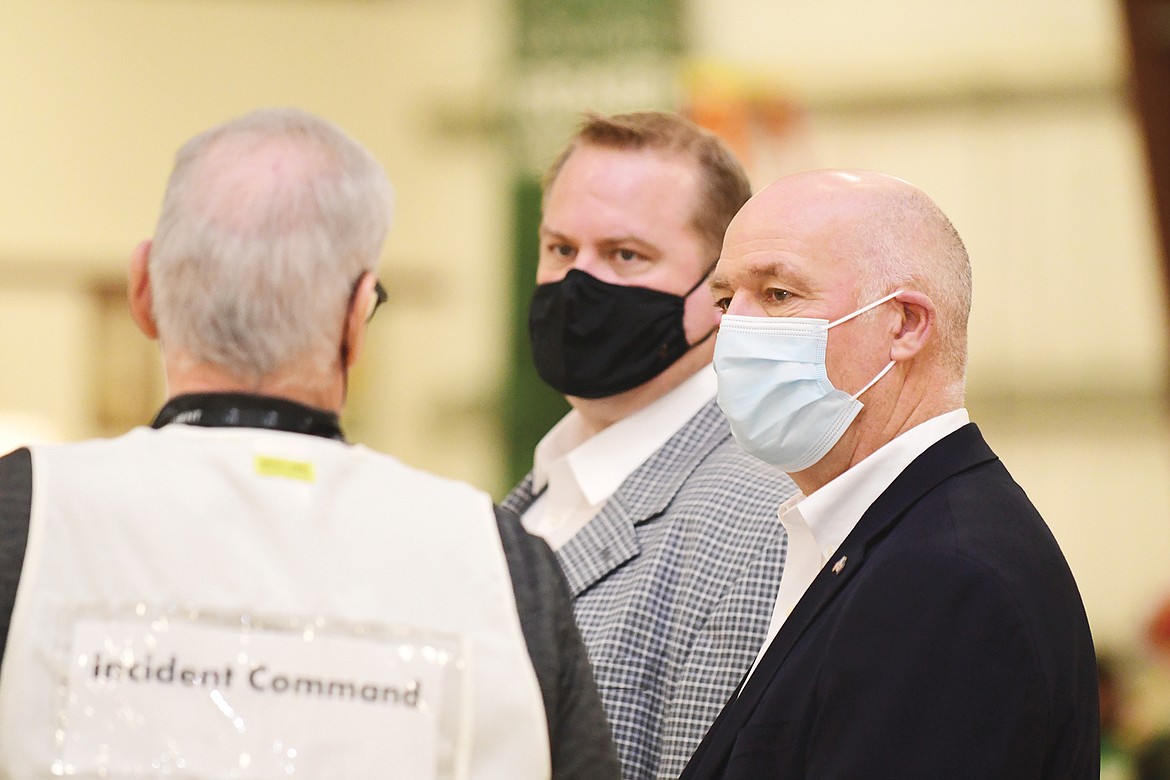 Gov. Greg Gianforte, far right, meets with staff at a vaccination clinic in Kalispell last week. (Teresa Byrd photo)
|
February 17, 2021 7:00 AM
Gov. Greg Gianforte met with healthcare workers at the Flathead County vaccine clinic Friday morning as they began administering nearly 1,000 additional COVID-19 vaccine doses acquired this week.
The additional vaccines were received as part of 19,500 doses that were federally approved for reallocation to Montana earlier this month.
Originally provided to CVS and Walgreens under contract by the federal government, the doses were assigned to vaccinate staff and residents of long-term care and assisted living facilities, but after going unused were redirected at the governor's request to assist in Tier 1B vaccinations throughout the state, according to a press release from his office.
The county vaccine clinic, located at the Fairgrounds Expo Building, normally runs on appointment-only basis from 9 a.m. to 1:30 p.m Monday, Wednesday and Thursday, but stayed open last Friday to accommodate the influx of doses.
The governor's visit in support of the vaccines occurred on the same day he allowed the statewide mask mandate to expire.
At the vaccination event Gianforte was asked about his decision to rescind the mask mandate and its potential to cause infection rates to rise, to which the governor responded that he trusted Montanans with their health and the health of their neighbors.
"We've seen promising trends: hospitalizations are down, new infections are down, vaccinations are up," Gianforte stated. "These are positive things, and we're taking common sense steps to move back to a more normal life as we feel safe.
"And I will just add," he continued. "... I choose to wear a mask because it protects myself and people who are around. I encourage others to do the same."
Currently in the distribution phase of Tier 1B —which serves adults over 70, Native Americans, and people with high-risk medical conditions— the Flathead City-County Health Department states that demand for the vaccine is far outpacing supply.
When asked how he would address the multitude of Montanans in Tier 1B yet to receive the vaccine who may have concerns about the mandate being lifted, Gianforte focused on the vaccine-availability bottleneck and his efforts to secure more doses.
"I wish we had a shot for every single person today. We don't," he said. "But [we're] working with the public health office, we're working through the list, and we'll get it to you as soon as we can."
As of Monday, 12,413 people in Flathead County had at least their first shot and 3,684 people were fully vaccinated.
The number of people with coronavirus in the county is still quite high, with 549 active cases. There have been 10,630 cases total in the county and 97,539 cases statewide, though that number is likely higher, as not all people get tested.
Statewide 1,328 people have died.
While Gianforte lifted the mandate, Columbia Falls Schools will continue to require masks of students and staff and all spectators while attending events.
---