Yesterdays: Steve Howe busted for cocaine, shortly after telling kids to stay off drugs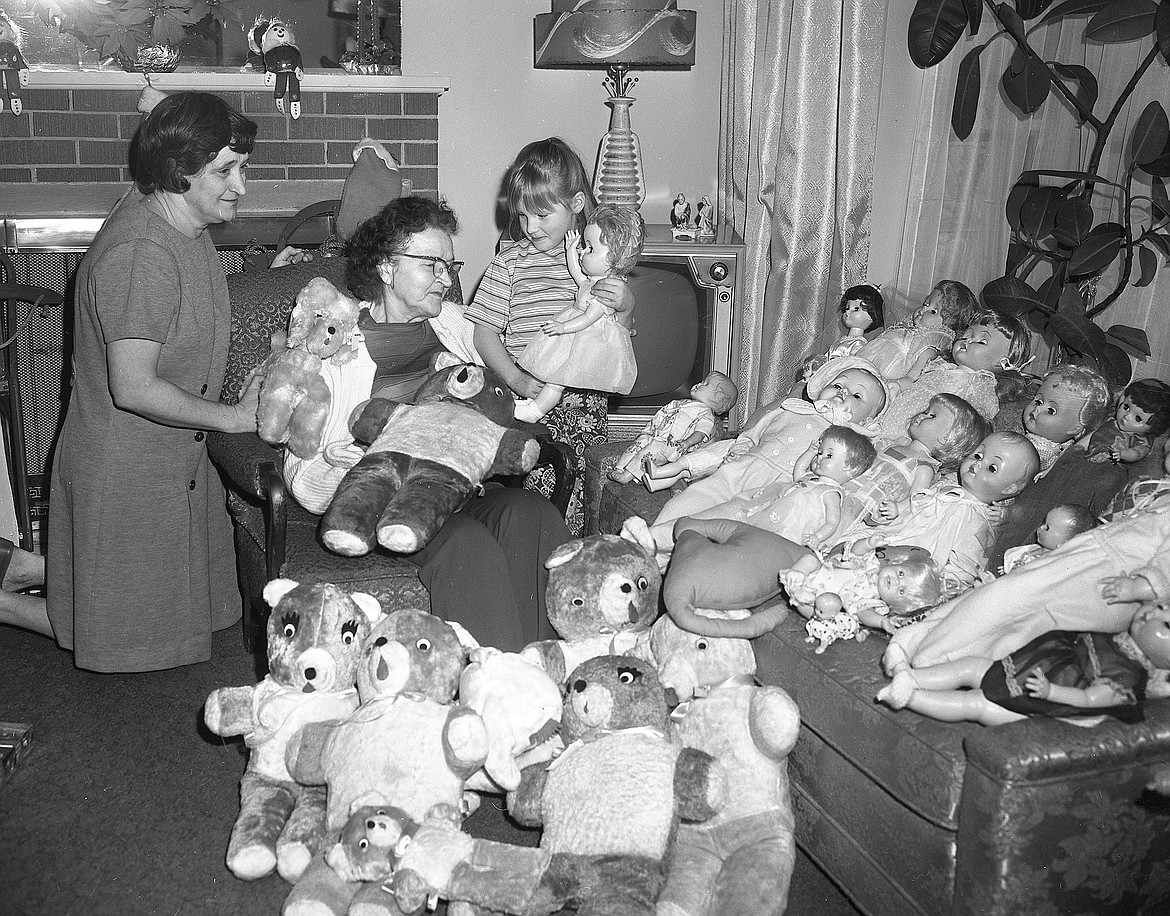 Mrs. Ethel Christensen and her daughter Mrs. Joe Donahoe. Christensen was considered Mrs. Santa Claus and her and her daughter spent the year refurbishing dolls and then giving them back to less fortunate children at Christmas. (Mel Ruder photo)
|
December 22, 2021 12:40 PM
70 years ago
Dec. 21, 1951
The Anaconda Mining Co. said it would start construction on a new aluminum plant in the Flathead in 1952, though the preferred site at the time was at Rose Crossing. A blizzard stranded about 150 people at Rex's Tavern in Columbia Heights.
60 years ago
Dec. 22, 1962
The Flathead National Forest was looking to build a new office in Kalispell. It had been housed in the Post Office. The forest was formed as an agency in 1934 through the merger of the Flathead and Blackfoot national forests. The Blackfoot was the woods up the North Fork at the time.
50 years ago
Dec. 24, 1971
Front page story featured Mrs. Ethel Chistensen and her daughter Mrs. Joe Donahoe. Christensen was considered Mrs. Santa Claus and her and her daughter spent the year refurbishing dolls and then giving them back to less fortunate children at Christmas.
40 years ago
Dec. 24, 1981
The Montana Department of Transportation was revising its road sanding policy after two people died. They used to just sand hills and corners, but would now sand straight section that were deemed dangerous. Rod Lincoln didn't last long as superintendent of School District 6. He was hired in the spring and resigned in December after an editorial in the newspaper the week before criticized his abrasive style of leadership.
30 years ago
Dec. 26, 1991
Former New York Yankees pitcher Steve Howe, who lived in the valley, apparently told a group of Christian kids to stay away from drugs. The next day he was brought up on federal charges of cocaine possession. Howe died in a truck crash in California in 2006.
20 years ago
Dec. 27, 2001
Don Barnhart announced he was retiring as Columbia Falls Fire Chief. He started his volunteer career with the department in 1979. North Forkers John and Anne Collins put about 460 acres of land in a conservation easement to protect it from development.
10 years ago
Dec. 21, 2011
Local runners Zach Perrin and Derrick Williams, along with a host of other runners ran from lakeside to Glacier National Park — 50 miles — to raise money for a Marion youth that was battling cancer.
Recent Headlines
---