Boys basketball goes 2-1 on the week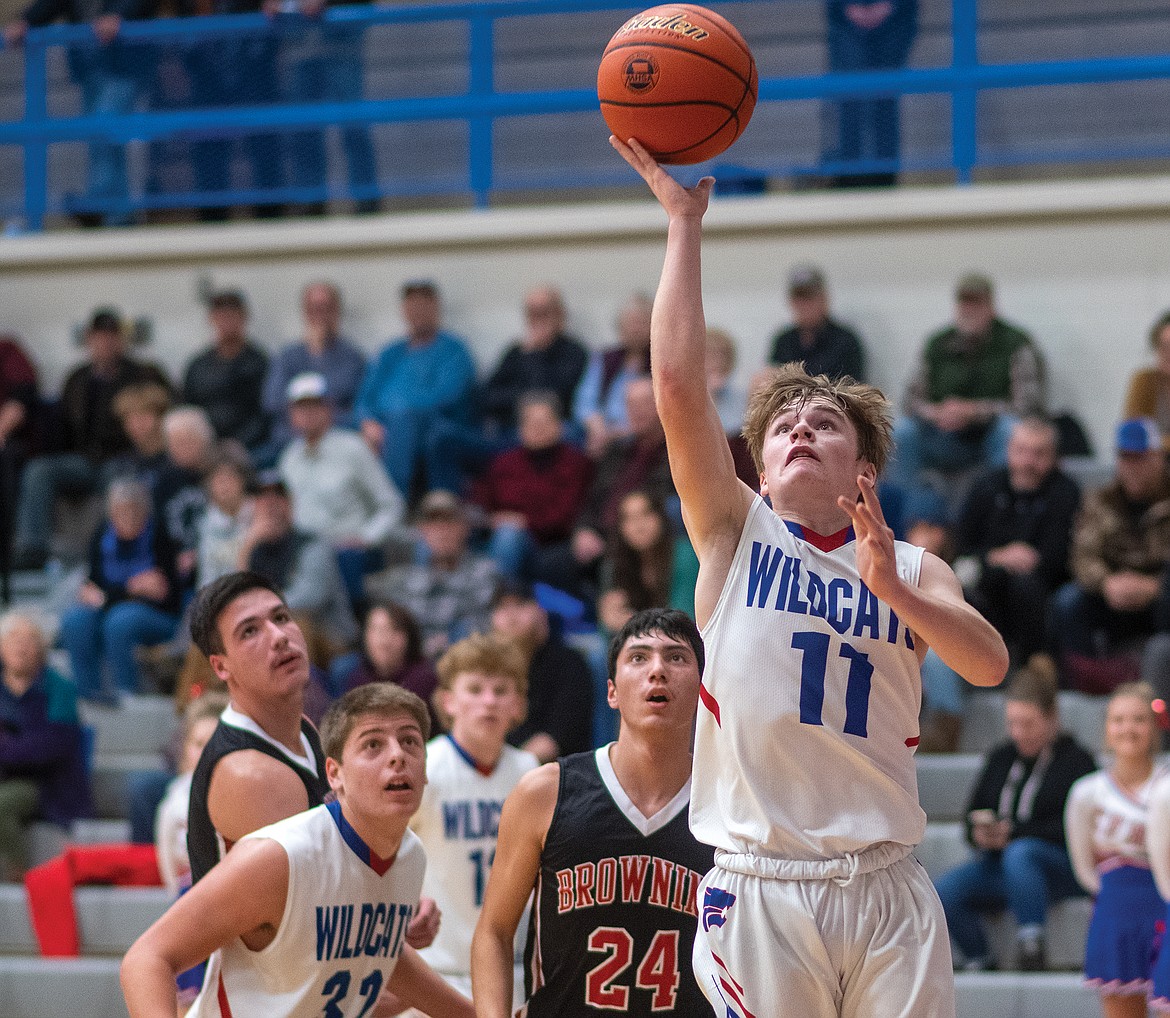 Mark Robison with a shot in the fourth quarter.
|
December 22, 2021 12:35 PM
Hungry Horse News
The Columbia Falls boys basketball team went 2-1 on the week. On Tuesday the Wildcats squeaked past Eureka on the road, 68-65, but Thursday, they lost to conference foe Browning in another squeaker, 71-70.
Jace Hill led the squad against the Lions with 18 points, 10 rebounds and 12 assists. Three other players were also in double figures as Alihn Anderson had 12, Mark Robison had 13 and Cody Schweikert had 14. The Cats were up by as much as 14 in the second half and were able to hold off a Eureka rally for the win.
Against Browning, the game at times was more like a race, with both teams sprinting in transition. The Cats battled back from a seven-point deficit to take the lead, 70-68 with less than 30 seconds left.
But Browning dropped a trey to go up 71-70 with about seven seconds left.
The Cats got it across the timeline and took a timeout with two seconds remaining.
The inbounds pass went to Schweikert in the lane, but instead of taking the shot he passed the ball to Anderson, but by then it was too late and time expired.
Coach Chris Finberg said the team played well at times, though they had too many turnovers and suffered from some poor shooting both at the line and beyond he arc in the first half.
On the other hand, they shined in the fourth, with 27 points.
Anderson led the squad with 19, but Mark Robison had some clutch shots down the stretch to close the gap against the Indians with 17 points.
Hill had 13 points and 13 boards and eight assists.
On Monday the Cats dropped Bigfork in overtime on the road, 63-57. Hill scored 19 and Anderson added 13 in the win.
The Cats were up 33-29 at the break, but Bigfork took a five-point lead in the third. It was the third game in a row that came down to the wire for the young Wildcats' team. They travel to Polson Thursday before the holiday break.
Recent Headlines
---