Slain Columbia Falls Marshals recognized in ceremony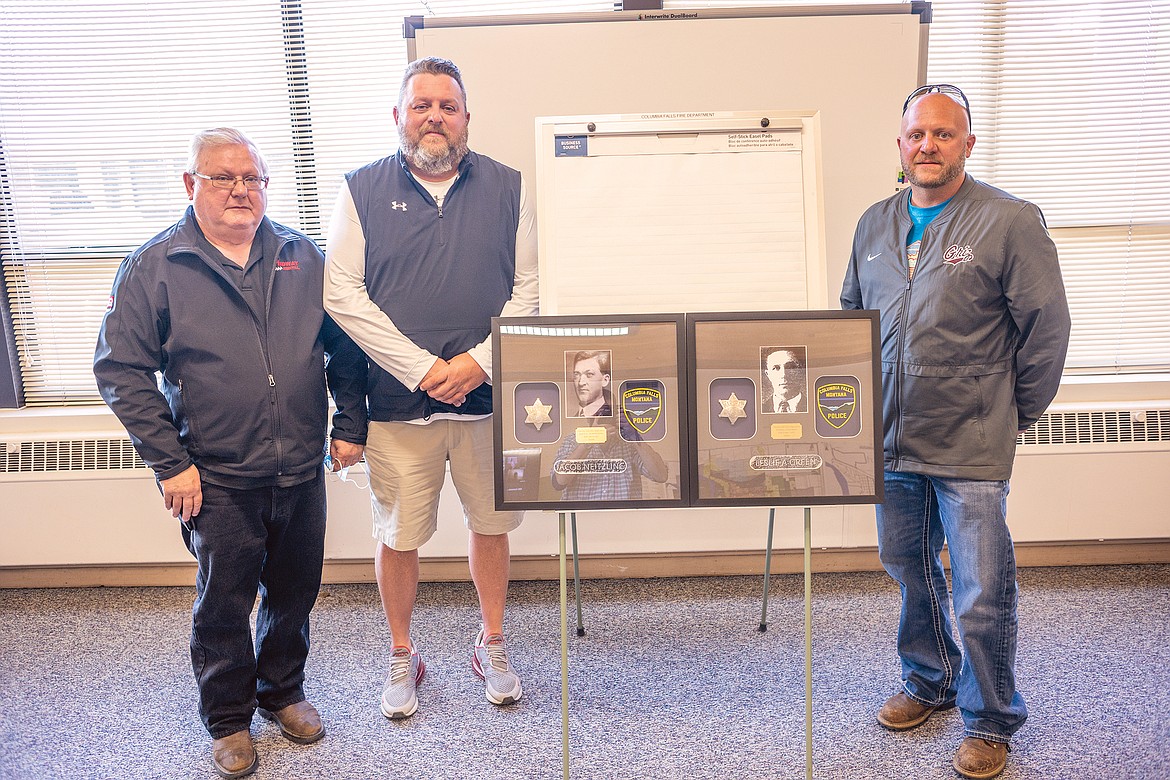 From left, Marshal Leslie Green's grandson Terry and great-grandsons Chad and Jamey Green stand with shadow boxes in remembrance of slain Marshals Leslie Green and Jake Neitzling.
by
CHRIS PETERSON
Editor
|
April 28, 2021 6:15 AM
The Columbia Falls Police Department will have new shadow boxes honoring two slain former town marshals, Jake Neitzling and Leslie Green. The boxes, along with biographical narratives, were put together by Columbia Falls Det. Gary Denham.
Neitzling was killed on April 19, 1931 attempting to arrest Donald Frazer who was holed up in a cabin in Columbia Falls.
Frazer had attempted to wreck a Great Northern passenger train by placing a pile of rail ties on the tracks, according to a newspaper story at the time. But the pile was found before the train came and removed. Neitzling and special agents Henry Gassford and special agent Williamson (no first name given) went to Frazer's cabin to question him.
After knocking on the suspect's shack door, which was rigged with a chain that only allowed the door to open about 12 inches, Frazer answered and refused l Neitzling's orders to come outside. As Neitzling was repeating his orders, Frazer displayed a .38 caliber revolver through the small opening in the door, fatally shooting the beloved lawmen in the head, Denham said.
Frazer, shortly thereafter, then took his own life with a gun, shooting himself through the neck. He left a note saying it was better than a posse's noose, according to a newspaper account. Neitzling was in his late 50s and was a wellliked town marshal. He was also good friends with Green. Green was appointed as the town Marshal and water superintendent in a special session of the town council on April 25, 1931 only six days after Neitzling was killed in the line of duty, Denham noted.
On Oct. 2, 1937, Green, 44, was shot by Charles Ayers, also known as Charles Mure, 63, a former resident of the Montana Soldiers Home, after a shootout ensued near Cedar Lake, about seven miles north of Columbia Falls, according to a wire story at the time.
Mure claimed he shot Green in self defense, but would later be sentenced to life in prison. Mure had apparently burned down another man's cabin at the lake.
Green and Justice of the Peace Tom D. Caverly went to talk to Ayers and Ray Brown, who had been occupying the cabin, about the incident. They wanted to bring the men to town for further questioning.
Caverly started to walk toward Brown some distance from the cabin and had gone about 100 yards when shots rang out — Ayers and Green were shooting at each other. In fact, they had to reload their weapons at least twice.
Caverly ran to Green's aid, but the men disappeared in the brush. More shots rang out and Green was found dead.
Ayers would later be apprehended by a sheriff's posse, convicted a few months later and would spend the rest of his life in the state prison in Deer Lodge.
Green's grandson, Terry Green, lives in Columbia Falls as do his great-grandsons Chad and Jamey Green as well as extended family members.
Denham said the research he did was personal, in part. Denham grew up in Bigfork, served in the military and was also an officer in Nevada,
where he had two friends die in the line of duty.
After he retired, he moved back to the Flathead and joined the Columbia Falls force.
Denham isn't much for publicity and fanfare, but he said it was appropriate that the memorials be presented to city council on April 19 — the 90th anniversary of Neitzling's death.
He said it took a couple of months of research to track down the marshals' stories.
"Not only were they both incredible men who gave the ultimate sacrifice while doing the best they could, with what little they had, they were also the best of friends. This journey back in time was truly a life changing experience for me," Denham told the city council.
---