Byrds fly high in world of freestyle skiing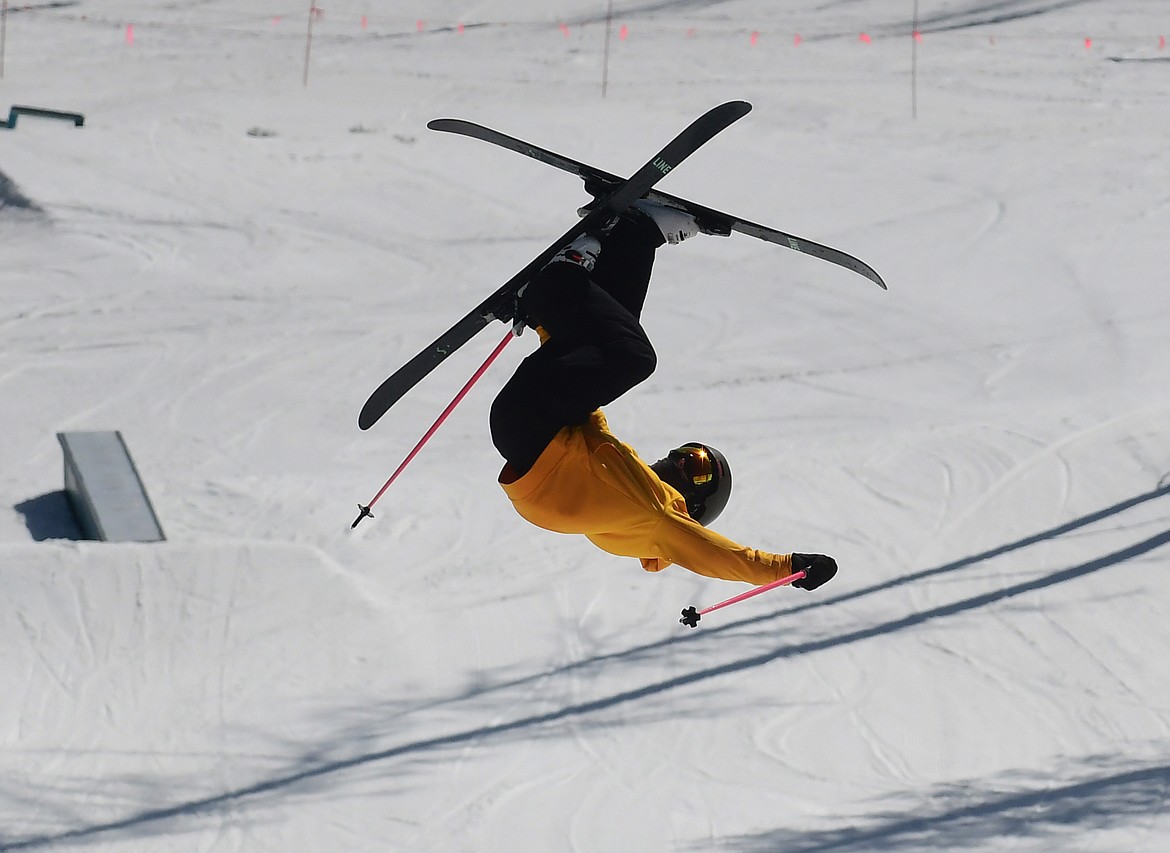 Liam Byrd gets some air during a practice run earlier this season. (Teresa Byrd photo)
by
CHRIS PETERSON
Editor
|
April 28, 2021 6:35 AM
You might say the Byrd kids are happiest when they're upside down. Or at least sideways.
In the air, of course. Waaaay in the air.
"I was 9 when I did my first back flip on skis," Liam Byrd said in a recent interview.
Liam, 11, joins his sisters Elyse, 16, and Julia, 14, of Coram as they make their mark on the world in freestyle skiing. Liam started skiing when he was 4, his sisters were a bit older.
They all took to the sport quickly and soon they were flying through the air and sticking landings, the sort of landings that make a kid grin from ear to ear and get you noticed in competition as well.
Elyse recently won her division at the USA Snowboard and Freeski Association Pacific Northwest Regional Championships in rail jam and Liam took second in rail jam and third in slope style in his group.
Rail jam is a competition whereby a skier runs down a course of rails (think railings, like stair railings) doing as many tricks as possible. Once at the bottom, they climb to the top and do it all over again. They try to do as many tricks as they can in a half hour time limit, Elyse explained.
In Slopestyle skiing, skiers run a course with jumps and rails, often reaching dizzying heights as they do aerial tricks and spins.
Julia couldn't compete due to a concussion, but she's a standout skier as well.
The trio started skiing several years ago. Their parents, Steven and Grace Byrd are avid skiers as well. Steven was a standout kayaker in his youth and the moves are similar in some respects, he noted.
They love to ski and train together along with the rest of the Whitefish Mountain Resort Freestyle team.
In March, Liam was awarded the Maggie Voisin Freestyle Scholarship, a $1,000
prize that gets him a free pass up the mountain for the 2021-22 season and other amenities.
Liam's essay he submitted to Voisin for the scholarship impressed the Whitefish Olympic and X-Games athlete.
"I hope winning this scholarship keeps you motivated towards improving your skiing this spring, the upcoming summer and next winter season. I was grateful to have received many amazing letters, but yours stood out to me. Some of the reasons I picked your letter was because, as I read through what you wrote, I could tell you really enjoy the thrill of working hard, pushing yourself to learn new tricks, and to compete at your very best," she wrote.
And push hard he did.
Liam doubled up on his school studies this year remotely both to avoid Covid-19 and to squeak out an extra day on the mountain.
All told, he hit the slopes almost 90 days last season.
"Our parents are awesome," the Byrd children note. "They take us whenever we want to go."
When they're not at Big Mountain they're training in their backyard, on a trampoline or on a course they've built in the snow. They've also gone down to the Park City, Utah training facility where skiers jump off into pools and airbags.
Liam's favorite move is a Cork 720 blunt grab, where a skier flies off a jump, grabs huge air, does a 720 twist and grabs the back of one ski with the hand.
Elyse's is a 720 safety grab, where the hand grabs under one foot.
Both look impossibly difficult and sometimes they are. Liam has broken his arm three times — though just once skiing. He'll have to take it easy for the next few months because he has to get a plate taken out of his arm.
But then it's back to the slopes.
The Byrds want to take the sport as far as they can — the dream is the X Games or the Olympics, or both.
There's one adage: "Every day is a good day on the hill," Elyse said.
You can follow them on Instagram at @byrd.liam @byrd_elyse and @julia.
---