David Emmet Gibbons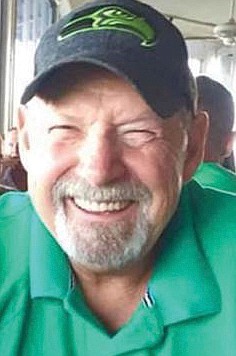 David Emmet Gibbons passed peacefully from this earth on March 22, 2021, at his home in Rochester, Washington.
On March 3, 1950, in Whitefish, Montana, Dave was welcomed into the world by his parents, Ralph and Kathleen Gibbons. He spent his childhood beside his five siblings before joining the U.S. Air Force. In 1967, Dave moved to Washington State and started a family with wife Karen by his side. Together they raised their three daughters, Michelle, Kari and Kelly, and later helped Karen raise her two girls, Micah and Ryan, who Dave loved like his own.
Dave always had a love for the outdoors. He enjoyed fishing in Alaska and Sekiu, bow hunting, camping, and spending time in Florida with Lynn. He was happiest hanging out and laughing with family and friends. He was devoted to making sure everyone was happy and taken care of. Always having treats for the
kids in his life was his favorite. On family camp trips, he was up extra early to start the fire and make hot cocoa for the tiny early risers.
Dave (aka Dozer Dave) was a beloved member of the Rochester community for over 54 years. He loved this town and everyone in it! Dave would generously donate his time and skills to those in need; one of the many grateful recipients was the Gate Schoolhouse, where he did all the dirt work for their picnic grounds. He was proud to have been able to work alongside his three daughters and two of his sons-in-law, and never without Dan!
Known and appreciated by many, he will long be remembered for his impressive work ethic, legendary ability on the dozer, and always having a smile on his face and a joke on his lips! It has left us with a hole in our hearts when the great beyond unexpectedly called up the best dirt guy around!
He is survived by his girls, Michelle Myers (Shawn), Kari Bell (Darrin), Kelly Leitgeb
(Cory), Micah Gibbons, Ryan Gibbons and Karen Gibbons; grandchildren, Dylan and Isabelle Myers, Stone Lafferty, Max Lietgeb; brother, Ralph Gibbons (Joanne); sister, Elva Hendersen; as well as many nieces, nephews and his best friend, Heidi Galster. He is preceded in death by his parents; sisters, Sharon and Deanna; and brother, Tommy.
A celebration of Dave's life will be held on Saturday, April 24, 2021, starting at 1 p.m. at Swede Hall in Rochester.
---