Beatrice Marion Hobbs Bott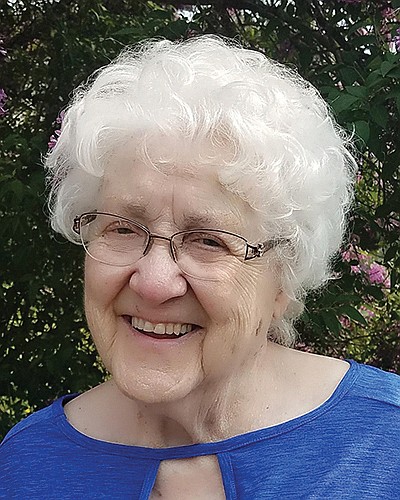 Beatrice Marion Hobbs Bott, 91, joined her husband, Edward Bott in heaven on Dec.16, 2020.
Bea was born on Nov. 24, 1929 to Charles and Grace Hobbs in Miles City, Montana.
Bea and Ed were married on Sept. 19, 1948 in Miles City and were blessed later with three children. They lived in Miles City and Rosebud until moving to Columbia Falls in 1964. She then worked for B& B grocery in the bakery department where she learned to decorate cakes and went on to craft beautiful wedding cakes from her home. She also worked at Kruger Drug and later retired from Stoick Drug as a bookkeeper.
Bea most enjoyed spending time with family. She spent many summers camping with Ed and their children near where he would be located working in the woods. One of her biggest joys was being around her grandchildren. Baking
and playing games was always on the agenda when children were around. She enjoyed traveling with family to places all over including Hawaii and Mexico. She loved to visit and stay with her out of state family.
Over the years, she loved making special occasion cakes for family and friends. Her wedding cakes were spectacular and she continued this into her 80s. She also had a knack for sewing and quilting. She handmade multiple halloween costumes for her children and grandchildren and gifted quilts to many loved ones.
Bea was a very devoted member of St. Matthews / All Saints' Episcopal Church. She was a treasurer for many years and loved to participate in church activities. She enjoyed bible study as well as preparing the church for Sunday service and coffee hour gatherings.
Bea is survived by her children, Cathy Bott, Ray Bott and Donna DiTunno; grandchildren, Haven Kingsbury, Amanda Mata and Vincent DiTunno; great-grandchildren, Mikayla Thomas, Hailey Thomas, Javien Mata, Natalia
Mata and Caidan Kingsbury as well as many nieces and nephews.
Outdoor services will be held on Saturday, April 10th at 2 p.m. at All Saints' Episcopal Church, 2048 Conn Rd. Columbia Falls, MT. Father Charlie Knuth will be officiating.
Arrangements are provided by Columbia Mortuary.
Memorials may be made to Flathead Industries, 66 4th Ave N.
Kalispell, MT 59901; or to All Saints' Episcopal Church, PO Box 1923 Whitefish, MT 59937.
---