Turnovers hurt Cats against Dogs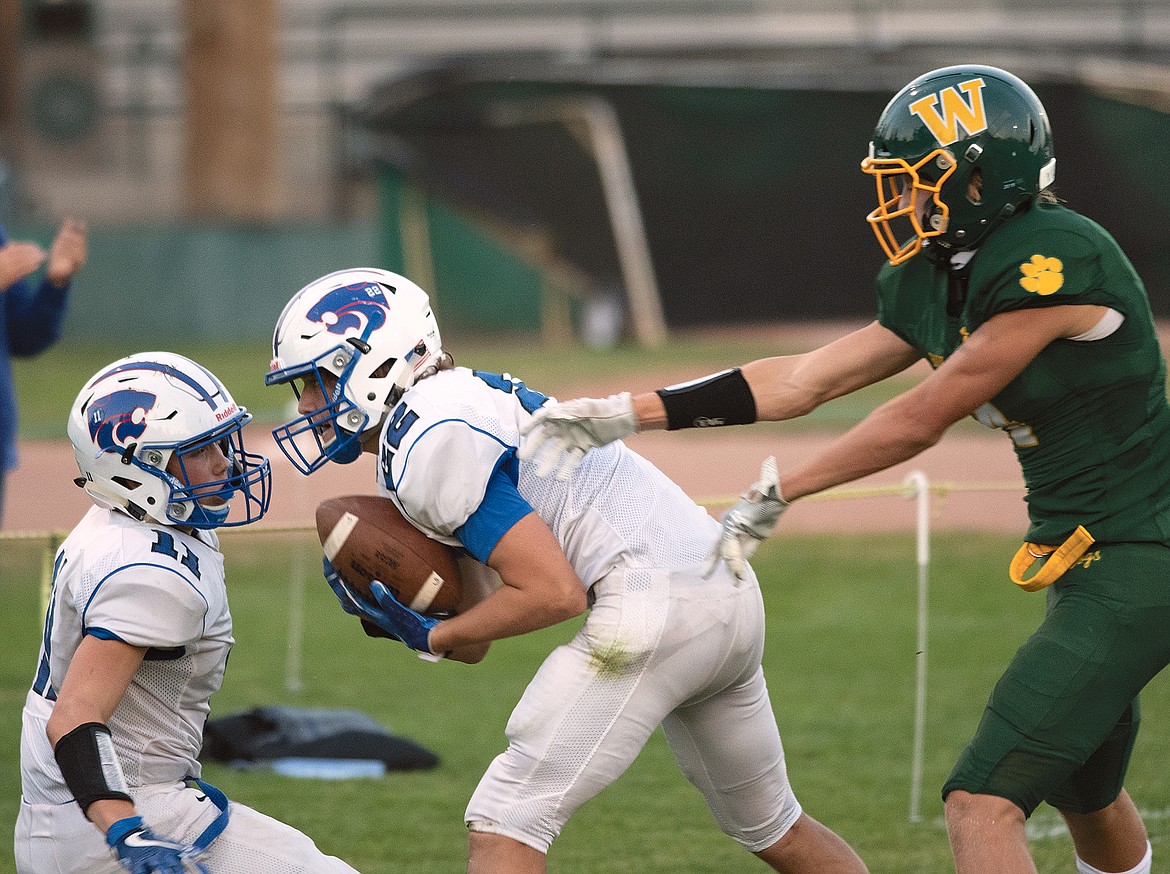 Wildcat Jaxon Heinz with an interception against Whitefish while teammate Zane McCallum looks on. The Cats played well on defense, but struggled with turnovers on offense against the Bulldogs.
|
September 16, 2020 7:15 AM
The Columbia Falls football team had a success moving the ball against Whitefish Friday night. Unfortunately for the Wildcats, a host of turnovers killed the drives. The Wildcats had five turnovers against the Bulldogs on the road, including a blocked field goal, as they lost 21-7.
The first half was a defensive struggle, as both teams had a tough time getting anything going. The Bulldogs scored their first touchdown late the second quarter to go up 7-0 at the half.
Early in the third the Cats were inside the Bulldogs' three-yard line, but the snap sailed over Cody Schweikert's head. The Bulldogs recovered and the drive was killed.
Whitefish would add two more touchdowns, including a pick-six of quarterback Mason Peters. The Bulldogs were often in the backfield and he had to deal with several high snaps.
But the Cats still had their chances. They'd get on the board in the fourth and then they drove down to the Bulldogs 20 with about four minutes left, but Peters was picked off again.
The Dogs then drove into the Cats red zone and ran out the clock to end the game. The Cats defense played well, holding the Bulldogs to just over 150 yards offense. Jaxon Heinz had a nice interception for the Cats on defense at the goal line to kill a Bulldogs drive.
The Cats outgained the Bulldogs 286 to 153 yards.
"Give credit to Whitefish," Cats coach Jaxon Schweikert
said. "They did a great job."
Schweikert said the Cats spacing was horrible, their timing was off and the snaps weren't crisp like they normally are. All three things they'll work on correcting this week.
"We would drive 60 yards and then self-destruct," he said. "We were our own worst enemy." They'll look to right the ship against conference rival Libby at home Friday. Gametime is 7 p.m. Libby's coming off a 34-14 win over Ronan.
The Loggers are a physical team and the Cats will have to be up to the challenge. "We have to stand tall, play with tenacity and not get worn down," Schweikert said.
---