Spikers now 6-0 on the year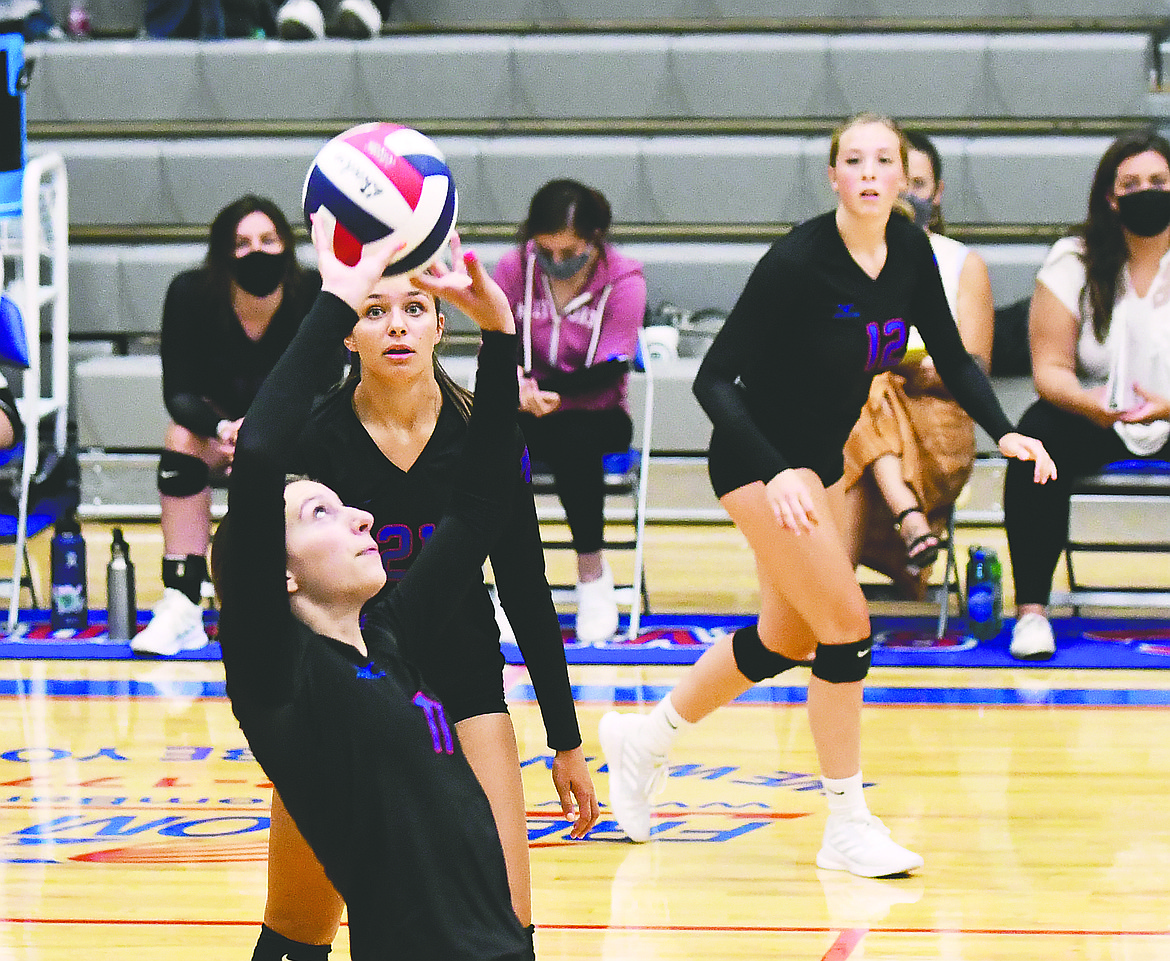 by
TERESA BYRD
Staff Writer
|
September 16, 2020 9:55 AM
TERESA BYRD
Hungry Horse News
Wildkat volleyball squad is now 6-0 on the season.
The victories came despite the Kats having lost their starting middle due to quarantine and the team having to reconfigure, with four different players taking over new positions.
On Sept. 8 the team beat Libby for the second time this season in four sets; 23-25, 25-15, 25-21, 25-12. The Kats came out strong in the first set but ended up dropping it later in part due to the awkward beginnings of the new lineup. It was the first and only set the Kats have lost so far. The team came back to win the next three sets.
"It took us a while to find a rhythm," said Brooks. "But [the loss] really just put a fire under the girls which was good to see. They don't like to lose, and most of them are seniors so they have enough experience to be like 'OK, enough, we're going to do what we need to do and put the ball away.'"
Hannah Schweikert had 41 set assists, Mady Hoerner and Dillen Hoerner each had 16 kills and Lauren Falkner served 4 aces.
Thursday the team played Ronan at home, winning in straight sets, 25-17, 25-18, 25-23. The Maidens kept it neck-and-neck in the final set, tying it at 23 before Ronan gave up a point and Schweikert served a game-point ace.
Mady Hoerner had 12 kills, Hannah Schweikert had 23 assists, nine digs, four aces and three blocks, and Dillen Hoerner served five aces.
Saturday the Kats played Stevensville away and again won in a straight sets, 25-18, 25-16, 25-17. Dillen Hoerner had 11 kills. Mady Hoerner had nine kills, 10 digs and four aces. Schweikert had 27 assists. Jazzy Marino had five kills, eight digs and one block.
On Tuesday, the Kats dropped Whitefish in straight sets 25-16, 25-19, 25-21 at home for senior recognition night..
Mady Hoerner had 11 kills, Dillen Hoerner had eight and Lauren Falkner had five. McKenna Rensel and Jazzy Marino had 10 digs each. Hannah Schweikert had 33 assists, eight digs, eight aces and one block.
Brooks was hoping to see less missed serves, but overall was pleased with the outcome of the match.
"There's little things that we can tweak along the way," said Brooks. "But their chemistry is great, they're fun to watch, they're mixing up the sets well, they all know how to put the ball away offensively and that's huge, so if we can get better at serve/receive and tougher serving, you know that's my goal for the end of the season is just make our serve/receive look real crisp so we can run that offense."
---