Columbia Falls businesswoman empowered by bodybuilding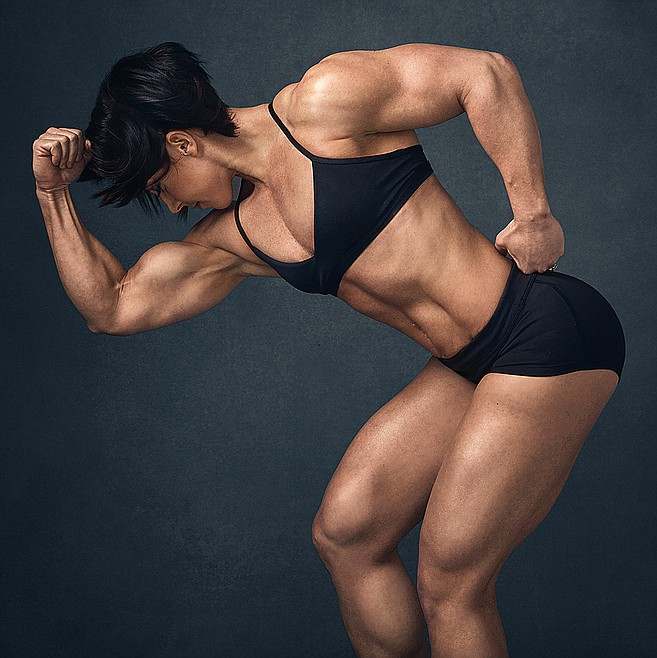 Dana Linn Bailey, Columbia Falls resident, as featured in the newly released book "Strong Like Her: A Celebration of Rule Breakers, History Makers, and Unstoppable Athletes." (Photo provided)
|
September 16, 2020 6:35 AM
Whitefish champion bodybuilder and Columbia Falls entrepreneur Dana Linn Bailey is dedicated to building women's confidence by building their strength. Her passion for the sport and for empowering women earned her a spot as one of the inspirational athletes in a new book titled "Strong Like Her" by Haley Shapley.
The book explores the history of women and athleticism from ancient Athens to modern-day soccer fields.
"It's a cultural history about women and physical strength," says Seattlebased author Shapley.
"It makes a connection between strong women and the many ways they've contributed to society at various points throughout history."
Bailey, originally from Pennsylvania, began bodybuilding after her college soccer career ended in 2006. Even as an athlete, like many women, she struggled with body image most of her life.
"I spent many years growing up not liking my body, and I wasn't out of shape, I was an athlete my whole life," Bailey told Hungry Horse News.
"I just didn't look like everyone else, and I was uncomfortable with the size of my legs and my lack of chest."
But that self consciousness started to shift once Bailey began bodybuilding.
"Lifting is what I think changed my whole perspective of everything with my body," she said.
"I started lifting, I started gaining muscle, I started seeing changes to my body and started realizing, 'Oh I'm actually in complete control of what I look like on the outside.' I started to actually fall in love with my body."
Bailey began competing in the International Federation of BodyBuilding & Fitness (IFBB) figure category, a step in between bikini and bodybuilding, but never felt that the category was right for her. She was often marked down for being too muscular.
"It was a weird point," Bailey said. "Here I am actually starting to love the way my body looks, and I started competing and I would get off stage and talk to judges and they would tell me, 'Oh you're too muscular, you got marked down for being masculine.' So then, there's a little hit to morale again!"
Bailey continued to compete and stay true to her style of bodybuilding,
despite the less than positive feedback, for five years until the IFBB added another category in between figure and bodybuilding: physique. It was
a perfect match. Bailey switched to competing in physique as soon as it was added and ended up taking nationals in the category. This propelled her into the pro circuit where she competed for a couple years before making it to the prestigious international Olympia,
where in 2013 she became the first ever Ms. Physique Olympia.
It was exactly that type of dedication and pushback against cultural pressures that caught Shapley's attention.
"Instead of changing herself to fit the mold of what people wanted her to be, she stayed true to who she really wanted to be," said Shapley. "She was able to steel herself against those criticisms that she received, and because she's so real and authentic, a lot of people relate to her and both men and women really admire what she's been able to achieve athletically."
Bailey has since gone on to create a social media presence and online training program as well as co-founded a fitness and lifestyle apparel line called Flag Nor Fail with her husband, Rob Bailey, in addition to a supplement company called Run Everything Labs. The couple moved to Montana from Pennsylvania nearly four years ago, moving their companies and a few employees into a small warehouse off of Highway 206 near Columbia Falls.
The warehouse has grown to nearly 30 employees and they are planning to build a new 30,000 to 40,000 square foot headquarters behind Sacred Waters Brewing Company in the near future. Bailey has not competed for several years, but continues to focus on empowering women.
"My main push is building confident women, and doing that by getting them into the gym, getting them comfortable with weights and getting comfortable with their changing bodies," she said. "Because I've been in training like this for 16 years and there were a lot of ups and downs."
Recent Headlines
---