Soccer: Boys drop Frenchtown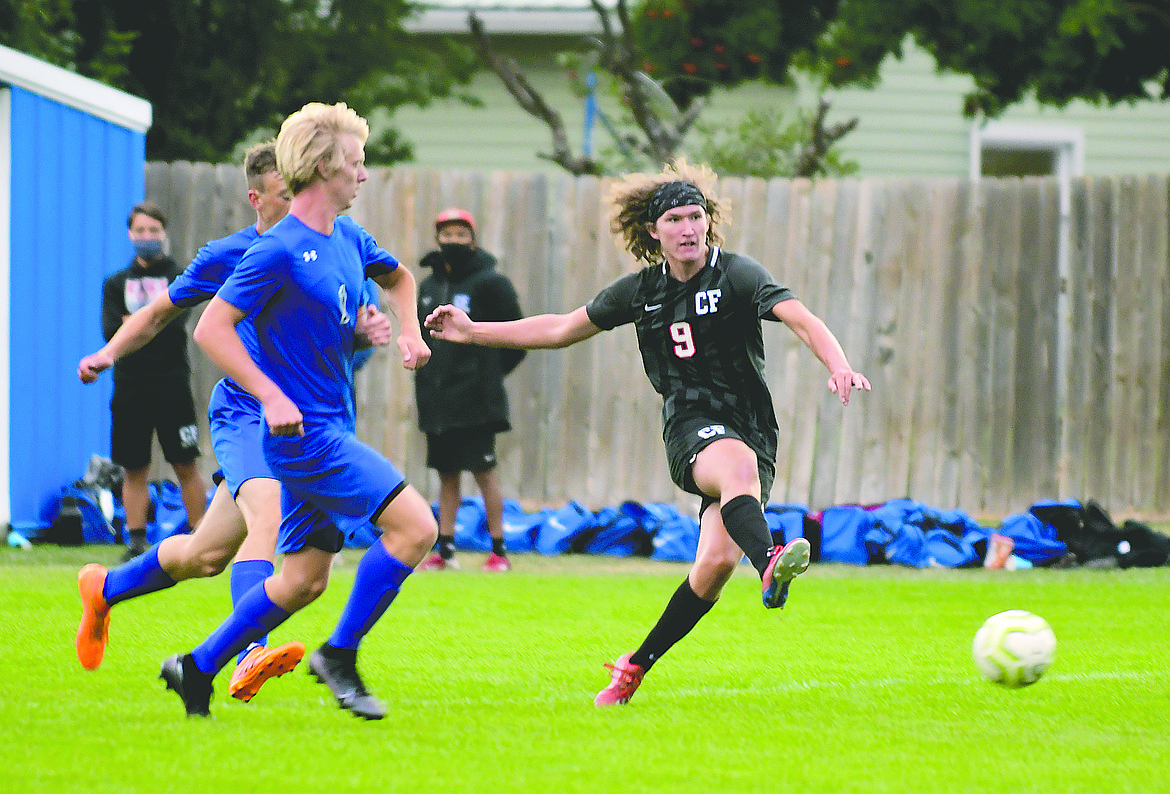 Neils Getts with a shot against Stillwater. Getts filled in as goalie against Frenchtown. (Teresa Byrd photo)
by
TERESA BYRD
Staff Writer
|
September 9, 2020 12:45 AM
The Columbia Falls boys soccer team had an an emotional 3-2 win over Frenchtown Thursday on the road. The Wildcats had lost four years in a row to the Broncs, twice at the quarterfinals in the playoffs, on that very same field. One of the quarterfinal losses occurred four years ago when, after the Cats lost their starting goalkeeper to appendicitis, then-freshman Niels Getts jumped in to substitute, in what was a close 4-3 game.
Thursday's game bore a striking parallel when the Wildcats yet again lost their starting goalkeeper right before play, and senior Niels Getts jumped in to substitute without hesitation, despite not having put on a pair of goalkeeping gloves since that similar game four years ago, said head coach O'Brien Byrd.
Getts ended the game with a total of 15 saves.
The players were a bit mentally shaken, noted Byrd, having lost not only their starting goalkeeper, but also Getts as their leading scorer, but they were ultimately able to overcome the challenge.
In the second minute of the game, senior Johnny Carl "scored a brilliant individual-effort goal that was gritty and showcased his tremendous drive and talent," said Byrd. "He beat two defenders and scored on a break away."
Senior Jason Albin was able to take that to a 2-0 lead with a goal at 22 minutes. Frenchtown was able to catch up 2-2 by the middle of the second half, but freshman Kai Golan secured the win with a game-winning free kick.
"Frenchtown was really a force to be reckoned with this year," said Byrd. "They were undefeated 3-0 going into the game," and according to Byrd are probably ranked top two in the state.
Columbia Falls played seven sophomores and one freshman, while Frenchtown had seven seniors and two juniors.
The fact that the team blew a two score lead, on the Broncs' field, and was still able to make the win is also significant for Byrd. That type of comeback was seen in previous games this year.
"What that tells me is these kids aren't afraid of anything, and they can take the pressure. Despite how young we are, we're playing like a mature, experienced squad, and it is exciting," said Byrd. "But we're definitely taking it one game at a time."
---