Kats mask up in Browning match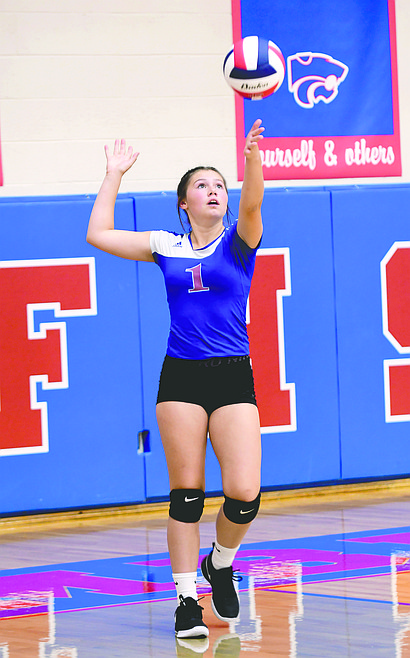 Rhys Sharpton with a serve earlier this year.
by
TERESA BYRD
Staff Writer
|
September 9, 2020 12:00 AM
Columbia Falls volleyball dropped Browning Sept. 1 away in straight sets, 25-7, 25-16 and 25-15.
The game, originally scheduled to play in Columbia Falls, was moved to Browning upon request due to concerns about coronavirus. The Wildkats served 25 aces throughout the match, with Hannah Schweikert having 13, Dillen Hoerner with three, Jazzy Marino with three, and Rhys Sharpton with three. Dillen Hoerner and Madysen Hoerner each logged seven kills.
The game presented some unusual aberrations, demonstrating the unique times of high school sports during a global pandemic.
Every player had to wear a mask even while on the court and there were "no fans, it was a quiet gym, no introductions. It was a different atmosphere," said head coach Jolandie Brooks.
Brooks felt it was good that the Browning girls were able to play and was glad of the opportunity for some of the JV players to get reps on the court.
---