Cats lose to Broncs, 28-21 in the wind and the rain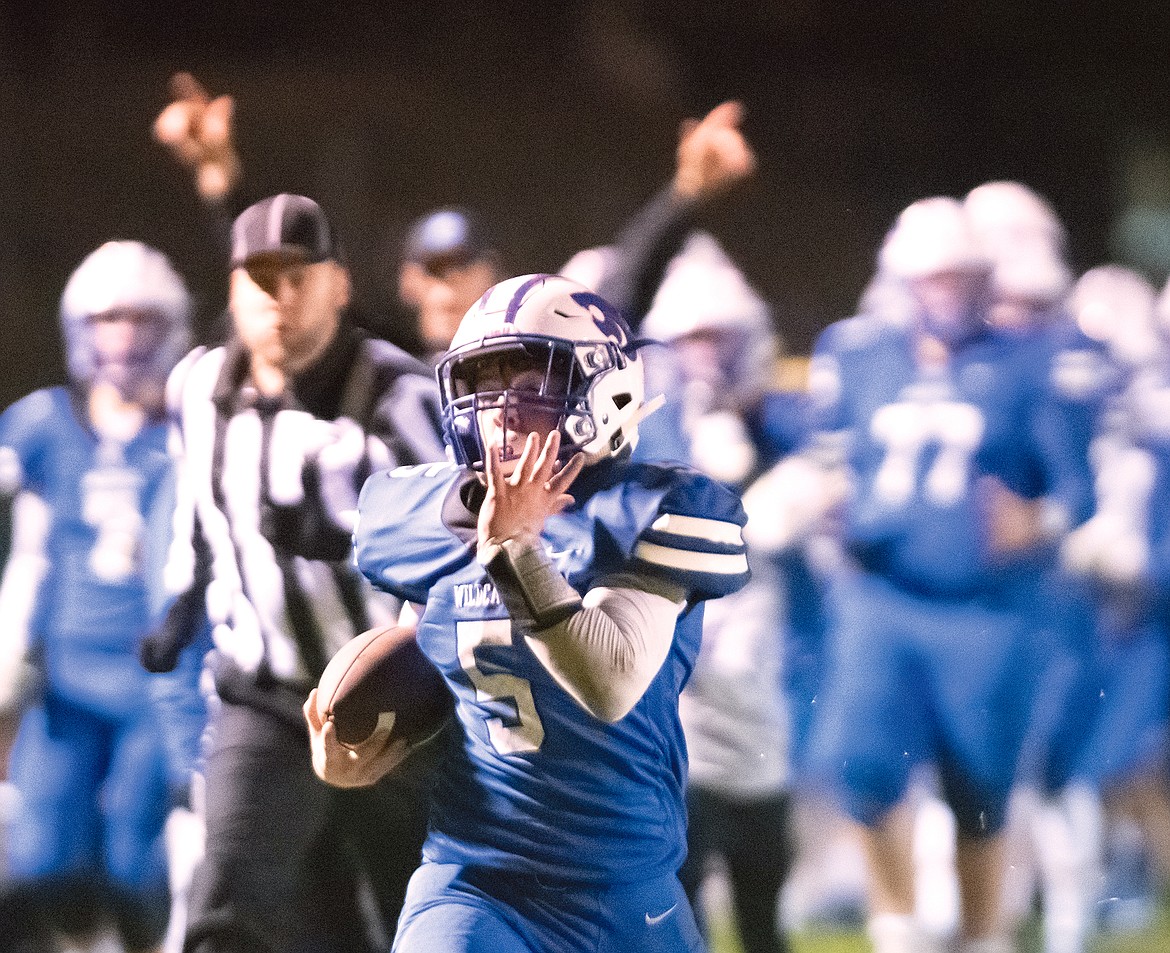 Isaiah Roth breaks away from the Frenchtown defense en route to a touchdown. Roth had three touchdowns for the Cats and rushed for 155 yards.
by
CHRIS PETERSON
Editor
|
October 17, 2020 12:55 AM
The Columbia Falls football team lost to Frenchtown Friday night at home in the wind and rain, 28-21.
The old sports cliche is that it was a "hard fought battle" but in this case, it truly was, with both teams playing their proverbial guts out.
Frenchtown got on the board on their first possession with a 79-yard touchdown pass. The point after was good and the Broncs were up 7-0.
But the Wildcats rumbled back on a methodical drive the next possession and at 2:03 Isaiah Roth scored his first of three touchdowns in the game. Roth found the end zone again on a 52-yard run with 2:09 left in the half and the Cats were up 21-7.
But Frenchtown scored a touchdown in the waning seconds of the first half. The 2-point conversion was no good and the score at the break was 21-13.
The Cats would look to extend the lead after driving down inside the Broncs' 10-yard line. But they couldn't punch it in and a 20-yard field goal attempt by Neils Getts went just to the left.
Getts was perfect kicking PATs.
Frenchtown tied it up with 7:15 left in the fourth with a 29-yard TD pass and a two-point conversion.
The Broncs then went ahead with under 3 minutes left after Bronc quarterback Wyatt Hayes hit Tel Arthur in the center of the end zone. The Cats got the ball back with 2:23 left to play but couldn't get anything going and went four plays and out. The Broncs ran out the clock after gaining a first down.
Roth had a great game with 155 yards rushing and three aforementioned touchdowns. Quarterback Mason Peters completed 15 of 19 passes for 102 yards and ran 15 times for 62 yards. Peters took some hard shots in the game but bounced back up.
The Cats had several players out and the reserves played admirably in tough conditions.
They now need a win against Butte Central in teh last game of the regular season to keep their playoff hopes alive to take the fourth and final spot in the bracket.
The Cats hold tie breaks against Libby and Polson, who are also 5-3, because Columbia Falls beat them earlier this season. Whitefish is also 5-3, and plays Dillon to round out the regular season. If Whitefish beats the Beavers, they would gain the fourth spot because they hold the tie break by virtue of beating the Cats earlier this season.
---