Yesterdays: Dust from St. Helens forces shutdown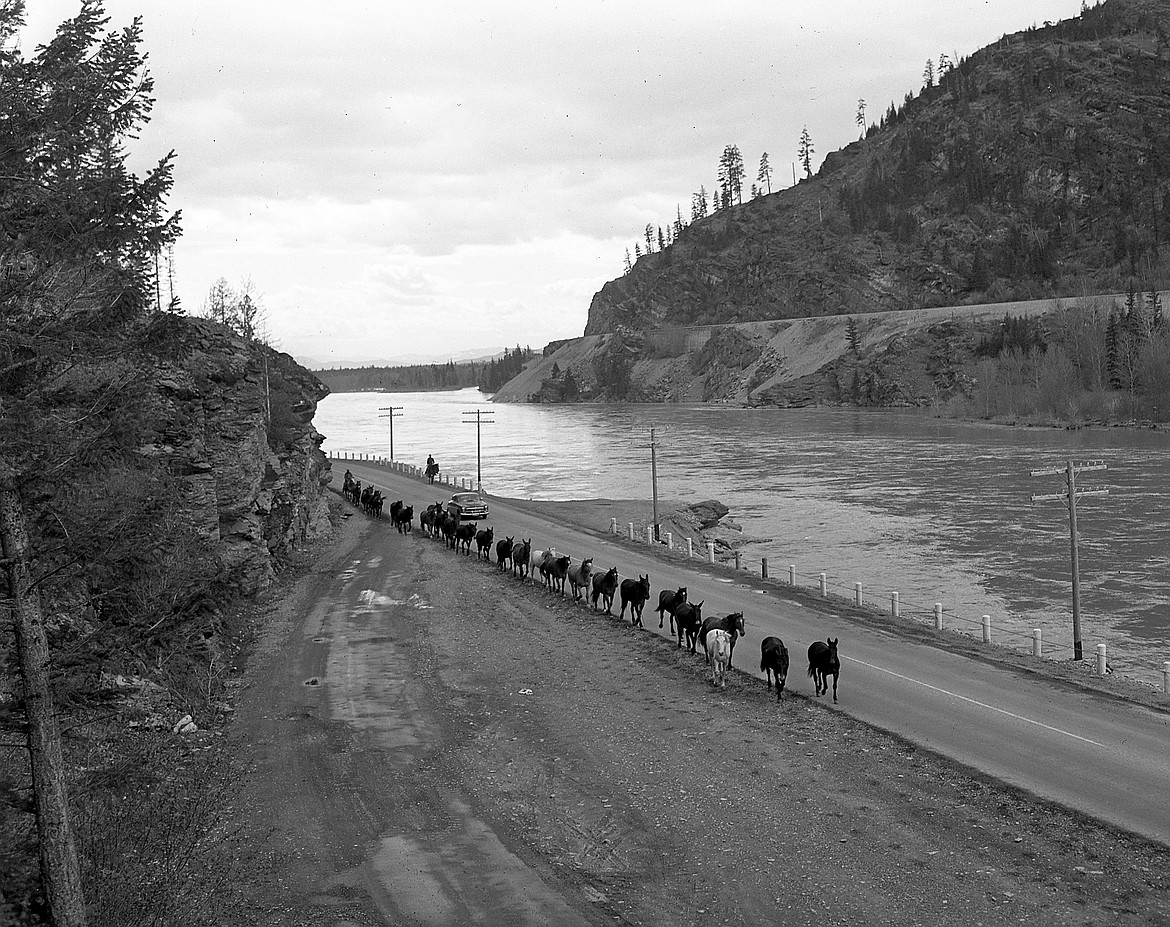 Driving Forest Service stock to summer work through Bad Rock Canyon, May 19, 1950. (Mel Ruder photo)
70 years ago
May 19, 1950
There were still two-story high snow drifts in front of the many Glacier Hotel, as plows had cleared the parking lot. The Columbia falls High School senior class fit on three sets of stairs for their senior picture. Fifty-three head of horses were to be driven through the Bad Rock Canyon as stock for operations and patrols in forests from Coram all the way to Big Prairie.
60 years ago
May 20, 1960
Flathead County population was about 32,545 according to unofficial census data. Columbia Falls showed the largest increase, with 2,121 residents, up almost 900 from the 1950 count.
50 years ago
May 22, 1970
A 21-day tour of Europe wrapped up for the 87-member Columbia Falls high School Band. Editor Mel Ruder traveled to Europe as well and the newspaper was filled with images from Holland, where he photographed the country and met up with the band, which had its final concert in Amsterdam.
40 years ago
May 22, 1980
Dust from the eruption of Mount St. Helens had shut down the Flathead Valley for a third day in a row because of air pollution. State air quality concerns kept schools and non-essential businesses closed. The dust was actually glass, said local geologist Lex Blood and under a microscope was sharp crystals.
30 years ago
May 24, 1990
The first Family Forestry Expo was held at the Trumbull Creek Forest and was well attended with 1,500 participants. Track star Tanya Tesar was now headed to the University of Idaho on a track scholarship. Tesar held the state class A record in the 300 meter hurdles with a time of 44.6 seconds.
20 years ago
May 18, 2000
Jack Therrien, owner of Jack's Liquor and Pharmacy on Nucleus Avenue closed his store for good. The affable Therrien's dual role of pharmacy and liquor reached the national spotlight when he was featured in a bit on the Tonight Show with Jay Leno. Leno poked fun at an ad for the store that said, "We take care of all your health care needs."
10 years ago
May 20, 2010
Sierha Salois, 17, was hit by an Amtrak train while jogging near the tracks. She had a pair of headphones on and didn't hear the train. She suffered a broken arm and several bruises, but survived.
---