First Glacier Park cabin installed, Camas entrance up next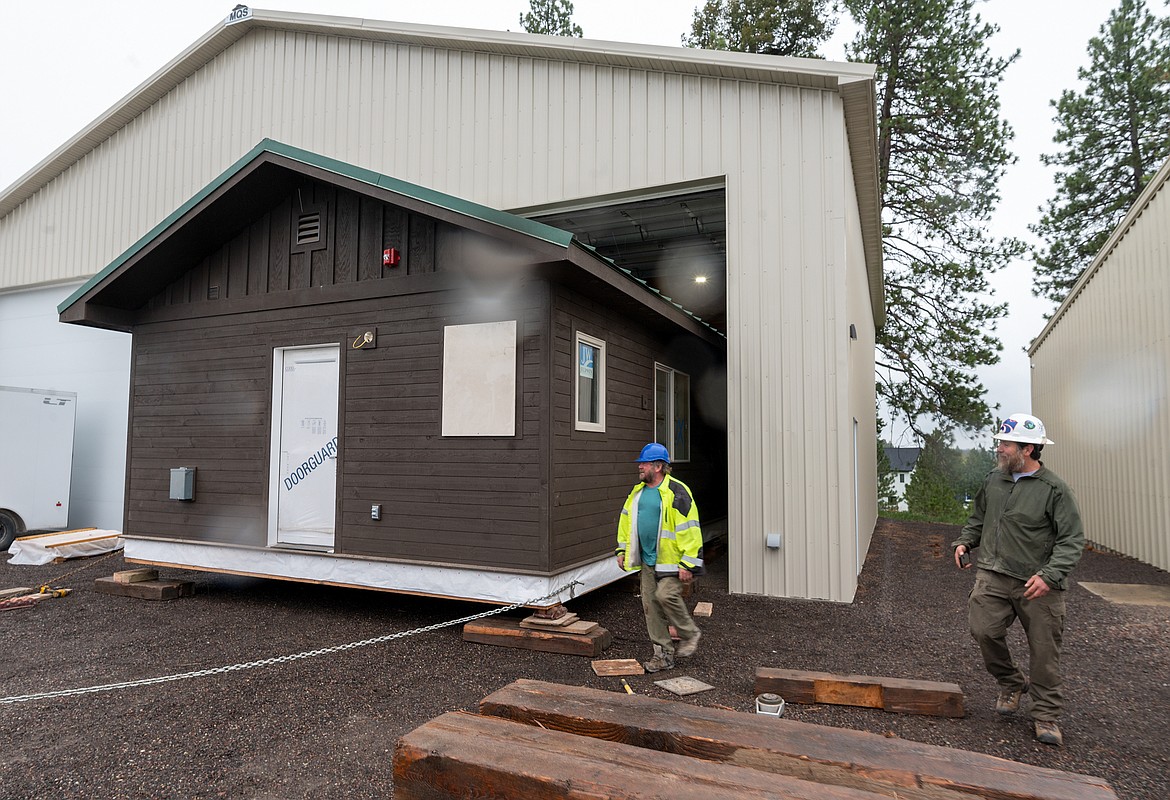 by
CHRIS PETERSON
Editor
|
May 20, 2020 6:59 AM
Slowly, but surely, a new cabin for Glacier National Park rolled out of the shop at the Columbia Falls High School last week. The cabin will be used to house employees at the Polebridge Ranger Station and represented the work of 16 students in the school's building trades program.
There was just one thing missing as the cabin was unveiled — students.
Because of the coronavirus crisis, students aren't at school, though a couple of young men stopped by to get a look at the cabin.
They hadn't seen it since March when schools were closed. Instructor Bob Jellison of Glacier who had been tutoring the young men in the program, finished up the cabin.
There wasn't too much left to do, he noted, just some finish work in the kitchen.
Jellison, along with shop teacher Jeff Remiker, have been working alongside students on the cabin since September in a unique partnership between the Park Service and the school district.
The school built a shop and the park provided $269,000 to cover the costs of building materials, special tools, and the cost of having the cabin moved to Polebridge.
It went by low-boy trailer early Thursday morning.
The students in the class also received construction tool bags as part of the program. Jellison handed those out to students a few days ago. The moment was a bit bittersweet, he noted.
"It was nice to have that closure," he said.
The class had also started on a shed for the soccer program, but that didn't get finished because of the school closure.
The Glacier National Park Conservancy provided $15,000 in funding to bring power to the school's new pole barn.
The district paid about $55,000 for the barn itself. Glacier got the idea of having students work with the park on building the cabins from former deputy superintendent Eric Smith. Smith oversaw a similar program in Denali National Park, where high school students built cabins for that park.
Next year the plan is to have students build a another cabin as well as a new entrance station for the Camas Road, said Jim Foster, chief of facilities management for the park. The pole barn can hold two projects at once.
"We have at least six more (projects) coming," Foster said. "They'll have a blast (with the Camas entrance). They'll do some masonry, which adds to the skillset."
Camas hasn't had an entrance station in more than a decade.
Kyle Thompson was one of the students who worked this cabin.
"I learned a lot," he said. "It's helped me with experience on a job site."
The cabin was installed later in the week at Polebridge, safe and sound.
---