A backlog of haircuts, and other tales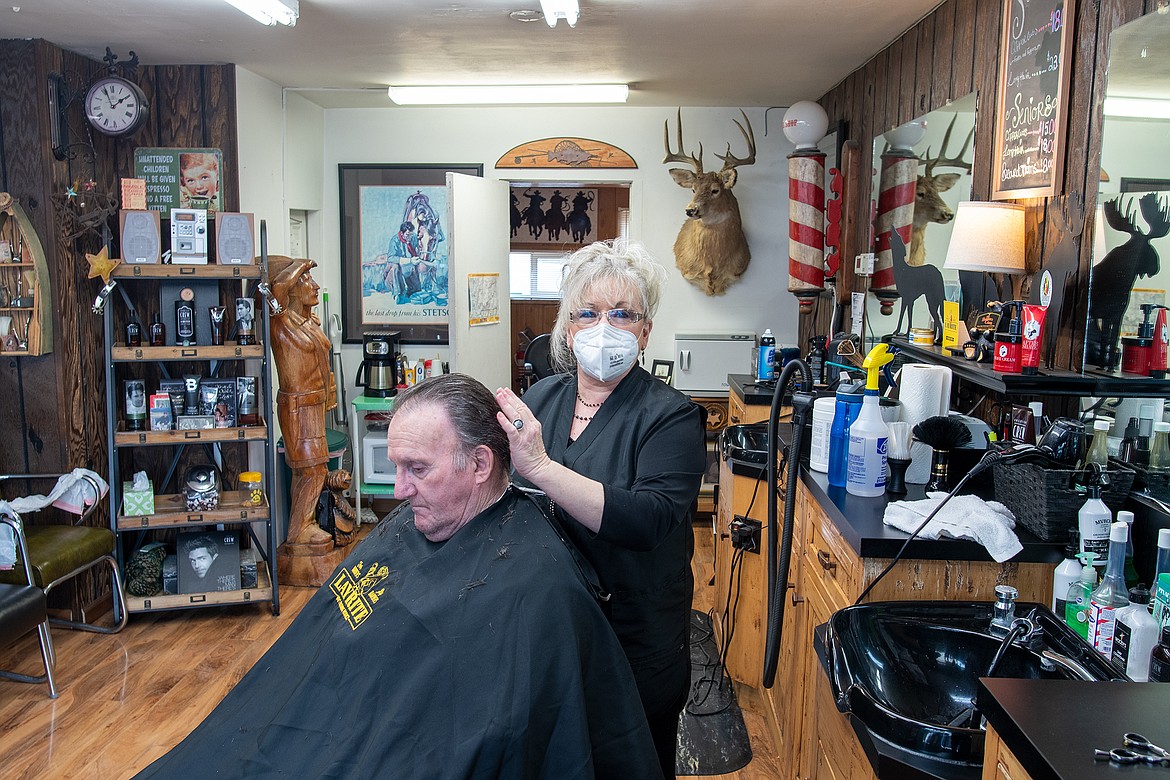 by
Chris Peterson
Editor
|
May 13, 2020 7:41 AM
Columbia Falls area businesses are reacting in different ways now that they can reopen under Gov. Steve Bullock's guidelines.
Barber Barbara Jenkins was busy cutting hair last week at her shop on Nucleus Avenue, though she was wearing a mask. She said she was operating under Montana Barber Shop Association guidelines — she had about half her chairs cordoned off and people had to sign up to get a haircut.
After being closed for several weeks, there's been a pent-up demand for haircuts, she noted. Slots to get a haircut were about a week out and she was considering going to appointments entirely to keep up with demand.
Her shop is small and it's tough to have more than one customer waiting at a time.
At Perfect Cuts they haven't reopened the storefront of the popular butcher shop, but they've still been extremely busy taking orders online. In fact, they've been servicing customers they've never had before.
The problem now is getting enough beef.
While Montana ranchers are growing plenty of cows, the processing plants have been shut down or are running at reduced capacities due to the coronavirus, explained co-owner Danny Hanson.
As such, beef prices have skyrocketed, and supplies of some cuts are way down, despite ranchers actually getting less, not more for their cows and steers. While Montana has millions of cows, it no longer has large processing plants. Hanson, who has been working as a butcher for decades, said there used to be four, five, large processors in Montana.
Now there are none.
Today Hanson gets his beef from a supplier in Washington state.
Some cuts of beef have gone up $5 a pound in one month in what amounts to price gouging, he said.
"It's not a shortage of animals," Hanson noted.
But processing plants, because many have employees impacted by coronavirus outbreaks, are running at reduced capacity. Thus they've been charging a premium for beef.
Montana Sens. Jon Tester and Steve Daines have proposed the The New Markets for State-Inspected Meat and Poultry Act, which would allow meat and poultry products inspected by Food Safety Inspection Service approved state Meat and Poultry Inspection programs to be sold across state lines. This would allow Montana ranchers to make better use of in state facilities to sell their product, the senators both claim.
Still, getting a bill through Congress is no small task, so don't expect a solution soon.
In the world of books, Cindy Ritter, owner of Bad Rock Books, said reopening her storefront would be difficult at this point.
Since stores were closed, she's been selling books by phone, with pickup at the back door of her Nucleus Avenue shop. She also sells online and even does deliveries.
Under state reopening guidelines, a merchant is supposed to keep the places where customers have been clean.
But customers in bookstores like to pull out a book, look at it, and then put it back.
"I can't sanitize all the books," she said.
If she opens her storefront, she's considering limiting her days to Monday, Wednesday and Fridays. That gives her a day in between to clean.
Restaurants could reopen their dining rooms last week and the Nite Owl/Back Room was one of them.
Co-owner Jay Marquesen said that business went as expected.
"We're kind of right where we thought we'd be," he said.
They took tables out to meet the social distancing requirements and they're down about 30 percent overall, which isn't bad, all things considered.
"The local regulars are all back," he said Monday. "And take out (business) has been real good."
As far the cleaning goes, he said they were doing many of the things the guidelines call for before the pandemic.
They now clean the condiments after every customer as well as the booths.
He said to deal with the rising cost of beef, they've gone to buying hamburger from local ranchers, which, in the end, helps everyone all the way around.
---