Bullock issues stay-at-home order; asks Glacier Park to close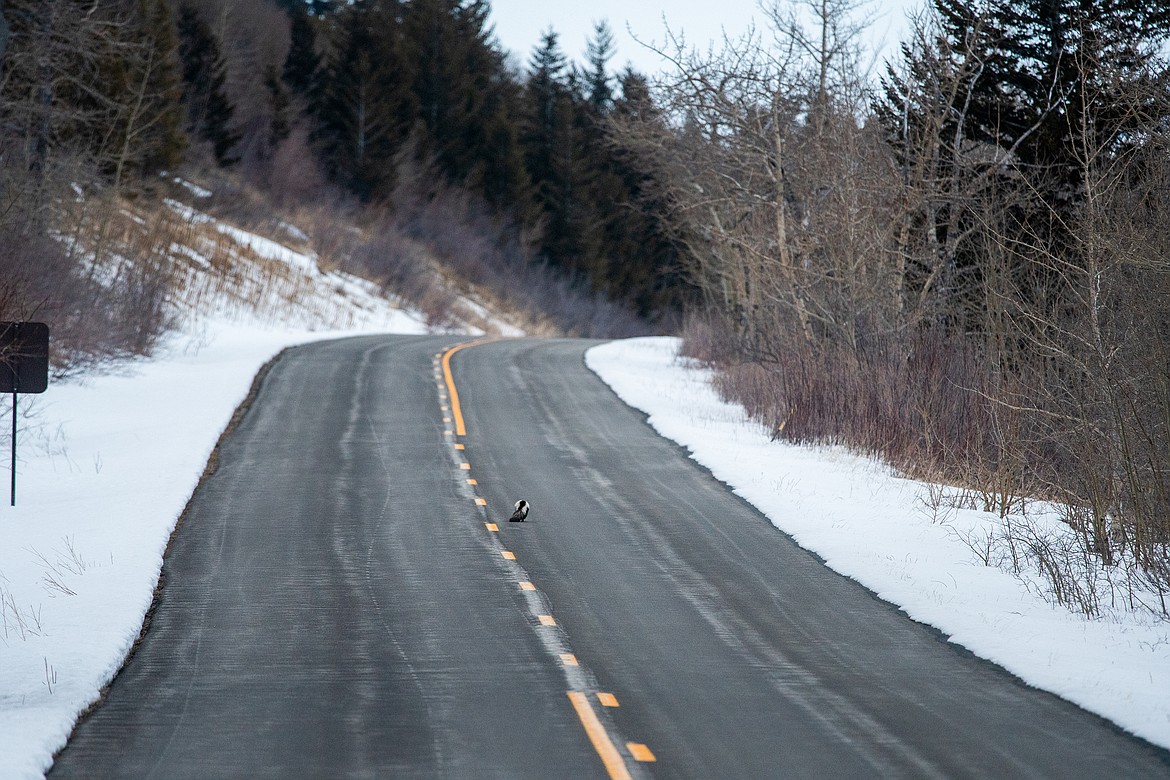 A skunk walks down the Going-to-the-Sun Road.
by
CHRIS PETERSON
Editor
|
March 26, 2020 5:26 PM
Gov. Steve Bullock on Thursday announced a statewide stay-at-home order beginning at 12:01 a.m. Saturday to combat the spread of COVID-19 virus. He also wants Glacier National Park to close as well.
The order will last until at least April 10, Bullock said.
While Bullock said it was OK to recreate outside as long as safe distancing was used, he also wrote a letter to Glacier National Park officials on Tuesday asking them to close the park.
Glacier crews are set to start spring plowing of roads next week and with plowed roads come crowds, as people hike and bike in the park. That's exactly what he said the state is trying to avoid, Bullock said. Even without the roads being plowed, crowds have been significant all winter long at the Lake McDonald Lodge area.
"Congregating to a park isn't the right message," Bullock said
Other areas of the park, however, have sparse crowds, if any.
Bullock said he hasn't heard back from park officials, but said he hopes to hear back soon. He said Flathead County officials have had the same concerns. A call to park officials today was not immediately returned. The Forest Service has already announced some campground and other closures in the state. (See related story).
Increasingly, the park is drawing out-of-state visitors. In recent days, the Hungry Horse News has seen license plates from Oregon, Illinois, New York and Kansas in Glacier.
As for people visiting the state, Bullock said it applies to them as well. They should avoid contact with others and stay in their hotel rooms until they leave.
"Our expectation is you follow this directive," he said.
He said Montanans recreating need to use common sense. If a trailhead is busy, go someplace else.
Also, people shouldn't travel if it isn't necessary. Don't for example, go to the grocery store six times a week.
"I'd ask you to take this seriously," Bullock said. "We as Montanans can help our friends and neighbors."
Under the directive, Montanans may leave their homes for essential activities, Bullock noted, including:
• For health and safety. To engage in activities or perform tasks essential to their health and safety, or to the health and safety of their family or household members (including, but not limited to, pets), such as, by way of example only and without limitation, seeking emergency services, obtaining medical supplies or medication, or visiting a health care professional.
• For necessary supplies and services. To obtain necessary services or supplies for themselves and their family or household members, or to deliver those services or supplies to others, such as, by way of example only and without limitation, groceries and food, household consumer products, supplies they need to work from home, and products necessary to maintain the safety, sanitation, and essential operation of residences
• For outdoor activity. To engage in outdoor activity, provided the individuals comply with social distancing, as defined below, such as, by way of example and without limitation, walking, hiking, running, or biking. Individuals may go to public parks and open outdoor recreation areas, including public lands in Montana provided they remain open to recreation. Montanans are discouraged from outdoor recreation activities that pose enhanced risks of injury or could otherwise stress the ability of local first responders to address the COVID-19 emergency — such as backcountry skiing in a manner inconsistent with avalanche recommendations or in closed terrain.
• For certain types of work. To perform work providing essential products and services at essential businesses or operations or to otherwise carry out activities specifically permitted in the directive. Restaurants that offer delivery and takeout, for example, are exempt. So is construction work.
• To take care of others. To care for a family member, friend, or pet in another household, and to transport family members, friends, or pets as allowed by this Directive.
---