Plan would expand cell phone service in Glacier National Park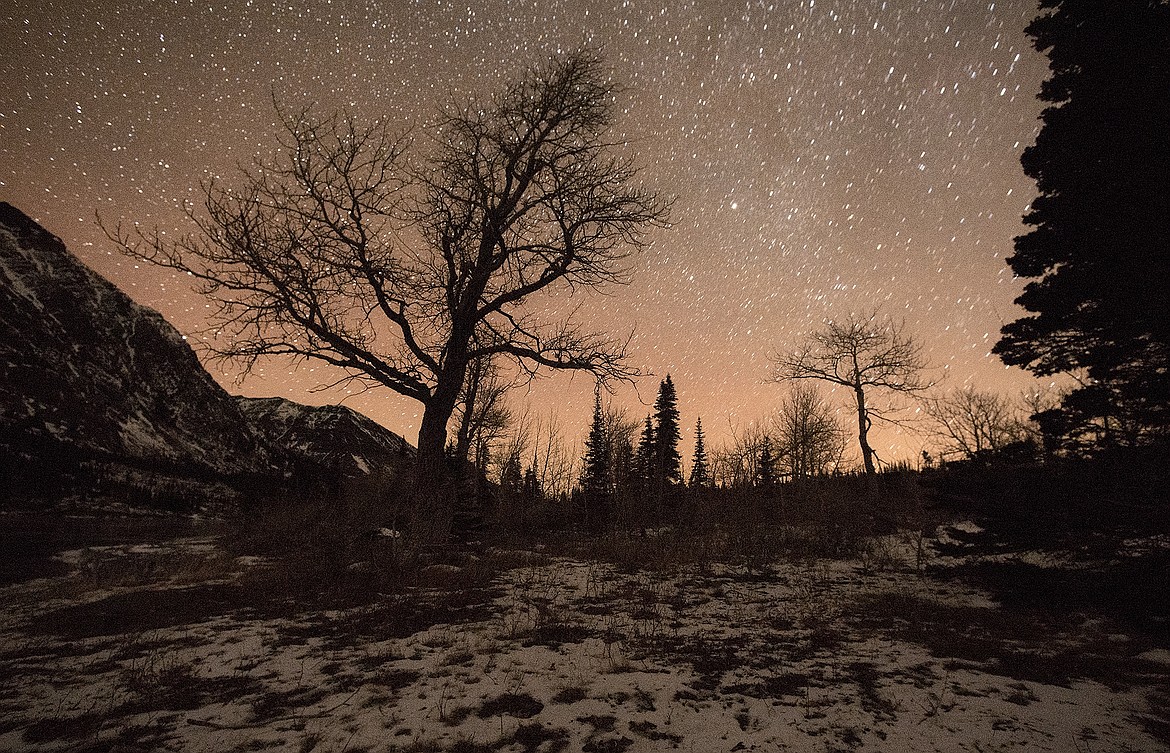 Stars light the skies in the Two Medicine Valley.
by
CHRIS PETERSON
Editor
|
March 4, 2020 8:24 AM
Glacier National Park has released a scoping plan that would increase cell phone coverage in the park.
According to a draft document released last week, the park eyes "Two Medicine, Many Glacier, Rising Sun, and Lake McDonald Lodge developed areas as appropriate locations for commercial telecommunications infrastructure, including cellular, microwave, or other technologies."
But the idea is not to have cell phone coverage throughout Glacier's backcountry, clarified Mary Riddle, chief of planning and environmental compliance at Glacier. The Park is looking at alternative technologies that don't need towers, but would still allow cell phone coverage for guests and employees in developed areas.
Currently, depending a person's cell phone plan, coverage is very limited in Glacier. It typically stops around Lake McDonald Lodge on the west side and is spotty on the east side. Verizon has better coverage on the east side, AT&T has virtually none.
Cell phones do currently pick up signals in some backcountry locations already, however. Mountain peaks can often get a signal, and Granite Park Chalet has cell phone coverage due to its high elevation.
"Alternative technologies that minimize impacts on resources, would be considered, such as micro cell sites or wireless access points," Riddle said in an email to the Hungry Horse News.
In addition, private firms would put in the service, not the park, she noted.
She said firms would be required to meet the conditions developed under the plan to ensure the protection of park resources — minimizing impacts on visual, historic, and natural resources.
Glacier also proposes to expand its radio repeaters. Park staff and rangers typically use radios, not cell phones, for backcountry and frontcountry communications. That system can also be unreliable, with several dead areas in the park's mountainous terrain.
To that end, the park proposes to:
• Install microwave links at Many Glacier, Two Medicine, East Glacier, and possibly Huckleberry Lookout; a satellite Internet system at Logan Pass; Voice over Internet Protocol phones at the Polebridge Ranger Station; and a Local Area Network at the Walton Ranger Station.
• Install fiber optic cable to the Fish Creek Ranger Station and other areas.
• Add radio repeaters to existing communications sites at Chief Mountain. Port of Entry, Goat Haunt Ranger Station, Mount Hefty in the North Fork outside the park, the Loop (Going-to-the-Sun Road), Elk Mountain, and possibly other backcountry areas such as Belly River, Nyack, Two Medicine, Mount Brown. In addition, the park would move one repeater to the existing communications site on Apgar Mountain and install temporary repeaters as needed for non-emergency projects.
Equipment would be installed by private companies.
The Telecommunica-tions Act of 1996 requires the Park Service to consider applications from commercial providers who propose installing telecommunications infrastructure on park lands.
"If the park receives such requests, the early establishment of parameters for the placement of infrastructure, coverage areas, and other factors would inform the evaluation of applications and, if permits are approved, ensure the protection of park resources," the document states.
Public comments are due by March 9. The full document is available at: https://parkplanning.nps.gov/
GNPtelecommunicationsplan
Or send comments to: Superintendent, Glacier National Park Attn: Telecommunications Plan PO Box 1
West Glacier, MT 59936.
Glacier hopes to release an environmental assessment on the plan later this spring and have the plan in place by later this summer.
---