With rains and sun, Glacier blooming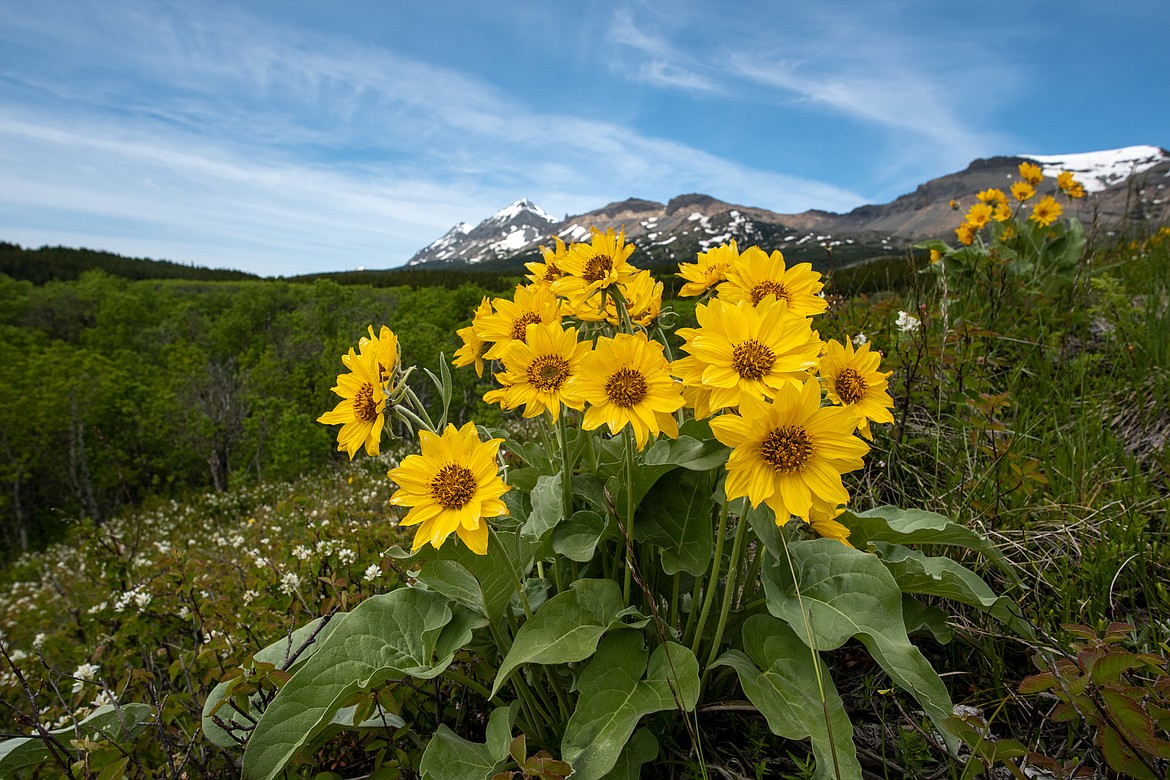 Arrow-leaved balsam root blooms in Glacier National Park last week.
by
CHRIS PETERSON
Editor
|
June 17, 2020 7:05 AM
It may have been a soggy start to Glacier National Park's reopening to visitors last week, but all that rain has proven largely beneficial to Glacier's plants.
That and the fact that there haven't been any visitors around for the past three months to step on them has helped, too.
Glacier right now is blooming — some trails that don't see a lot of visitors anyway had actually filled in with plants. Depending on elevation, slope and aspect, there's a wide variety of flowers to view.
Of particular note right now is arrow-leaved balsam root. This large wildflower is fairly common on large, open meadows, particularly along the continental divide this time of year.
Glacier lilies are another common wildflower. They bloom just a few days after the snow melts. The root of the glacier lily is sweet, like a carrot, and grizzly bears will often dig them up. When they do, it looks like a roto-tiller has been working the mountainside.
Less common flowers like fairy slipper and lady slipper orchids can be found in the deeper woods. Fairy slippers aren't very big, but their blossoms are pink.
In the North Fork, wet meadows can sometimes bloom en masse with camas flowers and arrow-leaved groundsel, a tall yellow flower.
Keeping all of these plants straight can be difficult. A good field guide is paramount to the avid flower-watcher.
A favorite guide is Shannon Kimball's "Wildflowers of Glacier National Park."
Kimball said while the rain is beneficial, it's not the only reason for the blooms.
"It's complex and varies from species to species," she said Monday.
For example, bear grass, the iconic white flower of the park, has just a smattering of blooms this year. It blooms on a cycle that botanists still don't fully understand.
Overall, however, Kimball said we're seeing a "nice happy mix," of flowers this year.
Kimball, who is also the curator of the herbarium at the University of Montana, is working on a second edition of her book and an expansion of her Glacier Wildflower app for phones. The app is more expansive and the updates will include more than 100 additional species than the book. The book is still a great guide, but the number of species has to be pared down or it would get too heavy to carry.
For the app search for "Glacier Wildflowers"
If you find a nice patch of flowers, please take only pictures. Picking blooms in the park and elsewhere is illegal and destructive. When hiking off trail, stay to hard surfaces and avoid stepping on the plants.
Not only is it good for the environment, it allows the next person that comes down the trail the chance to enjoy the flowers as well.
Recent Headlines
---