LeRoy (Roy) Henry Ryan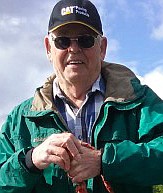 On Tuesday, March 24, 2020, LeRoy (Roy) Henry Ryan loving husband and father passed away at age 82.
Roy was born Sept. 16, 1937, in Columbia Falls to Anne and James Ryan. At 17, he joined the Navy during the Korean War and was honorably discharged in 1958. He met Janice Hauf in 1960, and they married Dec. 26, 1961 in Max, North Dakota. Grandpa Lars Soiseth told Roy to "marry a woman who can bait her own hook." Roy and Janice welcomed two sons, Steven and Rodney.
Roy earned an education degree in 1964 from Cal State Fullerton and taught in California until 1971. He decided to move to Oregon where he took a break from teaching, operating a mobile power wash business in Myrtle Creek and an airfreight business in Portland with his brother, Pat Ryan. Roy returned to teaching in the Woodburn School District until his retirement.
Roy had a passion for steelhead fishing; his church; and traveling, visiting Europe, Israel and Egypt. Roy was known for his infectious smile, lovable manner and compassionate spirit.
Roy was preceded in death by his wife Janice and son Rodney. He is survived by son Steven and wife Carmen and her sons Cameron, Chase and Chance Mazzia; brothers Jim and Pat; sisters Dorinne, Andrea and their families.
A service will be held July 9 at Amazing Grace in Portland, followed by laying his ashes to rest at Willamette National Cemetery.
---