Author says wilderness experience still exists in National Parks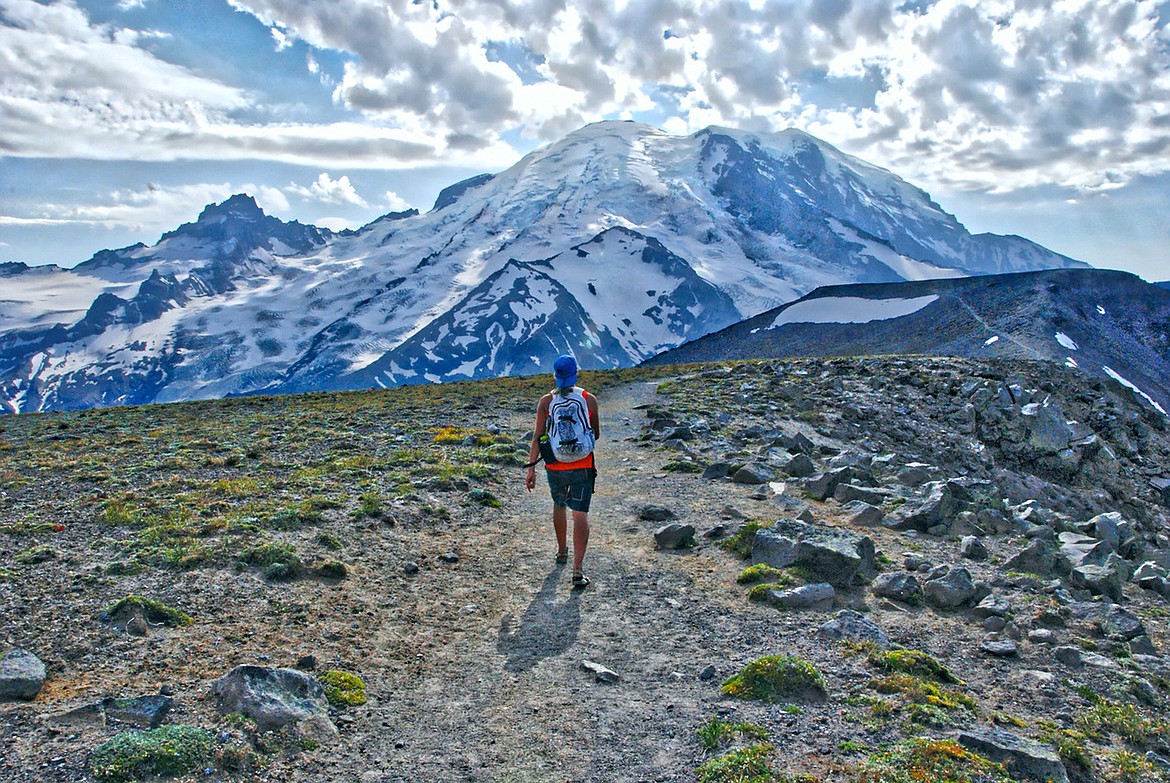 A hiker in Mt. Rainier National Park, featured in one of Whitefish author Becky Lomax's Moon Travel Guides on national parks. (Becky Lomax/Whitefish)
by
TERESA BYRD
Staff Writer
|
February 26, 2020 8:32 AM
Whitefish author and adventurer Becky Lomax says there's a place to experience wilderness where one doesn't expect it: our national parks.
Two main reasons why people might not automatically equate wilderness with national parks: signage and crowds, she said during a recent talk in Kalispell hosted by the Bob Marshall Wilderness Foundation.
Most adventurers are familiar with seeing signage indicating a designated wilderness area in national forests, she said, but in national parks it's rare to see those kinds of indicators. In addition, many people are beginning to associate parks with overcrowding.
In an era when national parks across the country have seen record visitation since 2016, visiting these parks may start to feel like a "non-wilderness experience," Lomax said, while showing pictures of the west entrance of Yellowstone and the crowds that gather around Old Faithful.
To be sure, some parks are crowded. Places like Great Smoky Mountains, the nation's most visited park, saw 12.3 million visitors in an area half the size of Glacier. Or on the trail to Half Dome in Yosemite National Park, a hike which now requires a permit, because it sees so many people.
But there is hope for those seeking solitude.
"You get away from the travel corridors, the really popular short hikes, and there is wilderness and breathing space out there," she said. In fact, of the four government agencies that oversee designated wilderness, the National Park Service manages the greatest acreage.
In a time when the effect of growing urbanization and development on our nation's land garnered a critical mass of public concern, Congress passed the Wilderness Act in 1964.
The act was created "In order to assure that an increasing population, accompanied by expanding settlement and growing mechanization, does not occupy and modify all areas within the United States … leaving no lands designated for preservation and protection in their natural condition … to secure for the American people of present and future generations the benefits of an enduring resource of wilderness."
In doing so, the act established a national wilderness preservation system. Since there was no corresponding agency to oversee such a system, oversight fell to any agency whose land contained the wilderness.
Of the nation's 62 national parks, a little over half contain designated wilderness. A majority of the acreage of that wilderness is located in Alaska, where "some of [the parks] have the largest unbroken tracts of wilderness in our entire wilderness system," Lomax noted.
But there are parks, some of which are even close to home, with wilderness.
North Cascades, Mount Rainier, and Olympic National Park all have designated wilderness. Olympic exhibits the most diverse wilderness in the country, spanning from glaciers to rainforest to the haystack-cliffed coastline.
But one does have to enter designated wilderness to get the wilderness experience.
Big Bend National Park near the Rio Grande River is an example. In the spring, neotropical songbirds create a cacophony that is nearly overwhelming. The Grand Canyon, Yellowstone, Grand Teton, and Glacier are all parks that do not contain designated wilderness, but all have large tracts of land that are proposed wilderness and managed as such. Yellowstone and Glacier in fact have had lands recommended to Congress for designation as wilderness since the 1970s.
Getting it codified, however, probably won't come from the Park Service, Lomax surmised.
"For [the park] to be the machinery behind making that wilderness probably is not gonna happen. It's going to take people like you and me," she said.
The next talk in the Foundation's Wilderness Speaker Series is March 4 by Tim Thier who will be presenting on "Wildlife in the Whitefish Range." For more information and to see archived video footage of past series, visit https://www.bmwf.org/wildernessspeakerseries.
Recent Headlines
---