Cats drop Ronan at home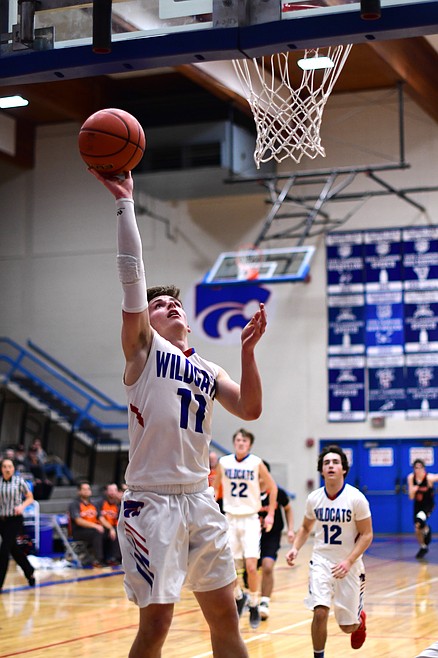 Columbia Falls Senior Jack Price (11) goes for the layup in a tight win against Ronan Tuesday, Feb. 18. (Teresa Byrd/Hungry Horse News)
by
CHRIS PETERSON
Editor
|
February 19, 2020 12:13 PM
The Columbia Falls boys basketball team dropped Ronan at home Tuesday night, 57-55, in another contest that came down to the wire. The Wildcats led by as many as seven with two minutes left — in fact they led almost the whole game — but the Chiefs tied it up with about 16 seconds left in the contest at 55 apiece.
The Chiefs fouled Allec Knpaton with 3.3 seconds left in the contest and he stepped to the line and drained both of his free throws. Ronan's trey attempt was off as time expired, giving the Wildcats the victory.
Knapton had 14 points and 15 rebounds in the win. Dillon Shipp had 14 and Jack Price had 12 in the victory.
"We knocked some shots down, which helped," coach Chris Finberg said.
The Cats also limited their turnovers to 18. Prior games have been in the 20s.
Finberg gave kudos to Knapton.
"He's improving," Finberg said. "He's figuring out what he can and can't do."
The Cats face Whitefish on the road Thursday. If they win, they'd host a play-in game for the divisional tourney Monday night.
If they lose, the play-in game would likely be in Whitefish.
Knapton also had a nice night against Browning last week, but the Indians were still able to best the Wildcats, 57-44.
Knapton had 16 points and 11 rebounds in the loss. Shipp also had a good game with 14, but the Wildcats had 24 turnovers in the contest and only shot about 36 percent from the charity stripe.
The boys are now 4-13 overall and 3-6 in conference play. The last time they played Whitefish the game went to overtime.
---