FWP proposes lengthening wolf seasons in Region 1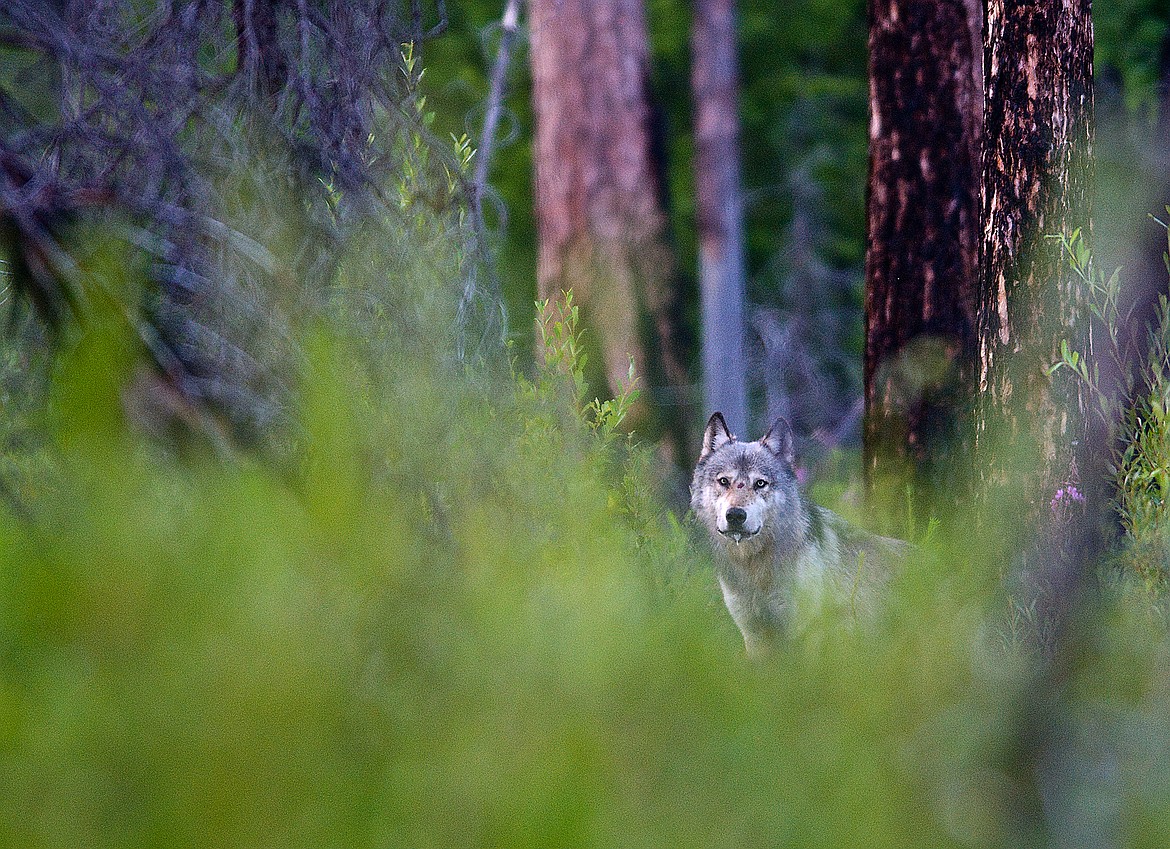 A gray wolf in this file photo.
by
Chris Peterson
Editor
|
February 12, 2020 6:29 AM
Montana Fish, Wildlife and Parks is proposing expanding the hunting and trapping season for wolves in Region 1, which includes most of Northwest Montana.
The changes include:
• Extending the general hunting season to begin Aug. 15 and end March 31. Currently, archery season begins Sept. 1, general season begins Sept. 15 and ends March 15.
• Extend trapping season from Dec. 15 to March 15. Currently, the trapping season ends Feb. 28.
• Increase the individual limit to 10 wolves per person. Currently, the limit is five per person.
These proposals emerged from the latest biennial season-setting process that involved the review of hunting season structures for most game animals and other managed species, FWP said in a release.
The agency's regional staff met and took input from local communities at four meetings across northwest Montana this winter.
At the winter meeting in Kalispell, hunters complained about wolves, and predators in general.
Hunters particularly opposed a provision that would have reduced the wolf quota in a wolf management unit near Yellowstone National Park down to one wolf in two units near the park. Region 3, however, has since changed that proposal to keep the quotas at the level they were previously at.
In the North Fork of the Flathead, wolf management unit 110, which is just outside of Glacier National Park, has a quota of two wolves. To date, hunters and trappers have yet to fill that quota.
FWP will recommend extending the public comment period through March 16 for the wolf season changes to the original hunting season proposals.
"We heard from a substantial number of people attending the public meetings throughout northwest Montana who requested additional opportunity for wolves. Biologically, we have the wolf population to sustain additional harvest opportunity and wanted to be responsive to public input and participation," FWP Regional Wildlife Manager Neil Anderson said in a release.
In the 2018-19 season, hunters and trappers took 259 wolves. Wildlife Services took an additional 60 wolves, according to the 2018 annual wolf report. All documented wolf mortalities for 2018-19 stood at 341, according to the report.
That was a record take.
Sales of license year 2018-19 wolf hunting licenses generated $387,599 for wolf management.
According to FWP estimates, the wolf population statewide is between 750 and 850 animals, according to the report. That's down from a high of 1,100 to 1,350 animals in 2013. In Region 1 it's approximately 300 to 350 wolves.
Wolf hunting regulations vary in other states. In Wyoming, for example, a person doesn't need a hunting license to shoot a wolf in large parts of the state as they're considered a "predatory animal." To the east and south of Yellowstone National Park, however, Wyoming has 14 hunting zones with various wolf quotas and a season that ends Dec. 31.
In Idaho, hunting seasons are liberal, particularly on private land where wolves in many zones can be taken all year long.
In other areas and on public land, the season starts as early as Aug. 1 and run as long as June 30 in some locations. Trapping seasons typically start in the fall and run as long as March 31.
The extension of the wolf season here was endorsed by the Rocky Mountain Elk Foundation.
"We know there are high wolf densities in this area and we believe strongly in managing wolf numbers for the benefit of elk, deer, moose and other wildlife," said Blake Henning, chief conservation officer for the foundation.
---