Boys young, but have great potential as season opens Saturday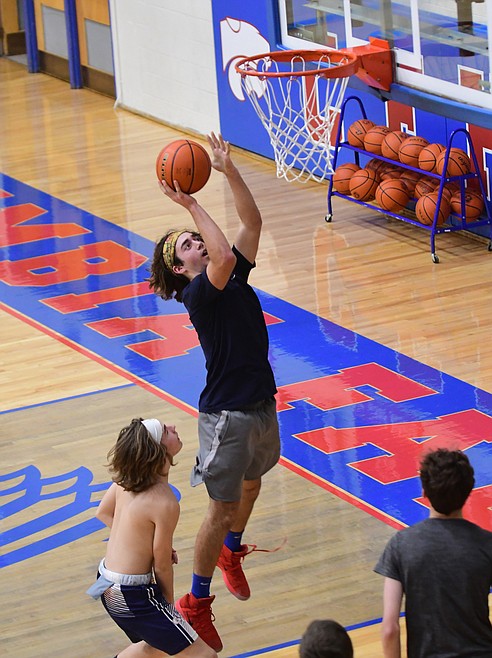 Wildcat baller Mason Peters makes the layup in a three-on-three play during practice earlier this month. (Teresa Byrd/Hungry Horse News)
by
TERESA BYRD
Staff Writer
|
December 30, 2020 1:00 AM
Despite a lack of experience, the Columbia Falls boys basketball team is brimming with potential this season, according to head coach Chris Finberg.
"I'm pretty excited," Finberg said. "We're young, we've only got three seniors and one returning starter, but our talent and depth from the varsity level down to the froshmore level is the best that I've had as the head coach, and this is my fifth year."
Senior Allec Knapton, who won honorable mention all-conference last season, will lead the Wildcats on the court, accompanied by juniors Cade Morgan and Mason Peters, who both played significant minutes for the team last year.
This year's starting lineup will also contain two freshman, Jace Hill and Alihn Anderson.
"Yeah, I'm very, very excited about our freshman class. It's a deep, talented class, so it's exciting to see," said Finberg. "There're a lot of kids that are gym rats so to speak and put a lot of time into basketball. They're also pretty talented athletes in general, they are good at other sports too, but they definitely put a lot of time into basketball, and it shows."
The enthusiasm comes despite some of the struggles sports are dealing with during the pandemic, one of which the Cats have already seen after being down several players for the first week of practice due to quarantine measures, a problem Finberg acknowledges may be persistent.
"You just hope that when they get back, then somebody else doesn't get quarantined," he said. "But right now we're not looking too far in the future and we're just going day by day."
One of the major changes coronavirus has created for basketball is a slightly truncated season, cramming this year's 16 games into a tighter-than-normal sequence, which may be exciting for the players, said Finberg, but is not ideal for coaches.
"From game to game there's just not going to be a whole lot of time to make adjustments and things like that," Finberg said. "But you know, everyone's in the same boat."
Last year the Wildcats finished the season 4-15 after losing their play-in game of the divisional tournament in Whitefish.
"I definitely feel we can improve upon last year's record," said Finberg. "But honestly our goal every year is to get better, and hopefully we're playing our best basketball by the end of the year."
The team's first game of the season is at home against Corvallis at 4 p.m. on Saturday, Jan. 2.
---