Wrestling team looks solid, will be home way more than usual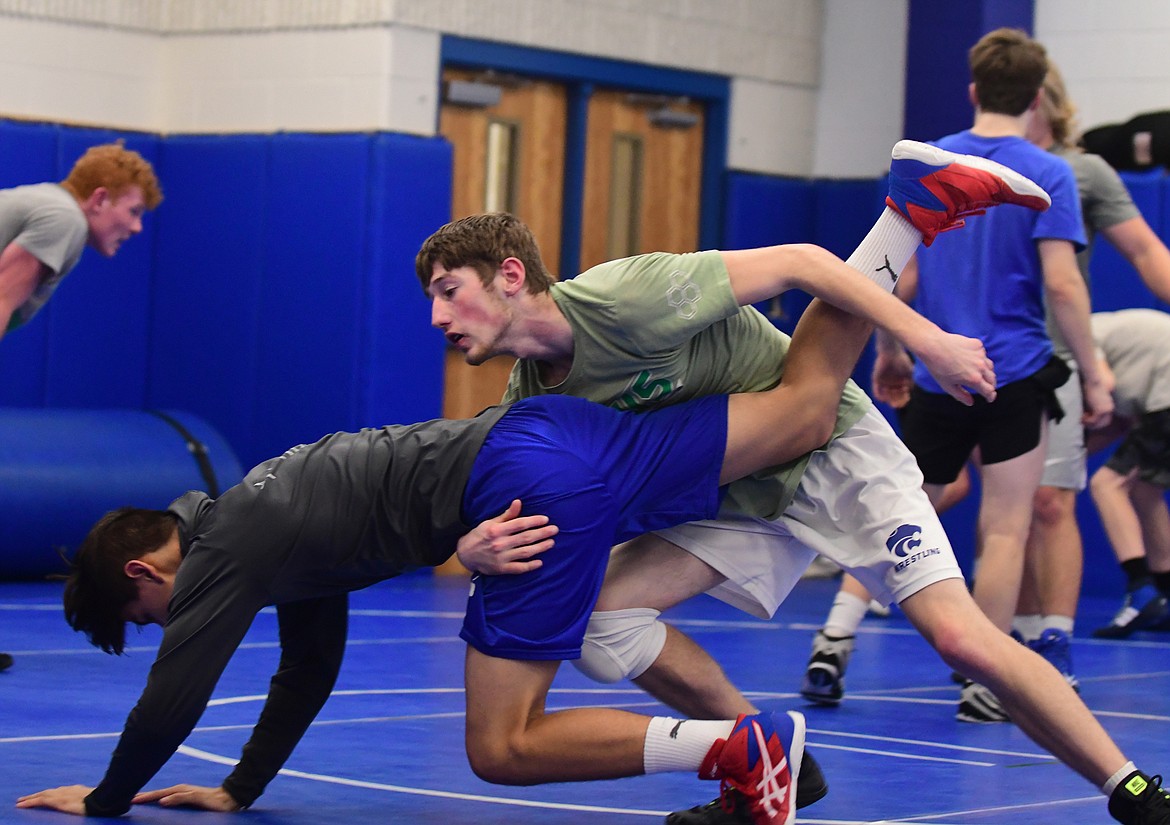 Brandon Torpen (left) and Zak Gray (right) work on take downs during practice earlier this month. (Teresa Byrd/Hungry Horse News)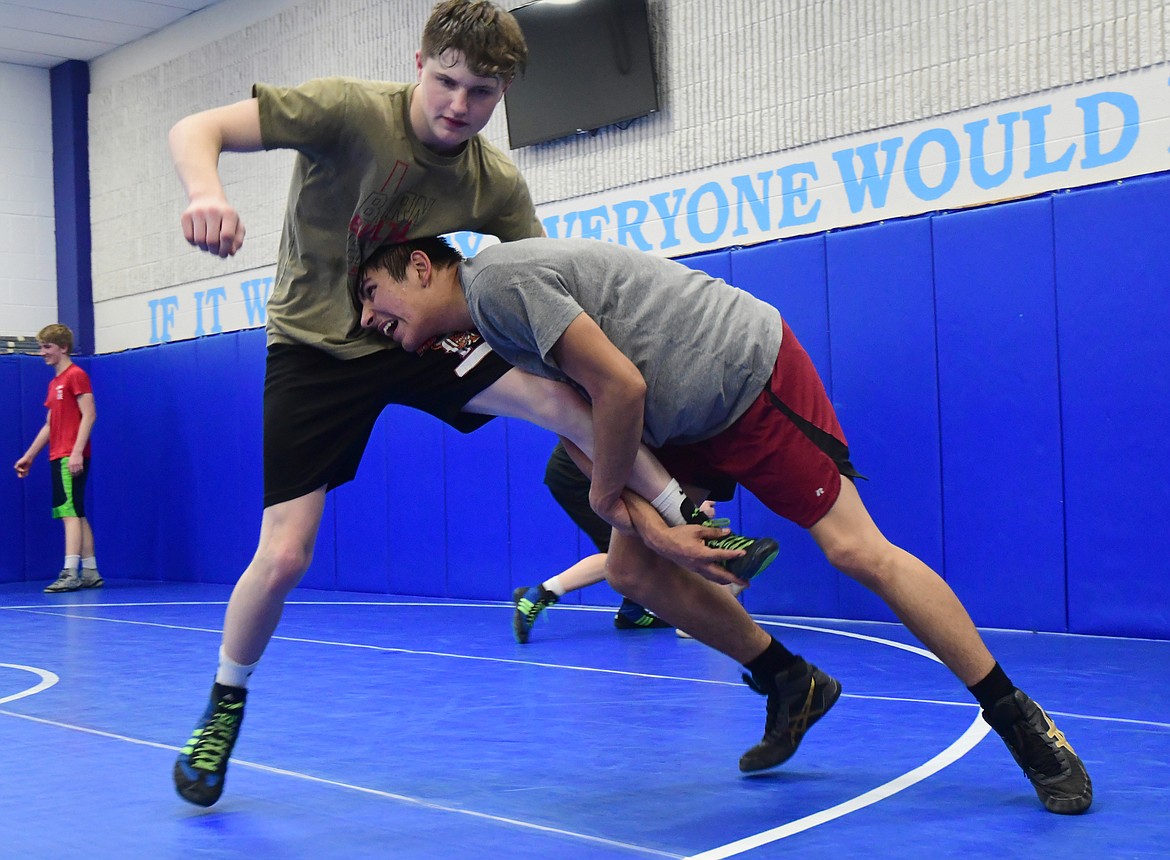 Trey Torpin (right) works on single leg with Ty Allen (left) in practice earlier this month. (Teresa Byrd/Hungry Horse News)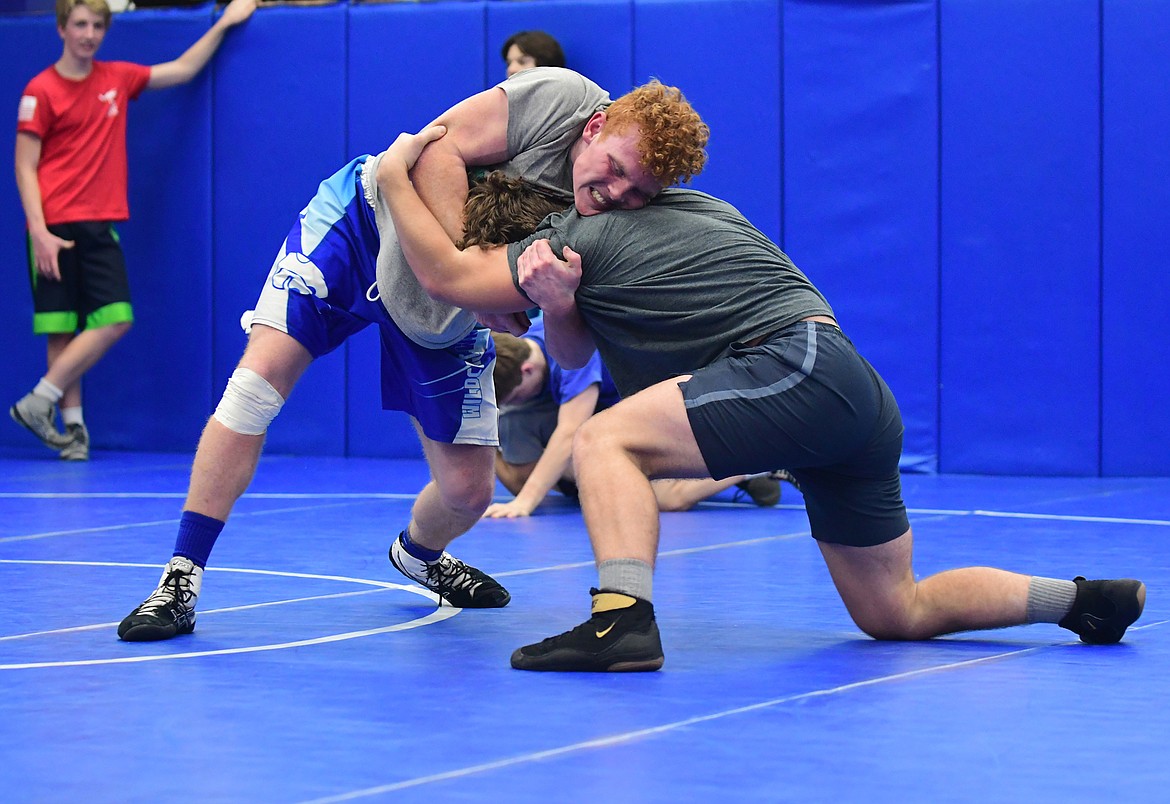 Jordan Knapton (left) and Rowdy White (right) grapple during the first practice of the season. (Teresa Byrd/Hungry Horse News)
Previous
Next
by
TERESA BYRD
Staff Writer
|
December 23, 2020 7:00 AM
Wildcat wrestling began earlier this month after the Montana High School Association made some major alterations to keep the very close-contact sport in action during the coronavirus pandemic.
Chief among the changes was the elimination of tournament competitions to reduce the risk of having multiple teams possibly exposing each other in one gym.
Instead, the competition format will be dual-style only, although multiple duals are allowed in one day if there is time scheduled for proper sanitation in between.
The elimination of tournaments, which comprise most of a typical season's schedule, and losing the variety of competition they provide for wrestlers, will be an adjustment for coaches and athletes alike, said head coach Jessie Schaeffer.
"It'll be hard because we see so many different styles of wrestling when we go to tournaments, we see so many different teams, different variations, and it gives us a look on what we need to work on as a team as we match up and meet different individuals," he said.
However, there is a silver lining to the new format, said Schaeffer. The Wildcats have four home meets this season, for a total of about eight duals on the brawlers' home mats.

"That's something we haven't had in our community probably since I've been coaching," said Schaeffer, who's been at the helm of Columbia Falls' wrestling program for nearly 15 years. "It's always good for these guys to compete in front of their home crowd."
Another major alteration will limit the number of athletes competing in a gym to 40, essentially paring each team total down to 20, meaning many teams may have to make cuts for the first time ever.
Fortunately it looks like the Wildcats won't have to face that problem this season since their number of wrestlers are lower than most years, said Schaeffer — just enough for a full, two-deep lineup and change, which, given the likelihood of students getting quarantined throughout the season, also buffers the team against a skeleton lineup.
While the wrestlers and coaches are excited to have a season, they're under no illusion that the situation is not extremely tenuous.
"Unfortunately it's an uneasy feeling, there's really no control," said Schaeffer. "I could have half my team gone here in tonight's practice, you know. All it takes is one kid to test positive."
Outside of coronavirus concerns however, the Wildcats are looking solid, said Schaeffer. The team took fifth in the state tournament last year and has three returning state placers: Lucas Thacker, Josh Bertram and Justin Windauer.
"We have a very salty lineup, and they mesh well," commented Schaeffer. "They've been on the mat together for quite some time and I think they're going to be very successful as a team."
The squad's trimmed down numbers, possibly a result of the pandemic, have also produced a positive dynamic for the team.
"The kids that we have in the room right now are definitely kids that want to be in the room, it's a different group of kids here," said Schaeffer. "You can see it in the energy level and just the focus, so that's nice to see."
The Cats first meet of the season is at home against Frenchtown and Hamilton at 5 p.m. on Tuesday, Jan. 5.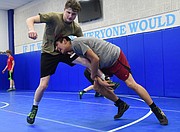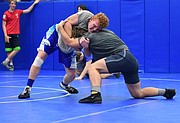 ---