Avalanche Allure: Visitors willing to park a mile away to visit lake
by
TERESA BYRD
Staff Writer
|
August 12, 2020 6:54 AM
Glacier National Park visitors are parking beyond Redrocks pullout — more than a mile away — on Going-to-the-Sun Road in order to access the trailhead of one of the area's most popular hikes: Avalanche Lake. Adding two extra miles to the four mile round-trip excursion, and upwards of half an hour to find a parking space, has not been enough to persuade hikers to opt for alternative destinations.
Many hikers interviewed by Hungry Horse News at the trailhead on Thursday were first-time visitors to the park. Most hoped to hit all the highlights of Glacier, which to many, includes Avalanche Lake.
The distance of the hike, its moderate elevation gain, and the promise of a waterfall-fed lake at the end were all commonly expressed attractions for visitors. The combination of passing through old-growth cedar forest and paralleling a red rock gorge also added to the appeal. So much so that many people were undeterred by the lack of parking and added mileage.
"If you're going to hike for the day, what's a little more walking on the road?" said a couple from Nashville, Tennessee who were visiting for the week.
The closure of half the park due to coronavirus concerns has only increased pressure on the already popular destination as options for similar-style hikes have been narrowed.
Some people, only able to visit the park for a couple days, viewed Avalanche as one destination on a list of small hikes that would allow them to experience the greatest variety of park locales in the shortest amount of time, and were determined to accommodate it.
Others viewed Avalanche as a centrally located hike which placed them in proximity to playing at Redrocks or swimming in Lake McDonald afterward, and they felt it was worth the initial parking inconvenience.
Also, like many popular destinations in the region, there's an app pushing people there.
The App "All Trails" claims Avalanche is the most popular trail in Glacier. Tens of thousands of people hike it every summer, after all.
Teree Niskern of California, here to attend a wedding as well as explore the area, received the suggestion from the local bride's father. Niskern was especially drawn to the hike because of the perceived possibility of not running into any "killer bears" on a heavily trafficked trail.
Laughably, the trail was closed later that day due to a grizzly sighting (see related story).
John Mosebarger from Pennsylvania even chose the hike because the parking was so cramped and congested.
"If it's so crowded, it must have a couple good things to see," said Mosebarger.
Most hikers shook their heads when describing jockeying into awkward parking spaces and walking half-again the distance along a traffic-riddled road. However, despite the inconvenience, Avalanche Lake offers an abundance of allure that keeps people determinedly choosing it time and again.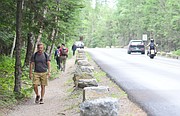 Recent Headlines
---