ATV, bike outfitters seek hundreds of days of N. Fork permits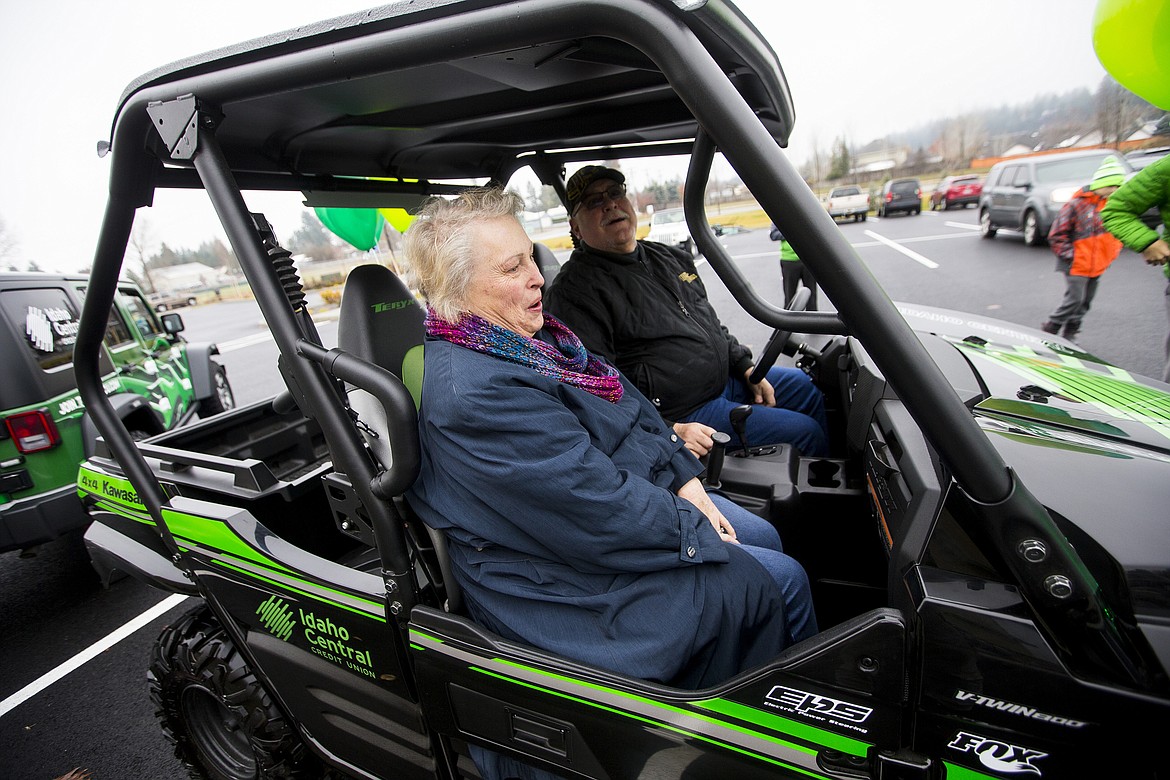 A woman sits in a side-by-side ATV in this file photo.
by
CHRIS PETERSON
Editor
|
April 29, 2020 9:03 AM
Businesses are looking for permits for hundreds of "service days" to guide ATVs and bike riders in the North Fork of the Flathead as well as other ranger districts on the Flathead National Forest.
According to maps provided by the Forest Service, ATV routes include the Red Meadow Road and roads up to Werner Peak.
The Forest revealed earlier this week that most outfits are asking for at least 100 service days of permitting and several are asking for 200 days service days of permitting.
If approved, permits would allow Whitefish Shuttle 200 service days for Tally Lake district and 200 for Hungry Horse/Glacier View district; NW MT Adventure Sports 200 service days on the Hungry Horse/Glacier View district; Adventure Cycling Sports 200 service days on Hungry Horse/Glacier View and Tally Lake, and 200 service days for Swan Lake; Cycling House, 100 service days; Kalispell Regional Medical Center Journey to Wellness 100 service days; Action Rentals 100 service days; Whitefish Bike Retreat, 200 service days.
Northwest Montana Sports and Action Rentals rent out ATVs.
"It's important for the public to understand what a service day is. Each time a person goes on a guided trip, that counts as a service day. So a group of 14 people for a day trip would use 14 service days. As another example, 200 service days could mean an outfitter taking groups of 15 people out 13 times," Lauren Alley, Flathead National Forest spokeswoman said in an email to the Hungry Horse News.
But an outfitter could take smaller groups — three to four at a time, conceivably for most of the summer, if they have a permit for 200 service days.
Northwest Montana Sports in its application notes that it expects only about 20 percent of its clients will be guided, the rest would be rentals.
Action Rentals of Olney is also apparently asking to build obstacles.
"It is hoped to be able to create advanced and intermediate riding obstacles within a short distance of some of the current trails to enhance rider enjoyment. We request that you seek out information on the Wild Bill OHV Park within the Flathead National Forest for samples of obstacles but have included some photos within this packet and the Forest Service link below," it asks in its application for a permit.
Public comments on the permits will be taken until Friday.
There are different contacts for the projects:
Julie Gerrior for questions about the Whitefish Trails Ultra-Marathon, Powdered Soul Fun Bike Ride, Whitefish Shuttle Livery and Guiding, Whitefish Bike Retreat Livery, Journey to Wellness Program, Northwest Adventure Sports Guided ATV Tours, Action Rentals ATV Tours, and Kiwanis ATV & Motorbike Fun Run at 758-3542 or julie.gerrior@usda.gov.
Comments on the project will be accepted through May. Comments can be sent to comments-northern-flathead-tally-lake@usda.gov.
For the bike tours, contact Sean Cranmer for questions at 758-5227 or sean.m.cranmer@usda.gov.
Recent Headlines
---