Wildcat soccer program adapts during virus crisis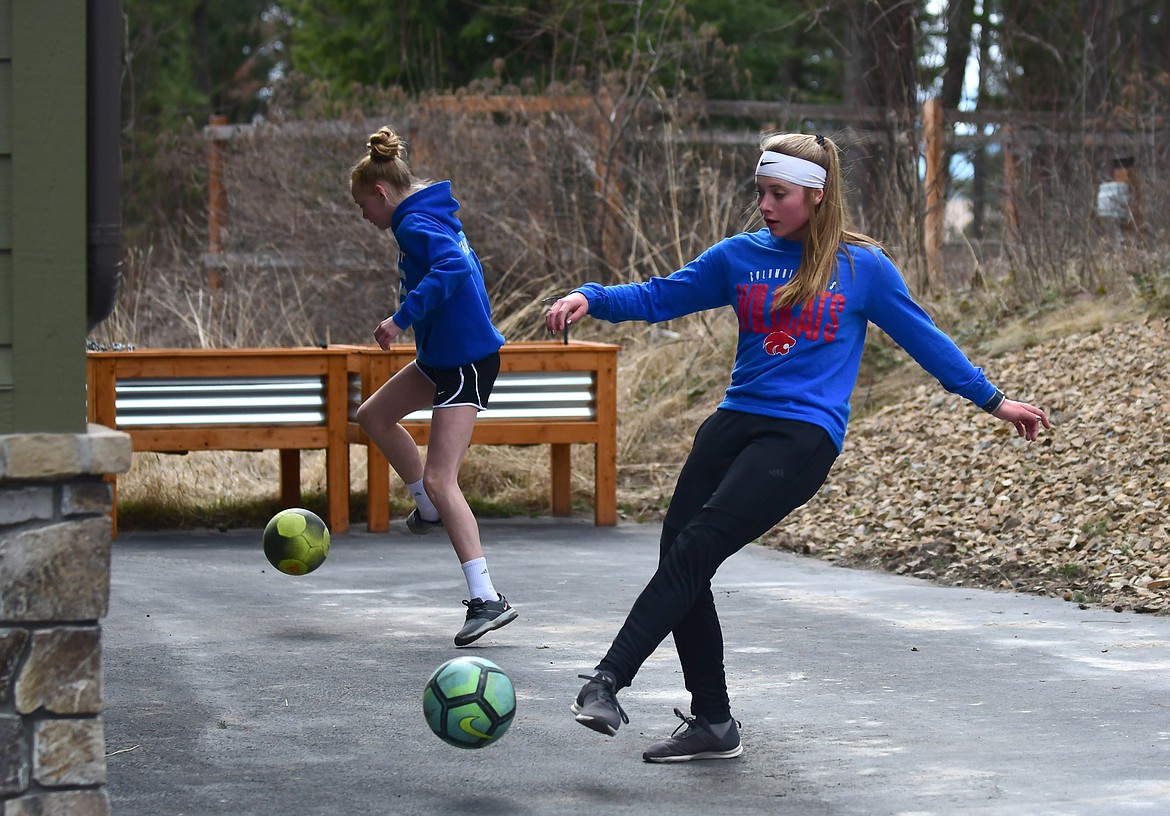 Columbia Falls freshman Sydney Mann (right) and younger sister Bella complete Day 4 of the "Still a Wildcat" challenge. (Teresa Byrd/Hungry Horse News)
by
TERESA BYRD
Staff Writer
|
April 1, 2020 5:39 AM
When schools closed, along with organized spring sports, the Columbia Falls Soccer program rallied to create a solution to keep students active and engaged during the novel coronavirus outbreak.
Spearheaded by Columbia Falls boys' varsity head soccer coach O'Brien Byrd, all nine of the Columbia Falls soccer coaches began discussing ways to keep students and athletes connected in a time of recommended social distancing.
"Just because kids are stuck at home doesn't mean they're not a Wildcat," said Byrd.
One week later the program launched the "Still a Wildcat" 30 Day Challenge, which invites anyone to train at home for a month. Byrd and the other Columbia Falls soccer coaches are posting online videos every day that provide workouts and instructional drills like how to chip into a garbage can, soccer golf, and overall ball control. All videos can be found by following wildcat.soccer on Instagram or by searching for the "Still a Wildcat" 30 Day Challenge on YouTube. Each video is accompanied by a corresponding workout.
The platform reaches out to Columbia Falls soccer program participants whose competitive and recreational spring soccer opportunities joined the ranks of canceled events due to the coronavirus. But the challenge was always meant to involve anyone, said Byrd.
All that is needed is a ball, "and if you don't have a ball, please reach out to us and let us know."
The hope, said Byrd, is to provide kids, whose normal schedules have been turned upside down, with a sense of connection to community, especially in this time of increased isolation. Most importantly, Byrd wants the challenge to provide students with a daily sense of accomplishment. An aspect he feels is crucial as the scope of student's daily activities continue to narrow.
A stipulation of the challenge, among a creed that includes never giving up, doing one's best and being kind, is for participants to post at least one video of themselves completing a drill with the hashtag #stillawildcat. The response has been overwhelming. The program has received videos not only from Columbia Falls students, but from participants across the nation. Byrd has noticed non-soccer players who simply wish to stay active joining in. Many of the clips are compiled every day and posted to Instagram. As involvement grows, the Columbia Falls Soccer Program has begun to encourage people to post with any tag meaningful to them like their own mascot, or even #stillanathlete.
The video compilations display an abundance of joyful tenacity and ingenuity, including using rounds of firewood or coffee mugs as delineating "cones", and a wild array of "goals" that range from hampers to horse watering tubs to used detergent buckets. To watch or join in the action, download the app and follow wildcat.soccer on Instagram.
---